Mexico is many things, but it's the gastronomic riches that keep pulling me back. This is the land of complex mole, slow-roasted cochinita pibil and simmering pozole, to name just a few of the traditional dishes that I dream of. I recently returned to this country to vacation in Puerto Vallarta. It is a classic Pacific coast resort town, but it's also a thriving, vibrant and muy auténtico city. As tempting as the sun, sand and surf are, get off the beach you'll be rewarded with tasty treasures.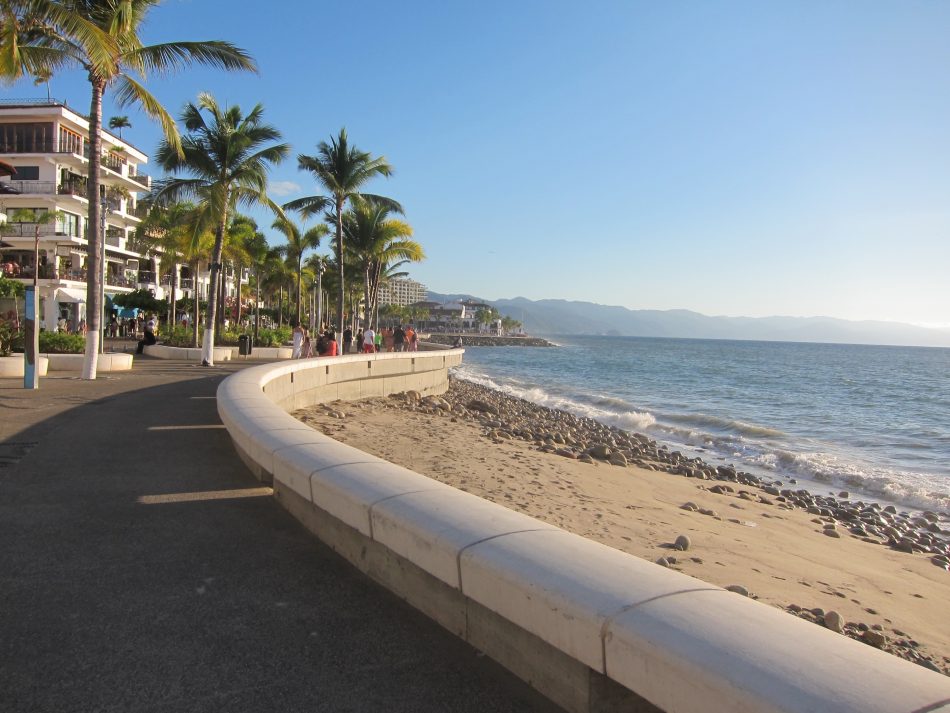 Puerto Vallarta is a Gourmet's Paradise
If you like to explore a culture through its food, you're in luck. Puerto Vallarta is garnering a big reputation among shrewd epicureans. High-end restaurants rival those in Mexico City.
Each November, Festival Gourmet brings master chefs from around the globe to town. They create mouth-watering delicacies and attract legions of foodies for a flavor-packed holiday. Wine Fest is held each March and offers an opportunity to see why Mexican wines are seducing the palate of wine drinkers everywhere.
Perfect for Foodies on a Budget
As a foodie on a tight budget, white tablecloths and fancy cutlery don't do it for me. What I look for are the casual fondas and cenadurías that serve typical, inexpensive food to a local crowd. It's not always easy to find the authentic joints that are off the beaten tourist path. In Puerto Vallarta I lucked out booking a tour with Vallarta Food Tours. I've said it before but I'll say it again, when you're visiting a destination for only a short time, a guided food tour is an excellent way to cover a lot of ground fast.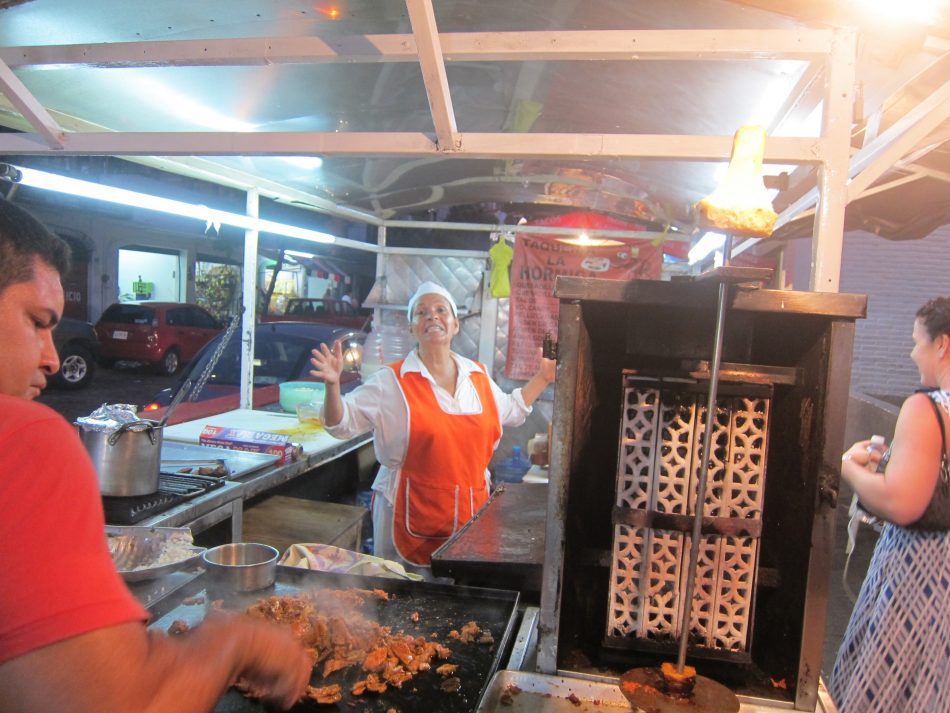 Vallarta Food Tours Taco Adventure
I selected "The Street: An Evening Taco Adventure". I'm a big fan of the food truck craze has swept the U.S. in recent years, but I never realized how venerable the tradition was south of the border. On the taco adventure, I sampled edible treats from food carts that have been run by the same family for generations. It was the ultimate non-touristy experience. The tour took our small group to stands that were frequented by locals. We tasted regional specialties as we explored the vibrant streets by night. We sampled bold flavors that were easy to handle without knives and forks.
Vallarta Food Tours vets all the stands and they all appeared to be scrupulously clean. The sense of pride that each food cart owner displayed was deep and genuine. With our fabulous guide Ricardo at the helm, we journeyed on a three-hour eating Odyssey. You may not have the courage to venture into the heart of an unfamiliar city alone, but with a local guide, you will effortlessly gain confidence and street savvy.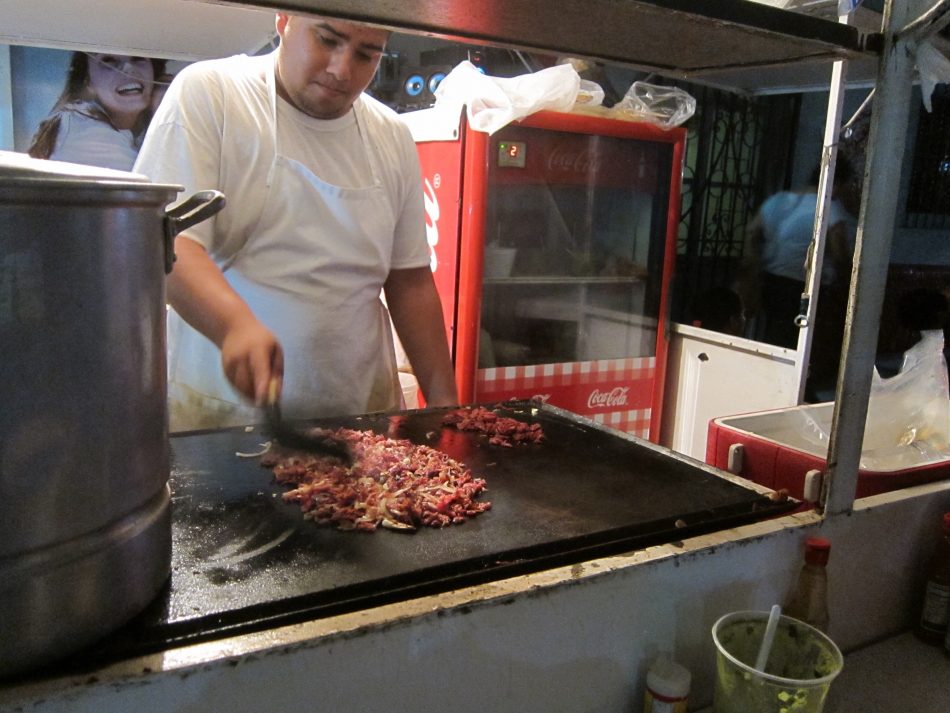 Not Just Great Seafood
You expect great seafood in a coastal town, but the freshness exceeded my imagination. Delectable ceviche and marlin tacos were briny standouts. Adventurous eaters should enjoy the beef head tacos, lean and flavorful.
Junior was the most gifted cook that I encountered on the tour. As I watched his technique, it was clear he put a little piece of his soul into each taco al pastor. He serves the taco accompanied by a rich and complex meat broth that you sip out of a plastic cup between bites of taco. The ambrosial liquid enhanced the tacos subtle notes and vice versa.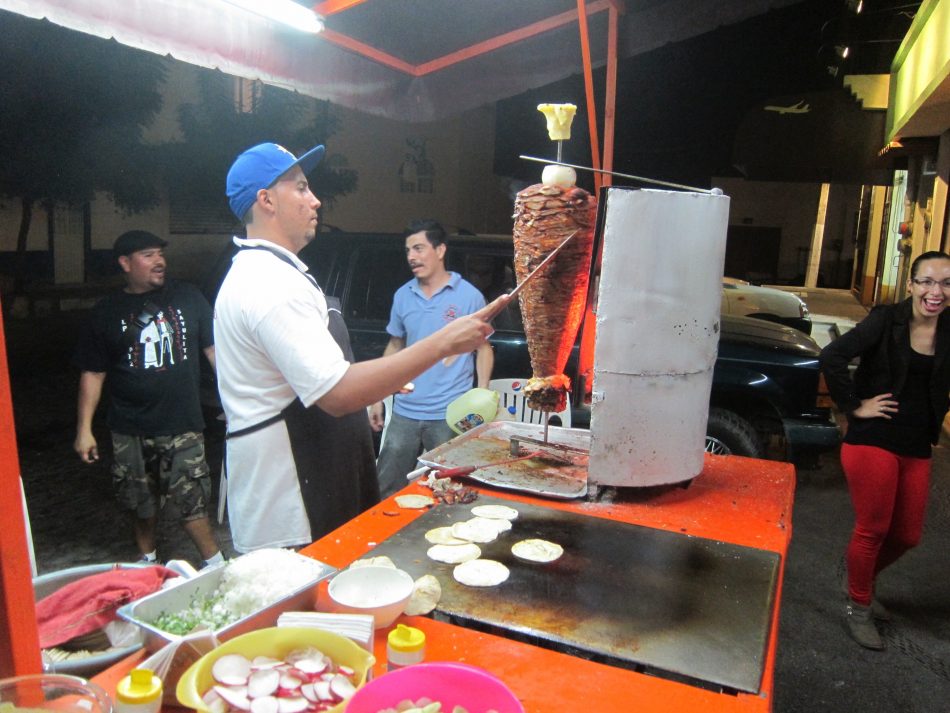 Mexican food has evolved thanks to the immigrant populations who have enhanced traditional recipes with their own cultural influences. We detected Lebanese accents when we ate a taco that looked and tasted like a gyro garnished with pineapple. The meat was expertly carved from a rotating spit just like they do in the Middle East. It was street food fusion at its finest.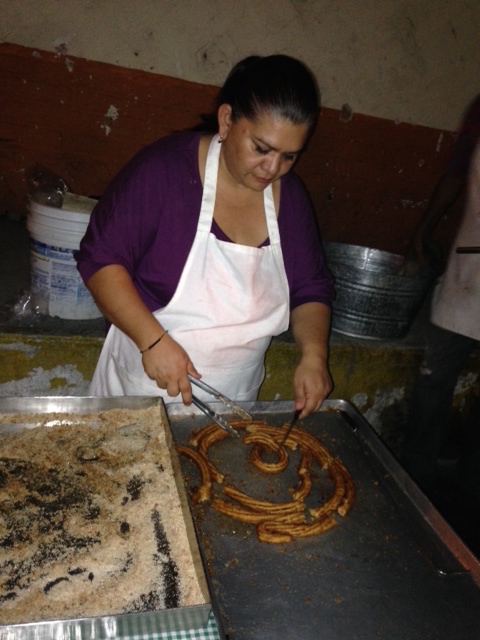 Churros, twists of deep-fried dough, were fried right before our eyes. We ate them while still warm, dusted with sugar and cinnamon. They were plump and ethereal, the stuff of sweet dreams.
If you crave something stronger, never fear, smoky agave-based mezcal is on the menu. Ricardo prepared for its effects by sucking on an orange wedge before swigging this potent beverage. He claims it helps to ready your taste buds for the alcohol-infused blast.
Your Guide Really Guides You
Ricardo demonstrated the proper street food etiquette during our tour, so while we still probably looked like gringos, we blended in. He gave us hints on what to look for in a food stand. Cleanliness, high turnover and crowd size are all excellent indicators. Condiments kept in clay bowls are another good sign, as the terra cotta imparts a good flavor on whatever is inside it.
Although this is a walking tour, Ricardo took us on a public bus for a few stops as we traveled between neighborhoods. With Ricardo at the helm, an experience that might have been intimidating was transformed into an adventure that gave even reluctant participants a boost of confidence to try it themselves.
If you're spending several days here, try and take the tour early on. I did and became a regular at several stands (albeit a temporary one) and was warmly welcomed by the street food vendors each time I returned.
For more information on planning your next trip, got to www.visitpuertovallarta.com.