Adrenaline and outdoor junkies take note – Ramona is just as comfortable carving tracks down the side of a mountain as she is jumping out of a plane or for that matter piloting it! With a zest for life and a love for adventure she has propelled this type of lifestyle into a successful career. Here in part, she talks about some of her adventures, time in front of the camera and offers up some career advice.

Q. Tell us about yourself and what first attracted you to outdoor adventure?
I was raised by very adventurous parents who taught us how to play in the wilderness. I vividly remember being piled into open top canoes with my sisters surrounded by piles of gear and disappearing into the Australian river system for camping trips, catching yabbies' (an Australian form of fresh water crayfish,) finding rope swings, gourmet cooking cow patties on the camp fire, imitating the crocodile hunter and choreographing silhouetted dances with torches through our tents at dusk. It was a fabulous way to grow up. I ended up studying outdoor education at university, continuing to gallivant around the wilderness, so I guess I have my parents to thank for teaching me to love outdoor adventure.

Q. What are some of the ingredients behind being a successful host of a television or lifestyle show?
Viewers can tell if someone is faking it. That's the fastest way to loose credibility and their attention instantly. So be honest and don't pretend to be something you're not. If you enjoy your work, it shows. If you're genuinely inquisitive and interested, it's fun to watch. Then, like in any industry, good work ethic and team players will make it a lot further than divas. So work the 7 P's, dream big, hurry up and wait, then have some fun and get that 'money shot!'

Q. You are a prolific adventuress! What are some of your more memorable (and perhaps scary) adventure activities?
I'm definitely an adrenaline junkie so anything that leaves your stomach behind I'm keen to do. Pulling some G's doing aerial acrobats in a glider in the Hamptons was a sensation I'll never forget. So was sky diving with my mum on her 57th birthday. New Zealand has some of the best bungee jumping experiences in the world, and paragliding off Aspen Mountain is always a rush. I guess I like hang time. I also have 25 hours in a Cessna 172, so soloing in a single prop airplane is a controlled exhilaration I'll never forget. Then there's the more skill-based rushes I get from being right on the edge of my ability levels. From riding single track in the high country or adobes on my dirt bike (or mountain bike), to adventuring into the wilderness on a snowmobile arcing powder turns with a skid in the air, to heli-skiing or ski-touring those epic backcountry lines avoiding avalanches and no fall zones, to picking off features in the terrain park on my snowboard. I love it all. Deep sea SCUBA diving also tests my calm and sharks are not my favorite so anything in the open ocean is a rush if you think a big fish is about to come take a nip. I grew up in White Pointer shark territory so I'm an Australian that never got good at surfing.

Q. Last year you hosted the X Games on ESPN – traveling to a number of countries and covering a wide range of extreme sports – tell us about this very unique experience and opportunity?
It was a dream. I'm constantly in awe of action sports athletes with their super human abilities. It's awe-inspiring to watch. Working for ESPN hosting X Games during their global expansion in 2013 was a eye opening experience that I still can't believe I had the privilege of doing. Six events in five countries was a whirl wind tour of fabulous cultures and countries I'd never been to before. From Foz Du Iguacu, Brazil, to Munich, Germany, Barcelona, Spain and Tignes, France… it was unreal! I got to see action sports history being made again and again while working for the world leader in network sports.

Q. What advice would you give others who are interested in pursuing an independent career lifestyle where one is following their passion – yet turning it into an economically viable career?
Hard work and persistence will always pay off but prepared to sleep on couches, eat 2-minute noodles and deal with the never-ending question of 'so what are you really going to do when you grow up?' However, if you're after just money, then you're in it for the wrong reasons. A lifestyle passion is just that. You'll always live it, love it, breathe it, do it. I know several successful people who have summited Everest, not because they've made mountaineering their profit revenue, but because they've had success in other areas of their lives that has allow them to continue to follow their passions. Richard Branson is a fine example. Money obviously comes when business is good but an adventurous passion is always there. That said, be open to opportunities, you just never know when your dreams might come true.

Q. You have a love of snow sports and have traveled the world visiting ski and mountain resorts. Has there been a ski resort that blew you away for the quality of snow, epic runs, mountains views etc?

Depending on whom you're travelling with, what type of terrain and cultural experience your group is after, snow conditions, budget and time I will have a different recommendation for each. Destinations that stick out in my memories include Neiseko, Japan, those never ending days of powder snow as we received an average of about 12" of new snow a day… for 31 days straight. Red Mountain in Canada was a hidden gem. Courcheval, France was one of the most ridiculously fun scenes I've ever seen. As was the on-mountain après ski scene in Val d'Isere. St. Moritz, Switzerland was like a fairytale. Zakopane, Poland surprised us all with it's mountains and great skiing. CMH heli-skiing in Revelstoke, Canada, was a dream… the most vertical I've ever skied in one day, and probably in a week for that matter. Queenstown, New Zealand was an endless adventure with a plethora of activities both day and night to choose from. In Romania we skied Brasov in the morning then toured Dracula's castle in the afternoon, bet you haven't done that?! Perisher-Blue in Australia has 52 lifts and goes forever (yes there is skiing in Australia,) Telluride, CO is impossibly beautiful but I'm biased since I lived there for 8 years and Aspen CO is where I now call home for so many reasons. It's honestly my favorite place to live in the world.

Q. Throughout your career in front of the camera you have certainly interviewed many people – what is one interview that stands out?
I really enjoyed interviewing Tom Shadyac, a Hollywood film director, screenwriter and producer of movies like The Nutty Professor, Bruce almighty, Ace Ventura, Evan Almighty, Patch Adams, etc. He's a remarkably insightful, funny man who has had so much success but is still so incredibly humble and gracious. Tom is one of those guys that really pushes the boundaries of how you think, in a nurturing and witty way.

Q. You grew up near Adelaide in South Australia. I was in Adelaide last month and was impressed by the culinary and social scene here especially on Rundle Street. The city seems ideally located with both the ocean and wine country located nearby – the city has a nice mix between urban and rural. You no longer live here but what are are some of your favorite favorite activities that you would recommend to a first time visitor?
I'm so impressed you made it to Adelaide! It's our peaceful little corner of Australia, often referred to as The Festival State or RADelaide. I think it's a must visit spot on your Australian tour, just a 9 hour drive west of Melbourne along the great ocean road. I grew up in Stirling in the Adelaide hills so lunch at my old stomping grounds, the Organic Market Café or happy hour at the Stirling Hotel is a must. Not far from there is the Clealand Wildlife Park at Mount Lofty, the BEST place to hold a koala, hand feed kangaroos and emus, and probably see your first ever dingo, wombat, porcupine and platypus.
In the city, yes, the happening alfresco scene on Rundle Street is a must. So is a visit to the lively Central Markets for fresh local produce. Add a tour of Penfold's Winery then dinner at the hip new restaurant downtown called 'Peel,' then there are the beaches! Glenelg is just a 20 min tram ride from the city, and the south coast down by Victor Harbor is a must see if you've got a full day to road trip. But it wouldn't be a proper Adelaide trip with out lots of wine, so head up to the Barossa and Yarra Valley's only 90 min north of the city. I recommend staying at the Louise, and more importantly eating at their restaurant the Appellation. It's to die for.

Biography: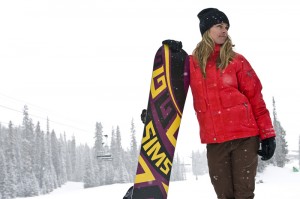 Raised in Adelaide, South Australia, Ramona grew up a dedicated stage performer, gymnast and dancer before continuing on to compete at a national level in gymnastics, touch football and snowboarding. Her tertiary studies in Outdoor Education and Wilderness Survival took her on many great adventures across Australia from SCUBA diving to white water kayaking to rock climbing and alpine touring. Ramona spent over 6 years following her passion for snow sports by working the southern Hemisphere winters in Falls Creek, Australia and the northern winters in Telluride, Colorado, being on snow for up to 200 days a year. Naturally the off seasons were spent on a beach somewhere.

Ramona started her TV career in Falls Creek Australia as a snowreporter for network news and simultaneously as the on-air talent for the 'SNOWSHOW', a travel lifestyle TV series that took her to more than 75 ski resorts worldwide bringing winter holiday destinations to Australian and European viewers.

In 2006, Ramona took full time work with PlumTV as a producer/host, launching live daily TV shows in Telluride, before moving to Aspen, CO to host and produce their national high-end Mountain lifestyle show called 'Top of the Mountain.' Also known for her role as host on the regionally popular live morning show called Plum Daily, Ramona then continued the adventure on the PlumTV network shooting her very own edge-of-the-seat lifestyle show called 'Keeping up with Ramona.'

In 2013, Ramona was named as the host of the global expansion of X Games for ESPN, travelling to six X Games events in five countries. Destinations included Aspen, CO, Tignes (France), Foz do Iguacu (Brazil), Barcelona (Spain), Munich (Germany), and Los Angeles, CA. As the host, Ramona brought 151 hours of top-level action sports competition to viewers across ESPN, ABC, ESPN3 and WatchESPN. X Games is the worldwide leader in action sports broadcasting in 182 countries and more than 430 million homes.

While browsing Twitter I stumbled across Ramona's outdoor and adventure accomplishments. Discovering that she is originally from Adelaide and with a recent trip to South Australia including Adelaide, Kangaroo Island and Barossa Valley still fresh in the mind – this became a timely interview.