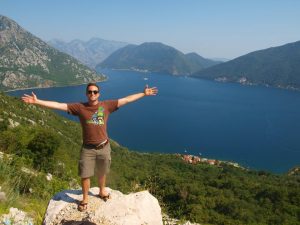 Adrian's travels embody what we define as "experiential travel" – at its core it is traveling with an intent and openness to having experiences – in part focusing on what is unique to a particular region. And Adrian has already had enough unique experiences from his time on the road to last most people a lifetime. From being kidnapped in Africa to staying with nomadic Bedouin tribespeople in the deserts of Oman to total cultural immersion in Japan (his current base). And apparently he has taken up Sumo wrestling there. See photos below.
Q. Tell us about yourself and your passions – touch on what initially fueled your wanderlust.
Instead of giving you the standard travel writer answer, I thought I'd be a little bit more honest with mine…
I'm a child at heart, but as an adult I usually freak out about life for at least 2 days every 28! Which is usually fuelled by a massive hangover 😉 I'm driven but get sidetracked quite easily. I love adventures and challenges and won't stop until I finish them to the best of my ability – even if it turns out to be an epic fail.
As the quote goes, "Ever tried. Ever failed. No matter. Try again. Fail again. Fail better".
Apart from that I think I am a nice, down to earth kind of guy who cares an awful lot about his friends and family. In my mind, friends and family are the most important things out there. In fact I'd say they are THE ONLY important things out there.
What initially fueled my wanderlust… Well I think after living in Oman for the first 10 years of my life – travelling was always going to be a passion of mine. Although saying that, I think the time I first donned my backpack and headed out the front door on my own officially sealed the fact that travelling would always be a part of my life.

Q. What was life like growing up in Oman?
Oman was an amazing place to grow up. Every weekend we were either relaxing on a beach or travelling into the desert to find hidden oases in the mountains to swim in and picnic by – which we call 'Wadi Bashing'.
I grew up living on, what is best described as an army complex. All the helicopter engineers and pilots lived on the same complex, which only had 2 ways to get in and out. This not only meant that my best mates literally lived 2 seconds away from me but it meant that our parents would let us get up to as much mischief as we liked because they all knew there was no way to get out!
But the best thing about living in Oman was our annual trip into middle of the Empty Quarter – the largest sand desert in the world – to live with the Bedouin (nomadic people of the desert).

Q. Tell us about your experiences living with the Harasiis Bedouin tribe in the world's largest sand desert, the Desert of the Empty Quarter.
Where to start… So every year we'd squeeze all our belongings into our Toyota Land Cruiser and travel to the edge of the empty quarters, where we'd be met by one of the Bedouin. We'd then spend 4-7 days travelling with them on their camel migration while my mum conducted social anthropological research. In the middle of the day when it was too hot to do anything we'd often sit under some shade in order to drink tea and eat dates. And the evenings were even more amazing. Not only was the food (rice and freshly cooked goat) amazing but also the fresh camel milk was delicious!
But the real highlight of our trips to the desert was after dinner when we'd all be sitting around the fire and staring up at the heavens. And let me tell you… the amount of stars you can see when you are in the middle of the desert away from any sources of man-made light is spectacular. I still remember as a child staring at the Milky Way for hours on end.
You can check out a little video I made about a trip into the Empty Quarters here:

Q. You were kidnapped in Africa – briefly tell us about this and what you would have done differently to avoid a stressful situation like this?
Yeah – that was a story! Basically, we were out drinking with some guy we'd met a few hours before and we were all having a great time watching some football game in a sketchy bar in Dar-es-Salaam. When the game was over he very kindly offered to give us a lift to a club that we were really keen on checking out anyway. And that's when all the crap started. I really should have known the second we got in the car – seeing as it had blacked out windows and only one back door that worked. Doh!
I've asked myself what would I have done differently a bunch of times… and honestly… I don't think I would have done anything differently and would probably fall for a similar the same trap again. Not because I am naïve, but because I refused to let the robbery dampen my adventuring spirit. Travelling would not hold any magic for me if I became too scared to accept the friendship of local people at face value. It's the only way to get a REAL taste of the country you're travelling in. The most memorable and fun experiences I have had in my travels have always revolved around taking a chance, going off the beaten track and seeing what life throws at you.

Q. You have had a variety of experiences to last most people more than a lifetime already – now you are currently in Japan. What have been some of your more unique experiences while living there?
Wow… that's a really hard one. Japan is probably the best place I've had the pleasure of living in my life so far. I'm not being cheesy but everyday is an adventure over here. Japan and especially Tokyo is like an 'Adult Disney Land' if you can think it up… you can probably act it out.
I could give you a list of the 'standard' weird things that I've done in Tokyo like:
1. Drinking tea at a cat café
2. Eating 'magic' cake at a Maid Café
3. Have brunch at the Park Hyatt – 'Lost In Translation' style
4. Etc…
But for me I think my most unique experiences to date are:
1. Climbing a mountain in Hokkaido in Crocs Sandals
2. Taking part in a sumo competition and being in the local news
Q. Why did you decide to start your own website, Suitqaisdiaries.com?
I was about to start a new chapter in my life. A chapter that took me away from the job and lifestyle I hated in London to a life that I loved – a life of travel! It was at the point that I quit my job and started to travel around Eastern Europe that I decided to create a website. The main aims for my website were, and still are:
1. I wanted to create an avenue to document my travel stories and share them with friends and family… it was through this simple mindset that I created SuitQais Diaries.
2. I also wanted to create something where people could go to read stories regarding cool experiences that you wouldn't normally read in a 'Lonely Planet' guide for example.
3. And finally to try to convince at least one person to go out there and live the lifestyle they always dreamed about.
When I look back at my time in London I was genuinely depressed. All my life I wanted to travel and to experience everything the world had to offer. One morning I woke up in London and the life I wanted was so far from the reality I was living it was a really kick up the arse to stop talking about it and start living!

Q. How important is social media for you in promoting your site and /or keeping in contact with your followers? Does one outlet work better for you than others?
I keep in contact with most of my followers through my Facebook and Twitter accounts. I use Twitter to post all my random comments and funny pictures I take when I'm on the road. And I use my Facebook account to promote travel stories and adventures that I'm currently on or planning. Every day there is a new way to keep in contact with your followers… I simply can't keep up!

Q. What are the most important things that traveling has taught you?
1. Always be open minded and open hearted
2. It's better to regret the things you've done than the things you haven't
3. Nice things happen to nice people
4. Always make time for your friends and family.
5. Watching a movie with someone is the opposite of spending time with them
6. Always have a goal – when times get hard having a goal will keep you focused and on track
7. A life lived in fear is a life half lived
8. A bit dark – but, what goes around comes around – so always try and do the right thing

Q. What is your ideal trip and why – touching on types of activities, parts of the world, who you would go with and length of the trip.
These are great questions!
There are still so many places in the world and so many things I want to do it would take me days to write out my perfect route! But, if I had to pick a trip this very second, this is what I would do…
Route: Island hopping from Jakarta to the Galapagos Islands.
Route reason: Whenever I travel now, I always travel with a goal in mind. I'm really bored by travelling for travelling's sake. For example, going to 5 countries and ticking off all the same touristy stuff that everyone else has done before you doesn't appeal to me. Whenever I plan a trip, I try and plan something epic. Having 'crazy' goals makes for one hell of a trip!
Mode of transport: Anything apart from an airplane
Transport Reason: Again, it's all about having a goal and doing something different. I've always wanted to sail my way around the Indo-Pacific and couldn't think of a better adventure than this one. What an amazing achievement to be able to say that you went from one side of the world to the other without using an airplane.
Travel companions: One or 2 mates
Companion reason: I've travelled solo and I'll traveled in groups. Throughout all my travels I think the best time I've had is when I'm with one or two mates. Even though you may not meet as many people as you might if you were alone – having someone there that you know and trust makes a world of difference. Also, things that stress you out whilst travelling – like haggling, looking for accommodation etc.. – are halved if you have someone travelling with you.. In my book 2 is always better than 1.

Q. Since you now call Tokyo "home", what are some of your favorite activities that you would recommend to a first time visitor to this large and vibrant city?
My top 5 things to do as a first timer to Tokyo:
1. Order the set menu and the all you can drink at Shirube Izakaya in Shimokitazawa or Shibuya. Whenever people come to visit me this is the first place I take them too.
2. Have brunch at the Park Hyatt – New Yorker Bar. This is an amazing 'Must-Do' experience and worth every penny – trust me
3. Get coffee and walk around Shimokitazawa. This is a really trendy and young side of Tokyo that not many tourists get a chance to see.
4. Go to Enoshimo Island. It makes for a great day trip and only takes 1 hour from Shinjuku
5. All you can drink Karaoke – no trip to Tokyo is complete until you've had karaoke night!
Biography: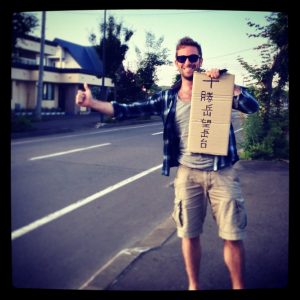 Born in England and raised in Oman (Middle East) Adrian has always had a love of and an affinity for travelling. In Oman he was lucky enough to travel twice a year into the Empty Quarter (the largest sand desert in the world) to live with the Harasiis Bedouin tribe for up to 10 days at a time. His childhood gave him a love and respect for local life and nature in all its forms.
Since then he has backpacked, worked, volunteered and lived in over 40 countries. He has had some crazy experiences while traveling such as living on a desert island for 3 months, getting kidnapped in Africa, getting lost 74 feet underground and, amongst other things, swimming with Sperm whales.
He is currently in Japan exploring a unique programme of language study, work placement and homestay. His goal is to really immerse himself in Japan in order to nurture a deeper understanding about Japanese culture, her people and to experience absolutely everything 'Japanese'!