While there are no shortages of activities to enjoy at MGM Grand there are also a number of restaurants here. As a Foodie I was thankful to dine in two different establishments; PUB 1842 and Shibuya.
PUB 1842 is a casual pub and gastropub; at the entrance you will discover an endless variety of beers lined up. The sign here boasts, "Free Water, Cheap Beer". The food menu consists of burgers, nachos, lobster rolls, and so much more. Chef Michael Mina is the mastermind behind these delicious savories.
Firstly, we shared the 1842 Nachos with chile verde. Glancing at the pictures of the nachos is making me hungry as I write this now. I loved the amount of goat cheese, nicely prepared beans, and the chile verde. It was ridiculously tasty!
Next we shared the fish tacos. I grew up eating tacos therefore I am probably one of the pickiest taco eaters; to my surprise these fish tacos were beyond my expectations. Surprise! The fish was battered so well and the flavor was impeccable. Top it off with cilantro and seasoning and this sealed the deal for me. Could anything else taste better than this at PUB 1842? The only minor issue I didn't care for about this taco was that it was not double-layered like how a taco should be presented. It is always aggravating from a consumer's perspective to have your taco break in your hands and not in your mouth.
Now for the main entrée: I had the PUB 1842 burger with medium-well done beef with sautéed onions and mushrooms and a side of French fries that was lightly seasoned. The burger itself was definitely juicy but a bit too greasy for me. Other than that, the sautéed onions and mushrooms were delicious and appetizing. My favorite would have to be the fish tacos, despite it not being double-layered.
It is unfortunate I was full and didn't have room for dessert as they all sounded divine. I can definitely go back to PUB 1842. Highly recommended!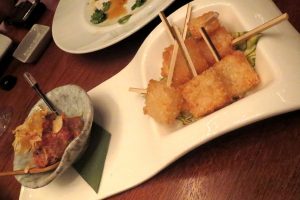 Shibuya is an elegant Japanese restaurant with a wide selection of premium sake which always is a delightful accompaniment to sushi. There is decent variety on the menu with both raw sushi and cooked entrees. Without a doubt, my favorites were the raw sushi plates. I had only hoped they would lessen the cooked entrees and send out more raw sushi plates such as a sashimi platter, cutrolls, or handrolls.
I definitely admire the Chef's hard work in creating these plates which were all creative and unique. Everything was prepared with fresh ingredients.
Unfortunately, from what I sampled that night I was not overly impressed with the quality of the food. However their menu does include a wider selection of raw sushi for patrons like me who crave raw eats as well as the unfamiliar foods that perhaps a "normal" foodie would not be attracted to. however, this time I did not get the opportunity to try those.
Perhaps on the next trip to Las Vegas I can make my way for a return visit to Shibuya to try the other dishes and more of their raw sushi plates.