You can ski for free on Saturday
Believe it or not, but you can actually ski for free. The best, and least known, deal in town is Squaw Valley's "Fly and Ski Free" offer. If you fly into Reno airport, you'll actually get a free, same-day lift ticket. No, I am not joking. All you have to do is stop by the Mountain Concierge store near the baggage claim area and show them your plane ticket. Voila, they'll print out your ticket right then and there to Alpine Meadows or Squaw Valley, home of the 1960 Winter Olympics. Tickets are good from noon to 4pm on the same day.
The trick is to find a decently priced flight ticket. I managed to find a round-trip ticket to Reno from Los Angeles for an incredibly cheap $126. Let that sink in for a moment… $126 for round-trip flight and lift tickets. Not sure how often that is possible for this price, but I got it.
From Reno, it's a scenic, 80-km (50-mile) drive through Toiyabe National Forest to Squaw Valley. I took the 7am flight, leaving me ample time to drive into Tahoe City for a pleasant lake side lunch before hitting the slopes. Finding cheap accommodation in and around Lake Tahoe is usually not a problem either, unless you are going on a holiday. Note that Carson City has plenty of accommodation as well. It's only a 20-minute drive from Lake Tahoe, and offers a quaint and historic downtown.
Photos Reno-Tahoe International

You can ski for cheap on Sunday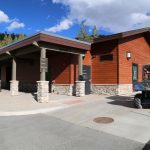 Bummer that there are no free tickets for day 2 of your weekend snow adventure. Fortunately, there's another secret. Head over to Diamond Peak Resort, where you can ski all day for just $74 for adults. This is, far and away, the cheapest deal in the entire Tahoe area. Diamond Peak is not remotely as famous as all of the other Tahoe resorts. In fact, there aren't even any signs for it off the main highway. But it does boast some 30 runs. It is also situated extremely close to the lake, and its peak offers the most breathtaking views of Lake Tahoe and surroundings. After a day of skiing, just drop off your ride at Reno airport and fly back home.

Here's the rub….


Here's the rub. Doing this trip on a cheap budget requires cooperation from the airlines. I have no idea how often the flight tickets are available for super cheap, I've only done this once.

I may have just gotten a one-time lucky deal, for all I know. Either way, I hope I inspired you to look into it. See you on the slopes!

Not everyone has the luxury of living within reasonable driving distance to Lake Tahoe, California/Nevada's many, amazing snow resorts. So if you are a weekend snow warrior and want to spend Saturday and Sunday on the Tahoe slopes, you're looking at some pretty nasty expenses that hinder your ability to simply pick up and go: transportation, lodging, lift tickets, meals, and maybe even having to rent equipment. We're talking, easily, $700-900 per person. That's quite a barrier for most of us casual skiers/boarders. If only there was a cheaper way to do it. Oh wait, there is. Let me fill you in on how I managed to spend an entire weekend snowboarding at Lake Tahoe for $350 (not counting meal expenses.)