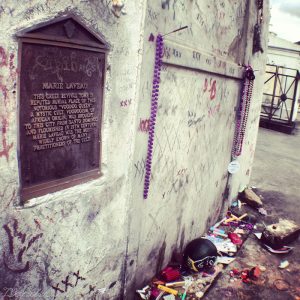 "Can you do me a solid, Madame Laveau?" I whispered, so close I could have sworn I felt her lean in. There was no response. Not yet anyway.
The months before heading to New Orleans was a chaotic mess. I had lost my job. Or rather, my career. A career I had studied for. A career I took pride in. I'm a teacher. But as I left the office the day I was let go, I remembered what my former boss said to me before my dismissal: "Your. Students. Love. You." Those words danced in my brain as I accepted my last check. I couldn't comprehend that sentence at the time. My students love me? Of course my students love me. Because I care about them. About their performance. About their futures. The truth is I love them. So why was I being let go? Don't they want a teacher who genuinely cares about the students? About the course of education in the US?
I pondered those questions for weeks. There was nobody –nobody—who could fix the funk I was in. My husband couldn't understand the pain I was in. He knew my career meant the world to me. After all, he taught me how to make my career mean the world to me, how to make my career. My all. He taught me how to eat, sleep, drink my career. He taught me the importance of passion for my career.
But, he couldn't understand that for years, I thought teaching was the only thing I was good at. I can't cook, I can't draw, I can't stomp all over people to be a CEO (nor do I have the desire to). Teaching was "it." The thing I woke up for every morning.
Everyone says there are eight stages to overcoming grief. I was at the stage of anger when we left on our trip to New Orleans. I was peeved. I wanted to get out. Get away. When my husband planned that weekend trip to New Orleans, I was relieved. Being cooped up in the house pondering those questions that I would never have answers to was draining. New Orleans was the ticket to rejuvenate my frayed nerves.
As I read about New Orleans, I read about the interesting past of the city. How the French, the Spaniards, the natives and the Africans coalesced to form a culture where knowing French is actually pretty helpful. How it's perfectly fine to engorge oneself on all the crawfish you can eat. How parades are just kind of a "thing" in New Orleans. While we were there, we were privy to an Italian American Marching something-or-other parade. I couldn't tell you what it was celebrating, but, it was fun and that's all that counts.
I also read about Madame Laveau, a free woman of color who lived during the 1800s. She was renowned for here amazing voodooienne prowess. People from miles around would come to visit her. She was good. Damn good. And apparently, she works wonders from beyond-the-grave. My husband—knowing full well that I get my palms read (my girlfriends and I even make a party out of getting our palms read and tarot readings) – among other things, I also hold my breath under tunnels and wish upon dandelions. No, he wasn't going to stop me from visiting her grave. After all, her tomb is housed in the oldest grave in New Orleans, an attraction if I do say so myself.
So, as I stood in front of the grave of Madame Lavaeau, an above-ground tomb that has been lovingly tagged with numerous X-marks (apparently an ode to her voodooienne background), I bequeathed my modest gift in exchange for her beyond-the-grave-help. I wasn't quite sure what constituted as a good gift. After reading online that the madame appreciates a fine rum, I instead offered a modest gift of three (again in ode to her voodoo prowess) Kitkat bars. It was a humble gift, but a gift nonetheless. And I ask you, who doesn't love Kitkats?
"Can you do me a solid, Madame Laveau? I feel lost. I just need to know if I'm on the right path."
Silence.
"Thank you," I said and I left hand-in-hand with my husband. As I grabbed my husband's hand, I looked over my shoulder to the grave. Maybe that was her answer. I looked down at our hands grasping in a tangle of fingers. Maybe I'm not so lost after all. I have the world's strongest support system: a good man who doesn't say a word as I ask for help from a deceased voodoo master and my strong ability to bounce back from anything. There would be no more feelings of being "lost." Everything is going to be alright. I just have to believe in that.