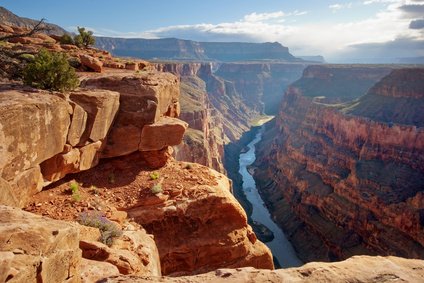 I have been married to a wonderful man for 25 years.  We got married very young so as he said we could: "have our children and still play with them."  We had three children in 4 years – worked hard and played hard.  My husband Wes worked 2 jobs when the kids were little so I could be home with them.  Life was not always a bed of roses but we managed to get 3 children into college, two of which also became soldiers.  
When our youngest graduated from high school we looked at each other and said "Lets do this!"  We had discussed traveling our entire married life – "When the kids are in college we will be in our 40's and we can see the world!" I was fortunate enough to have a profession where I could travel for work as an emergency room nurse. This career allowed me to work from most anywhere. Not wanting to be left at home, Wes had gone back to school in his late 30's to become an occupational therapy assistant so he could also travel and work.
We made a list of everything we wanted to see but couldn't afford to see on our limited budget (while financing three college students).  We began traveling short distances, starting about 2 hours from home to see how everyone would fair with this new stage in our lives.  How strange – usually your children move out; ours stayed in the family home and we left.  We had one year of traveling when my husband was diagnosed with Neural Sarcoidosis.  This disease hit so hard  this young vibrant man couldn't walk and was confined to a wheel chair.  Doctors weren't sure what to do. This disease is treatable however Wes had it in his brain stem and at that time, that was unheard of.  One day his doctor looked at us and said if there is anything you really want to do – you need to do it now.
I went home – spoke to the kids; we formed our "to do" list and 3 weeks later we had all the medical equipment needed packed into my car and we were off.  We started in Rhode island as Wes loves the ocean and we were still close enough to NY to get back if needed.  Wes lit up like a roman candle when we arrived in Rhode Island. Our children visited us for Thanksgiving and Christmas.  Wes was ecstatic.  But unfortunately, by January he was back in the Intensive care unit.  Once again the his doctors told us they were doing all they could.  All Wes could talk about was seeing  things with me that he had seen as a child.  We got him home and after a painful discussion with the kids we decided we would do what Dad wants.
We have been to the coast in North Carolina; lord does he love the ocean.  Vermont has beautiful lakes and mountains.  It didn't matter that he physically couldn't get out of the car.  I have now become a pro at getting out of the car – running up and down – taking photos then getting back in the car so we can look at them together.  I don't really see anything until I see it with him.
Wes has been doing quite well and we went to Arizona to tick off the Grand Canyon, Tombstone, Painted Desert, and last but not least, the Petrified Forest. Five days across route 66 was the best time of our lives.  We met some friends along the way who joined us in certain places.  Wes has almost completed his bucket list. Right now as I type this he is snoring on the sofa beside me.  He is exhausted from planning our trip to Maine in the fall.
He is the reason I get up and move.  When I see him with all he has going on gaze at nature and say" isn't it beautiful, but not as beautiful as you" – he says it every time and I fall in love all over again.  I can look at something and see it but again until I have seen it with him I haven't really experienced it.
We are leaving in 15 days for Florida – spending 10 days there, coming back for 6 weeks and then heading to Maine for 3 months.  The beauty of the East Coast will only be magnified by seeing it through his eyes.  I do not know where we will go after Maine.  However, I do know that the doctors do not understand what is keeping this man going. Anyone who loves travel the way Wes does knows the answer to that question. He hasn't seen it all yet!
We still have the entire west coat to visit.  Maybe we will start in Washington and work our way across the country.
That is certainly something we could live with.