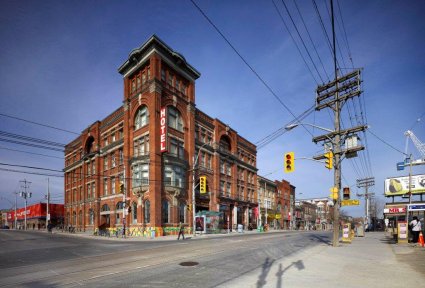 The exterior of the Gladstone Hotel
One going out in Toronto, Canada's largest city, to enjoy an evening of fun and tasty food will find no better place than the Gladstone Hotel and its Melody Bar. A unique renovated historical abode, it was built in 1889 and is the oldest still operating hotel in Canada. In 2005 it was re-launched as an art hotel with 37 rooms each designed by a different artist. With locally made furniture and its artist studios and exhibition spaces it has become one Toronto's best known art hotels.
At one time, located near Parkdale Railroad Station, it was an important and busy place. It served passengers from three major railway companies and provided visitors to the annual Canadian National Exhibition with a place nearby to stay.
Today, its unique rooms designed by local artists are an enticement for culturally inclined artsy travellers. They give the visitor an idea of some of the true flavour of Toronto – an authentic taste of the works of local artists.
However, the hotel is known above all, especially to local Torontonians, for its Melody Bar with its artsy and trendy crowd and loads of entertainment. Just newly renovated, it hums with enjoyable action. During the day it is frequented by friends enjoying a brief interlude together as well as business men and women to have a drink and talk about their problems or making business deals. The bar is an ideal place to relax during the day, while at the same time relishing local food such as one of the most delicious beef burgers in that area in Toronto.
On the other hand, it is at dusk when most people come to the Melody to enjoy the best in festive activities, some staying until late at night.
It is during this time when the bar, known for its for its entertainment, truly comes alive – some even say wild. There are fun venues galore and cover is usually free. Some of the common events are great concerts, local DJ talents doing their stuff, dance parties, comedy skits, all types of live music, and karaoke nights. The Melody has been kept by Now Magazine on the Karaoke aware for 8 years. In this hep and modern fun-hub, the Gladstone's Melody Bar is also a fine spot for meet-ups and other happenings. All this entertainment as well as the food and drinks for two costs on the average from $40.00 to $100.00 for an evening – it all depends on the food and drinks.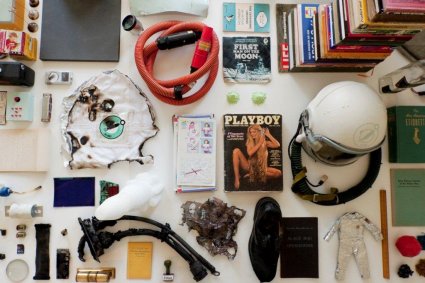 On the day that the bar was re-launched after extensive renovations and re-invigoration, with my daughter, Muna, we came to partake of the pleasures of an evening at the Gladstone's Melody Bar, which had been converted into a social hotspot and a 'resto-lounge'. Soon we were nibbling on locally sourced succulent Gladstone beef burgers, said to be the best in the western end of town, while we sipped on our reasonably priced drinks.
"I have been informed that besides the free entertainment, the food is delicious here", my daughter said as we began our evening at the Gladstone. "They must be right", I mumbled as I shoved yet another piece of burger into my mouth.
As I looked up a waitress was standing by with a try of food. She smiled, "Would you like to try our vegetarian burgers? They are one of the most popular foods that we offer." Not worrying about my diet that evening, I quickly devoured the vegetarian burger, saying to myself, "She's right! It's tasty!"
As we tried to converse the sound of music, not too loud for such a trendy place, I was overwhelmed by voices of the chattering and lively crowd. One's voice could be hardly be heard and I soon became tired of trying to converse.
Miraculously, we found a place to sit. While munching on delectable poutine maison, I shouted above the music and the river of voices, "How do people get to know each other? All I can hear is a babble of tongues." Muna shouted back. Her voice seemingly rising above the music and the river of voices, "Just listen to the music and enjoy the food."
Nevertheless, sipping on marmalade sours and nibbling on tidbits in between, we carried on a shouted conversation with a number of acquaintances that we met that evening. As we left I thought one of them had given us good advice when he suggested, "Don't come here on weekends and special occasions. There are always line-ups and the Melody is always overcrowded." As we left I turned to my daughter saying: "For me, the next visit will be mid-week."
Author in Melody bar
Named as one of the top ten bars in the world by Conde Nast Traveler Readers' Choice Awards 2007, the Gladstone's Melody Bar has a loyal cliental that makes the Bar with its artistic decor and inventive menu their social axis. In the words of the Gladstone's Hotel president, Christina Zeidler; "after renovation, the Melody Bar is now the perfect place to relax, dine or hear the best music while mingling with the Gladstone's artist and designer regulars."
For Further Information, Contact
Gladstone Hotel: 1214 Queen Street West, Toronto, Ontario ON M6J 1J6. Tel: 416.531.4635.
Website: www.gladstonehotel.com/hotel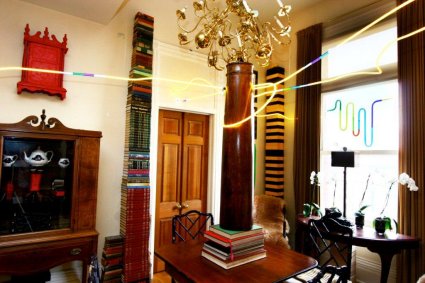 Author's daughter, in Melody bar