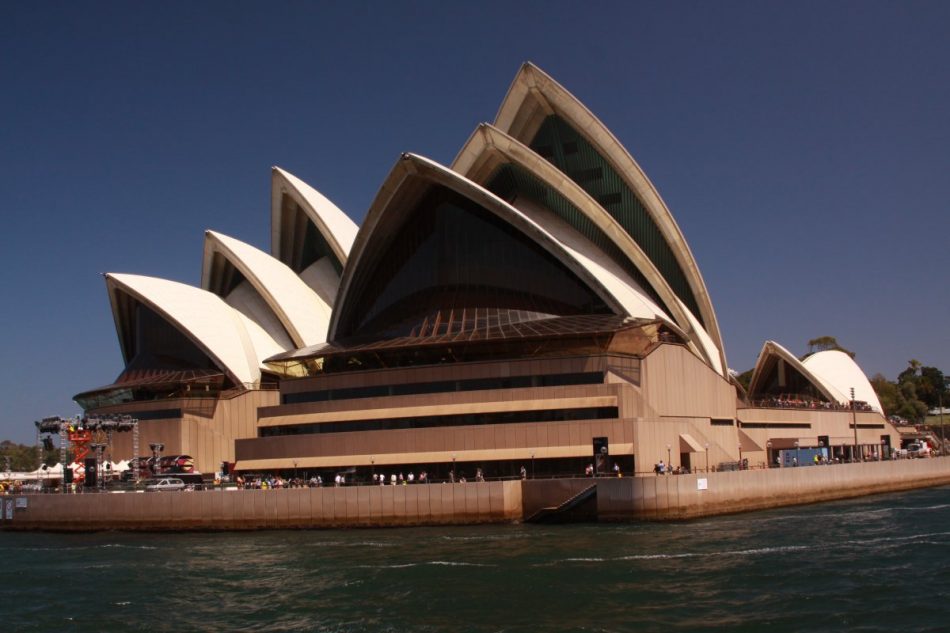 This article is copyrighted by www.hotelssydney.com
But if you plan on staying in style in the city voted for six consecutive years "the best city in the world to visit," consider some of the following accommodations instead.
Only twenty minutes from the airport, the Sir Stamford Circular Quay hotel may be small, but the quality will both delight and astound. The classic luxury of the general areas is reminiscent of a private club atmosphere, and the each of the 105 guest rooms or suites provides guests with a refined retreat from hectic sight-seeing rounds or business meetings. Accommodations choices ranging from the Superior City Room to the Executive Harbor Suite blend with friendly, courteous service and a wide variety of amenities – air conditioned rooms, private restrooms, laundry facilities, in-house restaurants and bars, as well as a business center and conference facilities – to provide the ultimate in old-world sophistication and modern convenience.
With the Sir Stamford only a few minutes walk from several outstanding Sydney city center attractions, guests can easily and quickly enjoy such places of interest as the Royal Botanic Gardens. Located on 30 hectares (almost 90 acres) of both native and imported flora, the Gardens provide the perfect destination for a relaxing lunchtime walk between meetings or a full day's family outing. Other close sights include the famed Sydney Opera House and a large assortment of shops along the Harbor, itself.
Sydney Harbor also has numerous outdoor activities for more adventurous visitors: sailing, scenic flights, jet-boating, and even climbing the Harbor bridge. Panoramic views of the Harbor can be had from the Stamford Plaza Double Bay hotel – not the most expensive hotel in town, but definitely a luxury, five-star experience. Located just ten minutes from the Sydney's Central Business District, the Plaza Double Bay offers business guests a business center, conference facilities, and even secretarial services, but don't let that fool you. Each room has it's own mini-bar, Juliet balcony or terrace, refrigerator, and even data port connections to help guarantee both convenience and satisfaction, and the overall experience is only heightened with the luxurious appointments including 18th century Louis XV and Georgian antiques in common areas.
The Double Bay location of the Plaza is one of Sydney's most prestigious districts, presenting guests with a wide assortment of boutiques and shops featuring some of the world's most famous name brand lines of goods and clothing. Dining is a dream, since the hotel boasts it's own sophisticated dining room, and did we mention yet that the Stamford Plaza has one of Australia's largest private fine art collections? Should guests choose to dine out, a large variety of high quality dining establishments are located right within the Double Bay area, ranging from highbrow pubs to full-fledged five-star restaurants.
Finally, for the convenience of an apartment combined with the luxury of a five-star hotel, consider the Quay Grand Suites Sydney located right on the eastern shore of the Circular Quay. As the name states, no "rooms," only self-contained suites that include one or two bedrooms, a living room, a smartly designed bathroom with spa, laundry, and a fully-equipped gourmet kitchen. Balconies providing magnificent views of Sydney Harbor invite guests to stay in for a quiet night of watching the Harbor activities from the comfort of their suite, or they might choose to dine out at Jordon's, Sydney's premier seafood restaurant, easily accessible by both ferry and monorail. For a fun lunch, the Hyde Park Barracks Cafe and Edna's Table both provide a unique Australian dining experience, sure to please even the most jaded traveler.
So for your trip to Sydney, go in style! The city offers some of the most luxurious and sumptuous accommodations in the world, located in just about every district you might need or want to visit – from the Central Business District to Harbor views to the historic City Center – and a wealth of activities to enjoy in each of them, as well.