A dry breeze blows – a few clouds drift by overhead lit up by a quarter moon that is bright yet not so overpowering that plenty of stars still shine through brightly. You are in the desert – about a two hour drive from downtown Los Angeles. The property is Miracle Springs Resort in Desert Hot Springs.
This family owned resort is built on top of several layers of underground lakes (aquifers) located approximately 300 feet below the surface. These clear waters rise at 140 degrees F. The resort then cools the water appropriately and feeds it into their 8 pools ranging in size and ranging in temperature from 90 to 104 degrees.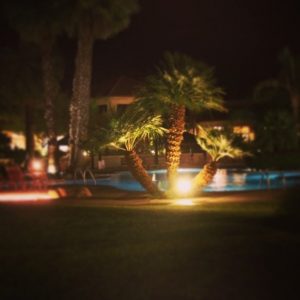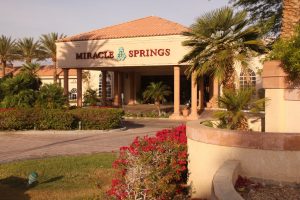 A number of hot springs we have visited on our travels have tended to smell like Sulpher – not this one! The waters are extremely clear and have regularly won top prizes in the "Best Tasting Water in the World" at the Berkeley Springs International Water Tasting Competition.
A stay here is a simple recipe for relaxation. When you need time to unwind, a good book combined with plenty of dips into the hot pools creates a truly satisfying experience. There are no hour restrictions on when you can enter the pools. If you want to go swimming at 2am – there are no signs to stop you. The pools are open 24 hours a day.
The Cahuilla Indians knew of these springs but then they were re-discovered in 1914 by a local pioneer. He found both drinking water and mineral waters on the same property (not far from the hotel), so he named his land, "Miracle Hill". The modern day resort began as a day spa in 1963. Hotel rooms were later added in 1970.
For Italian American comfort food, the Capri Restaurant is on site – serving three meals a day. The food is reasonably priced. For additional pampering visit the on-site spa and choose from a variety of services including facials, massage and body therapies. Perhaps the children would like to take advantage of some of the spa services – they offer a VIP Tween Menu for ages 12-17.
To book a relaxing experience visit: www.miraclesprings.com
After you've soaked away your stresses it is time to explore this unique part of the state.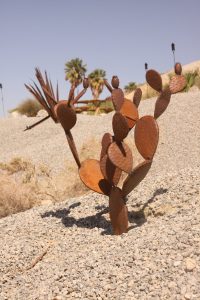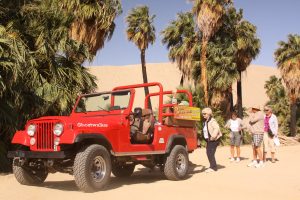 Desert Adventures is the Coachella Valley's longest running tour operator. With a fleet of 20 vehicles and that many guides – their range of tours in the desert is varied. They offer windmill tours (2500 of these are located near Palm Springs) trips to Joshua Tree National park or the "Indian Canyons" near Palm Springs to an educational tour of the San Andreas Fault Line.
On a particular chilly May day we met up in the parking mall of a local strip mall in Palm Desert with instructions to look for a red jeep. Our intrepid guide Morgan "Wind in Her Hair" has lived in the Coachella Valley for the past 40 some years – moving down here to escape the cold Marin County winters of Northern California. This tour is appropriately named, the San Andreas Fault Line as much of the tour is centered on a landscape that has been twisted and tormented by strong geological forces.
Morgan knows this part of the state extremely well. As we drove to the fault line we learned the population continues to grow with over 430,000 full time residents in the Coachella Valley. The only reason this desert (the Colorado) can support large numbers of people is water; the valley sits on top of the second largest aquifer in the United States.
The tour not only highlights the unique geology of the area but also provides insights into the local Cahilla Indians as well flora and fauna. The Washingtonia Fillifera are the only native palm trees to California. We visited a number of palm oasis's. Interestingly enough the Indians used to burn the palm trees as they discovered fire produced sweeter dates. Fire was also used to kill the native palm grub. Today when you visit a palm oasis you will most likely see Middle Eastern date palms growing among the native palms – as coyotes enjoy eating the fruit and spread the seeds.
One of their most popular tours is to nearby Joshua Tree, their desert night tours and a visit to the 2500 wind mills used for power generation near Palm Springs.
And in the spirit of her own native American name – Morgan evaluated us throughout the three hour tour and as we were driving back offered up her own Native American names for each of us – providing her own explanations and reasoning for the name choices.
A tour with Desert Adventures offers valuable insights into this unique desert part of the state.
Visit: www.red-jeep.com
There are plenty of other attractions and experiences in the Coachella Valley.
A few we have personally visited are:
Date Farms
Hiking the "Indian Canyons"
Palm Springs Tramway & San Jacinto Hike