Do you know the zonkey?
Along the Avenida Revolucion (the most famous street in Tijuana) you are likely to find the Zonkey.  Some attached to carts, some on a corner with their owner next to a feed box of hay.  All offer a variety of sombreros to wear and one of the best photo opportunities in Tijuana. and are there. 
A Zonkey is a donkey that has been painted with stripes and looks more like a zebra. The donkey painting started many years ago to make the donkey stand out in black and white photos. Today the tradition continues and continues to be a piece of Tijuana culture.
When passing by if you want to take a picture be kind enough to pass a dollar or two to the business owner. If he didn't feed and take care of the Zonkey you wouldn't be able to take the picture. 
It was on a day trip across the border that we saw our first Zonkey (a donkey that has been painted with stripes and ends up looking like a zebra). Both of my daughters took turns wearing the sombrero and sitting on the Zonkey so we could capture on film the essence of the day in the Mexican culture.
Tijuana is known by most as the Mexico border town to San Diego, California. It's most famous street, Avenida Revolucion is often thought of as a place to bar hop and party. Did you know Tijuana has a mellow side? A side that is family friendly and full of fun. Here a few more things to explore on with your family next time you are in Tijuana.
Plaza Santa Cecilia
Off the most famous street in Tijuana is the oldest square in Tijuana, the Plaza Santa Cecilia. This open air market area is lively with mariachi music, lots of individual shopping stalls, restaurants and because it is a walking street it is filled with people enjoying all it has to offer. The individual shopping areas have everything from piñatas to purses, clothes, toys, silver jewelry, candles, hammocks and food. There is so much to see in this area that it is easy to spend a fair amount of time people watching and shopping. As a family Plaza Santa Cecilia is a great experience enjoyed equally by children as well as parents.
The Mexican Hat Dance
In this historic and traditional plaza you will most likely see a rendition of the Mexican Hat Dance accompanied by a mariachi band or string instruments. Mexican music is so happy and festive that it can't help but put a smile on your face. The Mexican hat dance performed by two people, a group or just one dancer tells a story about courtship and very often ends with a loud "ole".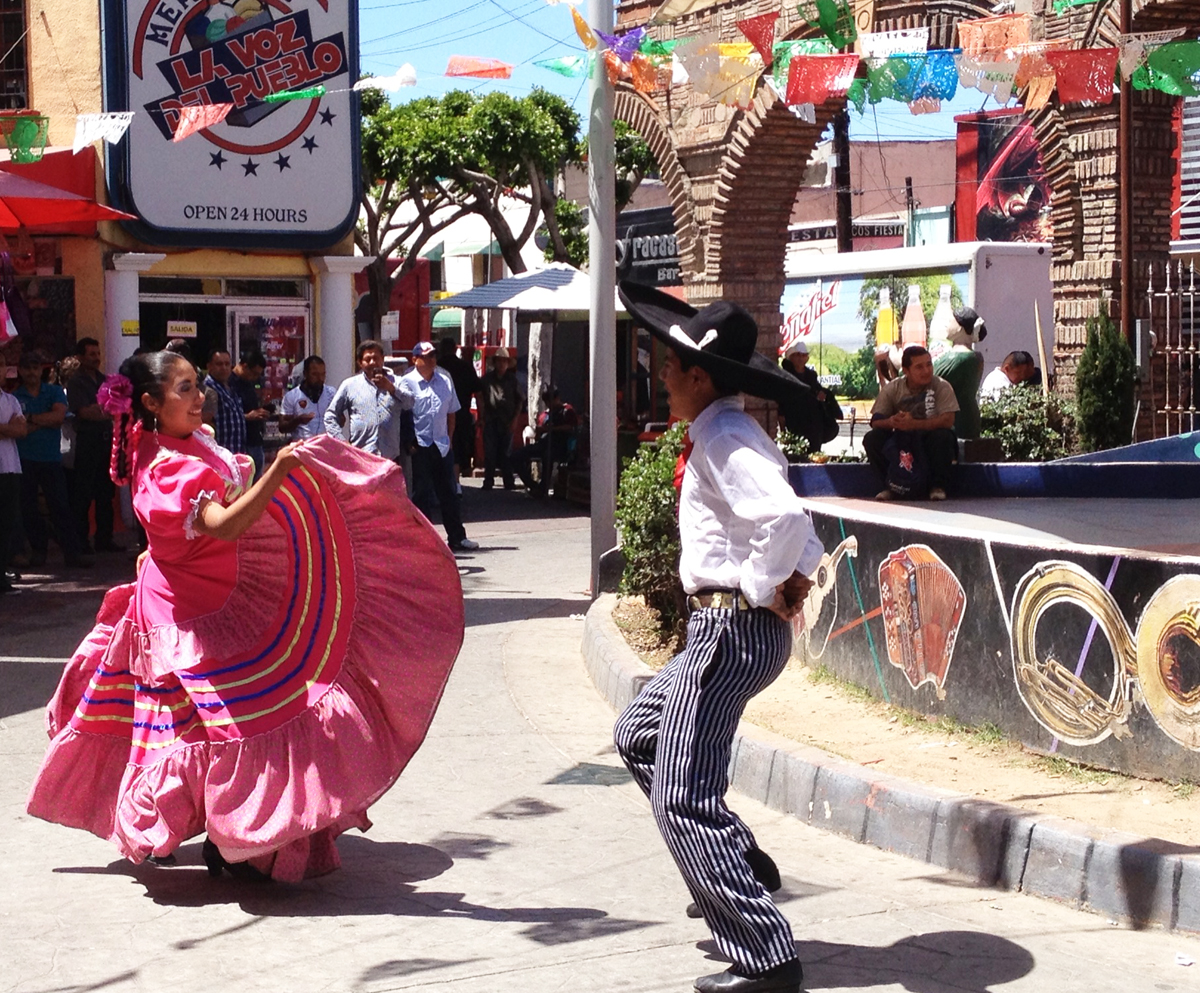 Restaurante La Tradicion
There are several choices when it comes to breakfast, lunch or dinner in the plaza. Restaurante La Tradicion serves a wonderful variety of Mexican food and it is excellent. From the guacamole to tacos to their signature dish molcajete it was all delicious. The seating is outdoors as well as inside. The patio offers a view of all that is going on in the plaza from the strolling mariachis to the vendors and people walking by. Restaurante La Tradicion is a family owned restaurant that happily caters to families.
El Trompo
Twenty minutes from city center is a four floor interactive museum for children. There are lots of activities to participate with in Experiment Hall, Innovation Hall, and Technology Hall. Much is based on technology and science so kids can understand more about the world we live in. The activities in El Trompo promote learning thru experimentation. This is a family friendly place where kids can have fun and learn at the same time.
The same international experiences that my family enjoyed so many years ago are just a quick drive or walk across the border. Go to Tijuana to be transported into a culture worth experiencing. The music, the food, the Mexican traditions and of course the people make this a family adventure to enjoy and remember for many years to come.