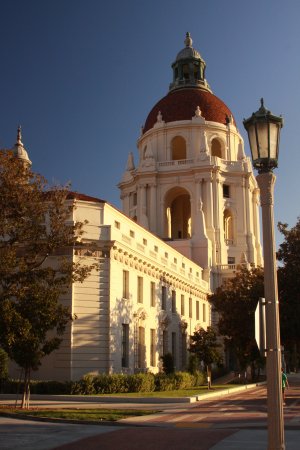 No one thinks about the city of Pasadena, California, unless it is Rose Bowl or Rose Parade time, except for Los Angeles County residents and people who hear the song "Little Old Lady From Pasadena".
When tourists think about visiting California they most often think about going to Disneyland or cities like Los Angeles and San Francisco or beach cities like Long Beach, Monterey, Newport Beach, San Diego, Santa Monica, etc.. Very few of them think about visiting or staying in "small town" Pasadena and that is a big mistake.
No matter what you are looking for in a vacation or what you wish to do you can find it in or near Pasadena. The city itself has over four hundred (400) restaurants that serve almost any type of food that you can imagine, dozens of art galleries and antique shops, fine museums like the Huntington Library and the Norton Simon Museum of Art, hotels of all categories from inexpensive motels to the Ritz Carlton, night clubs and comedy clubs, beautiful homes with magnificent gardens that can be seen while driving through the city, over two hundred (200) churches, shopping galore and much more.
Mountains, ski resorts, beaches and the desert as well as Disneyland, Knotts Berry Farm, Magic Mountain, The Aquarium Of The Sea, the Getty Museum, etc. are all within a one half to one hour drive. Visit Hollywood or Beverly Hills. Downtown Los Angeles is only nine freeway miles from downtown Pasadena. Visit the Arboretum, the Botanical Gardens or the Los Angeles Zoo. Take in a Dodger, Lakers, Clippers, Kings or Galaxy game (all venues are less than fifteen (15) miles from Pasadena). Take in a horse race at Santa Anita, go to one of California's largest swap meets at the Rose Bowl or just sit in an outdoor restaurant in Pasadena's famous "Old Town" and people watch.
About the Author
David G. Hallstrom, Sr. is a retired private investigator and is currently the publisher of several internet directories, including a directory of national, state, county and city guides and directories listing local guides, directories, web sites and web pages providing resources, services and information about things to do and places to go.