I had never followed any boxers or the sport before until many years ago when a friend told me about an up an coming young boxer named Andre Ward – who had taken a gold medal in the 1996 Olympics. My friend had already been following his fledgling career for several years and casually mentioned to me one day if I would like to attend a fight.
We drove up to San Jose for one of Andre's early professional bouts – the crowd was small but boisterous and we sat fairly close to the action. I could clearly see how fast paced this sport is – during the fight my friend was keeping notes on each round. He suggested we build a fan site centered around Andre's career. Like all his fights before, Andre won that particular fight.
With a background in working with several websites – it was easy for me to create a basic site using some photos from the first fight we attended and my friends notes. Then we reached out to Andre's media camp and told them about our website and interest in covering his upcoming fights. They were happy to provide media passes to his fights – allowing us to sit ringside at many of the fights and bring in a professional camera. Once we even rented a long lens for some very close up photography.
I love taking trips based on niche types of travel – combining both my love of travel with some of my other interests. I've traveled around the world seeking out specific wineries and wines, adventure and island travel. Soon we both began to travel to Andre's fights – up and down the state of California including several venues in the San Francisco Bay Area and greater Los Angeles and even to Las Vegas several times. Speaking of Vegas, there are plenty of sports betting opportunities centered around this city including BetMGM bonus code.
We used our time traveling to each of Andre's fights to take in local sights in the destination cities, often staying for a few extra days usually before the fight. And then celebrating each victory post fight with a visit to a local favorite bar. And for those into sports betting while on the road, check out this offer.
And we even attended numerous pre-fight media events – where Andre and his opponent would take turns talking about how they would each be victorious. Andre's opponents sometimes talked mean about Andre and some even guaranteed wins a few times – but ultimately they all were proven wrong in the ring. Andre never lost a fight since he was 13 years of age – both as an amateur and a professional fighter.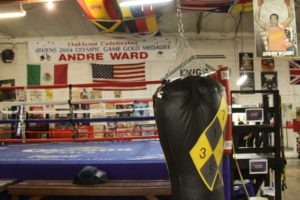 Some of my favorite memories of covering his career were several media days at King's Gym in east Oakland, California. This gym has been here since 1990 but it looks and feels like its been here much longer. Its within spitting distance of the 880 Nimitz Freeway. Walls are lined with inspirational quotes, photos of fighters, fight posters and other boxing memorabilia. Its gritty. Its old school. Its got character. And during his career Andre would often train here.
The culmination of Andre's stellar career was in Las Vegas. Fight one of two was against a tough opponent from Russia named Sergey Kovalev, undefeated at the time – often referred to by his nickname, The Krusher. The fight was at T Mobile Arena. Of all Andre's fights we attended this was the closest we ever saw him coming to losing – knocked down in the 2nd round Andre bounced back and seemed to gain energy in the later rounds and emerged victorious by the slimmest of margins.
Fight number two also against Kovalev who was anxious for revenge also ended in victory for Andre – his 32nd of his career against zero losses.
This was Andre's final professional fight – at only age 33 he decided to retire citing the tolls of physical punishment over the years translating to having lost some of his hunger for the fight. He went out on top – and has wisely not come out of retirement, although we keep wanting to see just one more fight!
And those interested in seeing Andre outside of his boxing career can do so by watching the inspirational films, Creed and Creed II.