The benefit of being a travel writer is that you can mix pleasure and work. If you love traveling and writing and moving – then your work is not really "work". In today's travel writing world – there are many technological trappings to ensure that one can maintain a certain type of nomadic lifestyle. Merely fifteen years ago nearly all of these items and services did not even exist!
When shopping for items, I look for the following characteristics – in this order: quality, durability, weight, size and speed (if applicable). If I can get those in one item – I'm not as concerned about the price. After all this is my livelihood. The items listed below are in alphabetical order.
Business Cards
For thick cards that you can customize with your own photos (using a different photo on each card) there is no better choice than www.moo.com These are cards that stand out and you usually get a positive response from someone who has never seen these types of cards before. Also check out their NFC business cards with an electronic chip embedded inside.

Camera
As my friend Michelle of My Traveling Lens says, "the best camera is the one you have with you" – I want to have an SLR as my primary camera with me at all times when I'm traveling. Unfortunately it is heavy – but with a good lens(s) you just cannot beat the quality of photos. I've always used Canon – currently I have the EOS 5D Mark III with a 24-105mm lens. And I bring along the GoPro Hero 7 for underwater photography and video.

Computer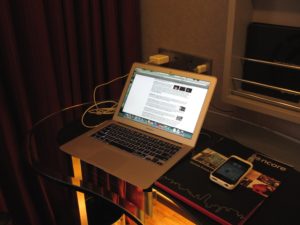 Toshiba Portege– I love this ultra book because its so amazingly light! Features a small, built with some durability for traveling and deftly handles all the applications I need. Perhaps Portege should have been named Protege as a subtle reference to the similar in size (slightly heavier) but better built MacBook Air which I also use.
It can happen to anyone. You forget your laptop somewhere only to return and find it gone. Or its just plain stolen. Either situation is the same – it may not be the price of the laptop that is so heart wrenching, but rather the data on it especially if you don't have it backed up. Consider activating a monitoring service such as www.preyproject.com

Credit Card
I use several credit cards (US Bank & one or two airline branded cards) for most of my purchases – focusing on cards that have no international transaction fees and provide miles for money spent – and also just as importantly, online friendly for letting you book using miles for reserving flights. I've been known to signup for credit cards for one year to get the initial mileage bump (sometimes its significant) and then cancel prior to the year after I've redeemed my miles.
I'm not the expert on which credit cards to use in regards to traveling and perks. I leave that up to The Points Guy or Wendy Perrin.

Electrical Adapters
Smaller is better! A couple adapters will work for most countries in the world. My favorite all in one adapter is the Road Warrior Plug adapter. Its red so it stands out (less chance of leaving it plugged in somewhere). It is small and covers nearly all countries in the world – I think South Africa is the one exception.

International Calling
Whatsapp, Line or Viber. The go to calling apps. But for those outside of the friends and family network, I still use Skype – with such cheap rates and better clarity and connections compared to other similar services, this is my go to online calling service for international and domestic calls. Skype offers pay as you go plans or monthly plans.

Luxury Items
Priority Pass is one of the cheapest ways to use lounges at airports – www.prioritypass.com Global Entry (for US citizens & select others) is an expedited and automated way to re-enter the country after an international trip – www.globalentry.gov

PayPal
This has always been a love hate relationship. I can't count the times my account has been locked for "suspicious activity" when I'm somewhere in like Yemen or Namibia or even Thailand. Or having payments held for no apparent reason up to several weeks. However, this is the most common platform in my experience for international online transactions to take place on. Sure there is Venmo and other even newer payment transaction apps – but for doing digital business online, Paypal is still the go to app. It is certainly convenient. Be sure to get a PayPal debit card – it can be an inexpensive way to make purchases overseas – avoiding common international transaction fees from credit card purchases.

Phone
Aside from obvious generic phone features, the main highlight of a smart phone when traveling is ability to get on WiFi networks and ability to swap out a local SIM card to avoid roaming fees. Oh and its nice to be able to take video on the fly. The phone absolutely must be unlocked so as to swap out SIM cards as needed when traveling between countries.

Social Media
I try to focus on the major obvious social media outlets. Twitter, Instagram, Tik Tok & Facebook.

Storage
USB Flash Drive – these are great for backing up on the fly during downtime on your travels. The beauty of these devices is they are small and in the past few years support significantly more data. Oh and like most storage devices, the prices have really dropped. I've always had luck with the Corsair brand. These are highly durable products. I recommend at least a 256gb, 512gb or 1TB USB drives. For serious photographers accumulating massive data quickly, there's always much larger portable drives.

WordPress
The proliferation of blogs skyrocketed when the ease of using WordPress became known and today a high percentage of travel blogs are created on this platform. With a variety of free and paid templates available – and a fairly easy learning curve, as well as the ability to publish and edit on the fly – its no wonder this software is so popular.

No companies listed here were in any way involved in sponsorship of this post. They are all from personal knowledge and or use.
These are just some of the items I currently use. Perhaps you've found better solutions, other products and services, apps etc to share. Let us know by posting your comments below.