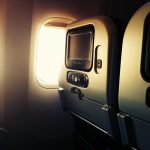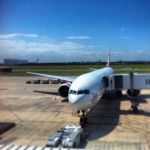 I was recently on a Qantas flight between Adelaide and Brisbane in Australia when I had a moment of inspiration upon exiting the bathroom. I opened my door at the same time as the bathroom directly across from me at the same time the flight attendants pushed a cart by. We all hit each other simultaneously.
I thought to myself, there has got to be a word for this. Why not make up some words and definitions incorporating some humor out of all this time spent in planes! Then I started thinking of other unique plane only situations and terms and descriptions for passenger activities while on the plane.
So then I started wandering around the plane physically and when I got tired of that I sat down and and wandered the plane in my mind and came up with the following – listed alphabetically:
Bulkhead Babies– nickname for families with children – the bulkhead seats are where families with small children are most likely to be seated, especially on long haul International flights.
Dry Cart – food only cart, no drinks.
Flow Interrupter – most common when boarding a plane – someone stands in aisle for longer than normally necessary – creating a significant line behind them while they figure out either where they are seated or they attempt to place their bag in the overhead bin.
Phantom Row(s) – is a missing row or rows. Typically the most common missing row (if there is one) is Row 13 – for possible reasons of superstition.
Rigid Seat – a seat that will not recline. This typically refers to exit row seats on some planes. However, seats may have a lever on the side bottom of the seat that when activated will let the seat recline by pressing the normal recline button option on your seat rest. These seats are "partially rigid" and may be set to rigid only for takeoff and landings.
Sneakers – those in coach class trying to "sneak" into a premium class of seats with the mistaken perception they will be able to get away with this. Flight attendants have record of anyone sitting in premium class and will know which seats are empty and which ones are taken.
Soggy Head – the bathroom has been so trashed that it has to be closed down for the remainder of the flight by a flight attendant
Quadruple Wacker – two bathroom doors directly across from each other open simultaneously as a passing cart moves through the middle as a nasty bout of turbulence also occurs. This is highly coveted by hardcore flyers.
– Triple Wacker – two bathroom doors directly across from each other open simultaneously as a passing cart moves through the middle.
– Double Wacker – not to be confused with the above Triple Wacker – this involves two bathroom doors directly across from each other opening simultaneously (no cart involved)
Virgin View – first time flyer
Any you want to add? Or interesting airplane experiences!? Add your comments below.