Recently I spent a miserable night on the island of Trinidad in a hot vehicle parked in the rainforest with the windows cracked to get some air while fighting a random assortment of biting flying bugs. This caused me to think about other interesting nights I have spent including one night next to a partially rotting deer (don't ask) and a frigid night in Spain grossly under dressed for the weather in March sleeping in a dirt field covered in cardboard and clumps of grass, trying desperately to stay warm.
Who better to pose this topic to than serious travelers and travel writers. We asked them to come up with a brief description about a night(s) spent in either an Unusual, Odd, Uncomfortable or Unique hotel/location/region/guesthouse. Here are a few of their stories!

Homeless Sleepout from Adrian at SuitQaisDiaries

A few years ago, when I was back in the UK for Christmas, I took part in a sponsored sleepout in the grounds of Southwark Cathedral to raise funds for Robes (robes.org.uk), a charity who provide food, shelter and support for people sleeping rough in London. In particular it was to raise awareness of the amount of homeless people in South London and the harsh conditions they have to survive in around the holiday period. It was a freezing December night and all we had to keep us warm was a very thin sleeping bag, a couple of cardboard boxes, and a bench to sleep under. I've done a lot of sleeping rough/ urban camping in my time on the road… but hand on heart, this was probably the worst night's sleep of my life. Although it was absolutely miserable to be so cold and so wet you simply couldn't sleep, it did give me was a deep, deep sense of how lucky I was to be able live the life I do and be able to travel around the world. And because of the experience, it made my Christmas with friends and family that little bit more special because I truly appreciated just how lucky I really was to have a roof over my head and to be surrounded by the people I loved.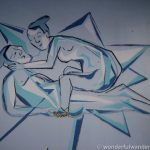 The kama sutra room from Sofie at wonderfulwanderings.com & @WondWand
A couple of years ago a (female) friend and I booked a trip to Granada. We'd traveled together before and just like the last time, decided to book a private room at a hostel. We both love meeting new people, but we also like the peace and quiet of having our own room.
We didn't consider ourselves strange for reasoning like this, but when we got to the hostel and handed over our booking confirmation, the guy checking us in gave us a weird look.
Did I have something between my teeth?
A second later he handed over our room key and I began to understand where that weird look had come from. We only got one key for the both of us and it had a heart drawn on it.
Oh boy.
Turned out the hostel only had one private room and had devoted that completely to couples. When we entered we first noticed the mirrors hanging from the ceiling. Then followed the bars in front of the window, and for the grand finale: this kama sutra drawing on one of the walls:

Sleeping with Guns from Dave at davestravelcorner.com & @DaveDTC

We crossed the border between Oman and Yemen under the cover of darkness – jumping in a van with a bunch of Omani's who were making their way to a wedding. We spent the evening with this mostly male group in some dingy partially lit house. There were no hotels in this village – later in the evening we started making our way outside to sleep outdoors in some alley when the chief of police showed up (ultimately he would be the first in a line of police chief conduits who would ferry us from village to village introducing us to the next chief of police). However on this night he was a savior – Yemen has the world's 2nd highest gun ownership behind the United States – where safer could we possibly sleep? Upon arriving at his home he pointed out the obvious fact that the walls of his living room were literally lined with rows of AK47's and other scary looking weapons! He then asked us which weapon we wanted to sleep with – jokingly I indicated I wanted one of the bigger round weapons to keep me cozy at night – while not an uncomfortable sleep (on his plushly carpeted rug) this certainly falls under the "unique" category!

Drunk in Vietnam from Cez Krol at etramping.com & @CezKrol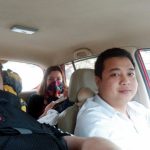 It was my first night on the road. I just landed in Hanoi (Vietnam) with two friends (girls) and one-way ticket which I just used to get there. We hitch-hiked from the airport to the city (yes, it's possible) and were dropped off in an area that rarely, if ever, sees foreigners. When we checked in to a cheap hotel ($5 a person) we thought we'll drink the black-liquid vodka we bought on a stop-over in Russia. Since I was the only guy, guess who had to go buy coca cola to go with it? As soon as I got to the shop just outside of the hotel, the owner invited me to drink with his family. During my flight I read in Lonely Planet that turning down such invitations is rude, so I accepted. Then I had to drink a shot of some strong spirit (probably rice wine) with each one of his cousins and him (about 10-14 people in total). Within 10 minutes I felt drunk, and as soon as they were asking if I wanted to marry their young niece (maybe 18-20) I knew it was time to go. I was absent from my room for just 15 minutes, but when I entered it again – to the shock of my friends – I collapsed on the bed and slept. That's the stay and hospitality I will never forget.

The Worst Place I've Ever Stayed from Greg at adventuresofagoodman.com & @GregGoodman

No one tries to stay in a place like the Overstay. With nothing more than bug-infested mattresses on the floor, jagged broken glass window panes lining the dark halls and urinals that drain onto the floor, this was the worst place I have ever been.
Yet, my wife and I stayed 5 nights. Why, you may ask? Simple: we made friends; and it was Songkran (Thai New Year)… so where else would we find a bed for $3/night?!"




Kerala Social & Educational Stay from Jacki at www.jackiueng.com & @jackiueng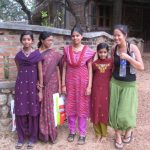 On a solo trip to India in 2008, I had registered with US Servas for home stay with a family for cultural exchange. I contacted a gentleman by the name of K. Viswanathan, who responded quickly and welcomed me to his home. I got the address and took a tropical ride on a wooden taxi boat down from Ama's Ashram in Kollam (Quilon) to Trivandrum (the southern tip & Capital of Kerala) and found my way on a rick shaw to this home. Little did I know, his "home" was not a typical house as I'd expected. His "home" sat on a 60 acre land which he had turned into a non-profit Social & Educational project, which offers education and holistic training for underprivileged children (regardless of their Religion or Caste) from local tribe families which he established in the 1950's.
There are approximately 500 people in that community including 100 workers and k-12 students. After meeting Mr. Viswanathan & his wife in their main house for chai, I was shown to the Student Hostels where International volunteers stay (for free). Some volunteers come for a week, some have stayed for years. I spent an unforgettable 24 hours wandering the school and into the local neighborhood which seemed to have rarely seen tourists. It was just my luck that on that particular afternoon, the school children had a special performance for visitors where the girls danced to traditional Indian routines & young children exhibited their Yoga practice and meditation. I wish I could have stayed longer had I known what I was getting myself into, but I had booked a flight the next morning to Varanasi, which turned out to be another whole eye-opening experience!

One night in LA from Dave at traveldave.co.uk & @traveldaveuk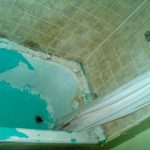 Arriving in LA I had high hopes of what to expect, If it's anything to go by its Hollywood glitz and glamour I was very excited to arrive and happened to land myself a hostel on the Hollywood boulevard itself. It wasn't until I arrived at the hostel I grew to learn how messed up LA is as a city. You really see the two different sides to life, one side the hopefuls that make it to fame and star in all the movies to those who failed to get the break and live on the streets. Low and behold when I arrived at my hostel just across the road from the Chinese theatre I learned quickly that it was a dive of an area. One fellow backpacker told me a shooting took place just around the corner and I was shocked as Hollywood was not what I expected.
As for the Hostel it was nothing of the such, instead the office was in the living room, bunk beds were scattered all over the place and the guests were all pretty much homeless working on the streets dressed up as movie stars to charge tourists for photos. Luckily I had only booked one night and decided to fall asleep on a top bunk fully clothed hugging my bag, it was not a nice place to be. Early in the morning I woke up to the sight of Chucky! Luckily for me it was a Small person dressed up as Chucky but it was enough to scare the living life out of me. I loved the way how he shrugged, looked at me and said "well some people have to make a living" and off to the street corner he went. I on the other hand went to the bathroom before almost vomited at the state of it and just decided to check out right away and get the hell out of there. Final notes, LA is not what you expect it to be.

Japan, Manga Cafes from Christine at grrrltraveler.com & @grrrltraveler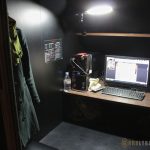 Most people know Japan as expensive, but there are ways to get around it. In order to avoid having to pay for a hotel/hostel in Japan for an overnight layover in Fukuoka, I did a last-minute scramble to a manga kissa (or manga cafe). They're 24-hour internet library cafes for people interested in manga comic books, but some of them allow you to sleep overnight, even bathe. They charge by the hour or a package rate, so I chose a cubicle space with a recliner chair. The space comes with it's own computer, charging station and in some posh cafes… unlimited soft drinks and ice cream! Some manga spaces can range from the well-managed to dank, filled with cigarette smoke and porn magazines, so the key is to find a nice one. When I returned to Japan, I decided to upgrade to a flat bed space in Tokyo.

Cave Hotel, Cappadocia from Nick & Dariece at goatsontheroad.com & @GoatsOnTheRoad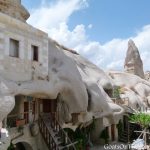 One of the most interesting hotels we ever stayed in was the Shoestring Cave Hotel in Görme Capadoccia! We literally had a room carved out of the rock. All of Capadoccia was like a Flinstones wonderland and it was great to be able to fully immerse ourselves in the local topography by sleeping in a cave every night.
Our room had a bed, a window, a couple of end tables and that's about it. It was more a cave than it was a room and it even had a drip from the ceiling when it rained. We found out that caves aren't very soundproof because our neighbours were getting pretty friendly in the next room and it echoed through the entire hotel.


Hawaiian Concrete Cliffside Yurt from Nora at theprofessionalhobo.com & @hobonora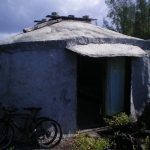 One of the most unusual (and uncomfortable) places I've stayed was early on in my full-time travels, when I volunteered in trade for free accommodation in a little ferro cement yurt on a Hawaiian cliffside in 2007. It was very open to nature's elements, with doors and windows that didn't close. The round living space was delightful and surprisingly spacious, and the outdoor shower had a view of the ocean that was stunning! On the flip side, as it was an ecologically sustainable property (to the max), the "toilet" was two separate buckets (yes, I had to do number 1 and number 2 in different buckets!) which was then recycled in different ways. Also, hand-washed clothing never dried properly in the humidity and rain, the solar power didn't kick out enough to power much of anything, and the host was…well…let's just call him eccentric!
Since then, I've had free accommodation in dozens of places since then, and have even written a book on How to Get Free Accommodation Around the World.

Bedouin Tent – Wadi Rum, Jordan from Samuel at nomadicsamuel.com & @nomadicsamuel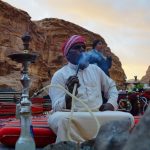 Recently, I had the opportunity to sleep in a Bedouin tent in Wadi Rum, Jordan. Some of the highlights included extracting our dinner (meat, potatoes and vegetables) literally out of the ground, smoking hookah and lounging by the campfire at night. The evening was filled with chatter and live performances. Bedouin men danced around the campfire singing.
It was a night I'll never forget. When I woke up in the morning camels were waiting to transport us to a designated area for breakfast. If you're in Jordan make sure not to miss this unique kind of accommodation experience



Stable Accommodation from Ben at redrucksack.com & @RedRucksack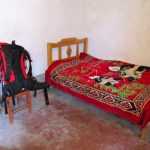 One of the weirdest night's accommodation I had was at Llamac, a small town on the edge of the Cordillera Huayhuash in the Peruvian Andes. I had just turned back from a 10 day trek after hearing rumours that bandits killed a local man to steal his donkey (I had two donkeys with me).
Returning to Llamac where my donkeys lived, I begged accommodation from the donkey-man in a small room next to the stables. My room was draughty, damp and full of food supplies but had a bed and more importantly, a good lock. The following day I hitch-hiked in a potato truck back to civilization.