The tiny town of San Gil, Colombia, is known as the "adventure sports capital of Colombia," and my time there definitely lived up to the name.
There are activities to suit every level of adventurer, including bungee jumping, paragliding, adventure caving, white water rafting, kayaking, cycling, rappelling, and canyoning. The central plaza in this friendly little town is a great place to unwind with a beer or a frozen mojito after a long day of adventuring.
For my three days in San Gil, I decided on the activities of paragliding, white water rafting, and adventure caving, none of which I had done before. Hostels will arrange all the tours, including transportation in most cases, so it was very easy to make the reservations.
Day 1: Paragliding
I had always wanted to go paragliding, and I'm not afraid of heights, so this seemed like a natural fit for me. I paid approximately $20 USD and headed out with a couple other backpackers from France.
Our taxi driver was very friendly, and explained to us a lot about the local towns. The area around San Gil is farming country, and they grow everything from tobacco to coffee to corn. He also pointed out the flowering trees, which bloom in vibrant purple, white, orange and yellow.
When we arrived at the launch site, we had only to wait a few minutes while the previous gliders landed, and then it was our turn! My tandem pilot was a fit-looking guy in his early 40s with a long black ponytail. Two assistants helped me get strapped in, and gave me instructions for takeoff. Just moments later, we were in the air!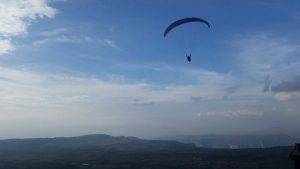 I didn't find it frightening at all, and instead was grinning and laughing while my pilot maneuvered twists and turns on the breeze. I marveled at floating higher than the birds below us. We stayed in the air for about fifteen minutes before he expertly steered us to the ground. It was a great experience, and even the other people who I talked to that were afraid of heights seemed ok with paragliding. I'd definitely recommend giving it a shot.
Day 2: White Water Rafting
I signed up for my first ever white-water rafting trip, and the $125,000 COP  ($37 USD) rate included transportation both ways and lunch. There's been a drought in Colombia recently, so the water is calmer than usual and there are a lot of rocks to beware of!
The Suarez River offers a tranquil view of the surrounding canyon, as well as a lot of stray cows and goats along the banks. Since the water was calm in spots, we spent a good portion of our time swimming alongside the raft, and at one point our guides tied up our rafts so we could enjoy a session of cliff-jumping into the water. At the end of the trip, about 4 hours total, a cook from the company had set up tables loaded down with delicious fresh fruit (pineapple, watermelon, and mango), as well as potatoes, yuca, cheese and chicken — and cold beers, of course! It was a great end to a very fun day.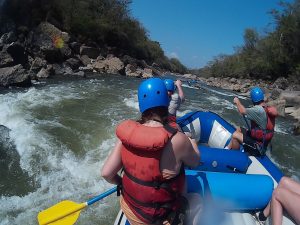 Day 3: Adventure Caving
My final day in San Gil, I decided to brave the 'Cave of the Cow,' which is in the nearby pueblo of Curití. My hostel once again made the arrangements for me. The tour cost $25,000 COP (about $7 US) but did not include transportation. Buses leave San Gil for Curití every 15 minutes, and the short ride costs less than $1 US.
Cueva de la Vaca is the more adventurous of the two caves you can tour. There is cold, muddy water to swim through and tight corridors to navigate, but the big obstacle is a room full of water that you must swim through using a rope to guide you. I knew about this beforehand but I got very apprehensive when I saw it in person. Luckily, my guide was incredibly patient, and he held my hand and swam with me since I was nervous. The only way to exit the cave is to go out the same way you go in, so we had to repeat all of our feats a second time. By then I was more comfortable and I was enjoying myself. My Spanish-speaking guide told me about the different formations inside the cave, and pointed out tiny sleeping bats, plants growing in patches of guano, and big black spiders.
The town of Curití is also worth a stroll, particularly if you enjoy shopping for artesanal goods. I chatted with some locals who were making straw bags, and they gave me an impromptu tour of their building and showed me the entire process. I bought a multicolored straw bag that is now my favorite souvenir from Colombia.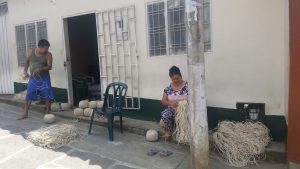 Overall, San Gil is the place to be in Colombia if you enjoy a good adrenaline rush, and the hostels make arranging your adventures very easy. It's so affordable, it is not to be missed on your next South American adventure!