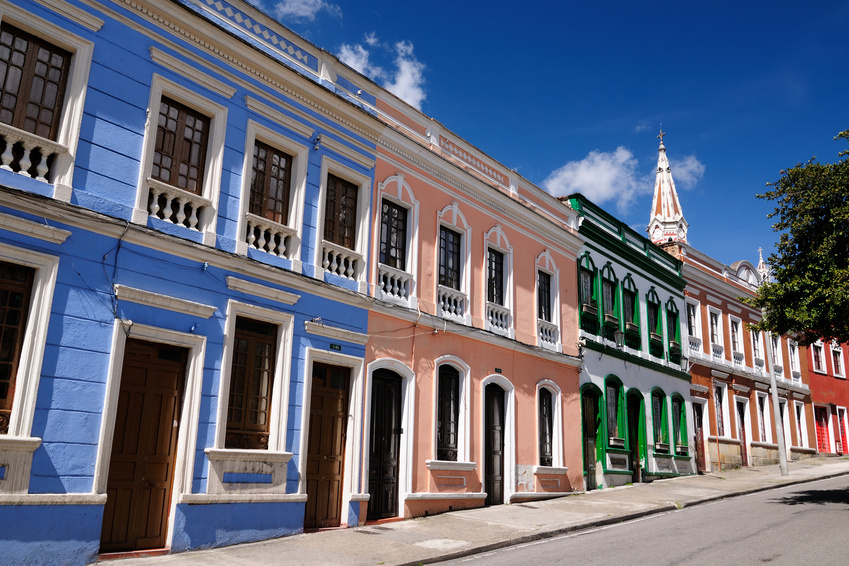 Many travellers will arrive in Bogota with the intention of  staying for a couple of days before moving onto somewhere else… Cartagena, Santa Marta, the Coffee Region. So in case you happen to be spending just 48 hours in Bogota (let's say a weekend) here's a suggested itinerary (with alternatives suggested in the event of rain!):
Saturday
8.00am: It's Saturday morning and chances are you're staying near the historical part of Bogota (the Candelaria). Have breakfast at your hotel/hostel, or pop along to the small Swiss bakery/kiosk next to Siechita Guesthouse on Carrera 3 with Calle 12b for some of the best croissants in Bogota! Or if you're looking for something more substantial, try the buffet breakfast at the Ibis Hotel near Museo Nacional TransMilenio station – it's served till 10am and for all-you-can-eat at 15,000 pesos ($7.50) it's a great deal and will leave you fueled for a busy morning!

10.00am: If the weather is good, why not start by taking a cable car up to the top of Monserrate? It costs 17,000 pesos ($8.50) for a return ticket, or you can go up in the train (literally through the mountain) for a bit less. Prices are lower on Sundays but it's also much busier as people attend mass at the church. Alternatively, if you're feeling adventurous, you could walk up, though this isn't the safest option – people have been mugged on their way up. The cable-car experience is cool and offers some great views over the city (though the cars do get quite crowded!). Once you're up there, the views are spectacular – granted, Bogota won't be the most beautiful panoramic view you've ever seen, but the surrounding mountains, the fresh air, the majestic clouds and possibly a glance of a hummingbird or two will more than make the experience worth it! There's also an artisanal market up there, but the prices will be higher than in the city-centre.  I would recommend bringing a snack and a sugary drink up there with you if you're not already accustomed to the altitude – after spending a little while up there, the thin air can leave you feeling pretty light-headed!

11.30am: Assuming the weather is still good, head along to the Candelaria and have a proper look around. For me, a visit to the Botero Museum is a must – it's still my favourite museum in Bogota, and entrance is free. The museum displays many of the great painting and sculptures of Colombia's most famous artist, Fernando Botero, among others, including Picasso, Chagall and Toulouse-Lautrec. There's also Simon Bolivar's house just down the street, for which there is an entrance fee. The streets are quaint and historic; just be careful when taking your camera out  – always have a good look at who's around you first.
12.30pm: Stop for a coffee at Juan Valdez, or another local coffee shop, before strolling along to Simon Bolivar square, where you can see the big cathedral and congress buildings, and probably a llama or two. You can walk a couple of blocks along to the presidential palace, before heading back up to the Candelaria for lunch.

1.30pm: I particularly enjoy the cheap vegetarian meals offered at Loto Azul. You can get a three course meal there for $5 or less, which is one of the cheapest options in the center at the weekend. During the week there are many more cafeteria-type places open which offer generous main courses for as little as $3.50.
2.30pm: Are you ready for another museum? Or perhaps a bit of souvenir shopping? Well, you can do both! Walk the few blocks to Museo del Oro (the Gold Museum) and be impressed by the gold which greets you in all shapes and sizes! Right next to the Gold Museum is an artisanal market selling all kinds of souvenirs. A word of advice though – due to its central/touristic location, the prices are about 20% higher than elsewhere. If you have a bit of time, walk up 7th Avenue (carrera 7) till you get to about street 22, and you will find two more big artisanal markets on either side of the street. Here you can bargain more because they don't receive as many tourists and the rent is lower in this area. And NEVER pay the first price they offer you. Err on the side of cheekiness and you'll be sure of getting the best bargain. If you don't speak Spanish, bring along a calculator, paper and pen, or phone to help you to negotiate!
Evening: You must be pretty knackered by now! You might want to head back to drop off your things and relax for a bit before dinner and a night out! Depending on where you are staying, let your hostel/hotel advise you on where to eat (or maybe you'll be cooking), and then head out for some Colombian-style salsa at Quiebra Canto on Carrera 5 with Calle 17, 76. This is a place to go on Friday or Saturday nights and has a huge reputation for being a great night out! Salsa not your thing? Check out one of Bogota's top gay clubs (also straight-friendly) Theatrón in the Chapinero neighbourhood; this huge establishment has loads of different themed rooms playing different kinds of music, so you'll surely find something to your taste, and the 30,000 pesos ($15) entrance fee includes all drinks up until 2am. A guaranteed incredible night out! Just make sure you get there and leave by taxi – it's not safe to be walking around in Bogota drunk in the small hours!
Sunday
11.00am (being realistic!): You're feeling a bit delicate after an amazing night out in Bogota last night! Have something to eat at or near your accommodation (it's probably too late for the buffet breakfast!), and then head out to enjoy the best of Sunday in Bogota – ciclovia! The main roads are closed to traffic until 2pm, so you've still got a good couple of hours to enjoy a bike-ride through the city if the weather's nice. My recommendation (if you've got the stamina!) would be to cycle, walk or catch the bus up 7th avenue to street 116 and explore Usaquén's lovely market (most of which is only open on Sundays), and enjoy the historical ambiance of the area. You'll be able to pick up some more souvenirs, munch on some tasty snacks and run for cover in the Hacienda Santa Barbara shopping mall next to the market if it starts raining!
If the weather is bad, I recommend you replace this itinerary with a tour of the Museo Nacional (National Museum) instead, or perhaps a trip to the cinema in one of Bogota's many shopping malls.
An alternative to the market, if you're not in the mood for shopping and are a bit of a naturalist, is to visit the Botanical Gardens in Salitre, which offer some peace and solitude from the city, are home to some beautiful flower gardens, and you will almost certainly spot a hummingbird or two! There are regular tours of the gardens (lasting from 1-2 hours, depending on your preference), just ask when you arrive, and the entrance costs less than 3000 pesos ($1.50). There's a café/restaurant onsite, and also a few places to eat on the main road outside the gardens. If you're fair-skinned, bring sunscreen even on a cloudy day, because you WILL get burned!

7.00pm: For dinner, head over to Carrera 5 between 69 and 71 in the Chapinero Alto neighborhood (Zona G) for an excellent choice of restaurants offering all kinds of different food. These won't be bargain prices by Colombian standards, but most people will be able to eat well for less than $30 dollars – if in doubt, check the menus before you commit to a table! I particularly like El Zatar (Arabic) and La Hamburgueseria (hamburgers!). There's also a really nice bar on Carrera 4a with Calle 66 which often has live music, and a sushi restaurant, Canoa, in the same street which has earned itself an excellent reputation! Just be prepared to wait for a table!
I think that completes your 48-hour stopover in Bogota! In case it rains, you can replace any of the outdoor activities with the National Museum (leave at least a couple of hours for this) or Museum of Modern Art (which you can see in less than an hour), or go to one of Bogota's many shopping malls for a bit of retail therapy, lunch and a coffee!