"The clearest way into the universe is through a forest wilderness." – John Muir
I like to think that John Muir was correct in many of his writings. And I also like to think that Torres del Paine is as close as it gets to the wilderness that he describes, the one that fuses the soul into the universe. Located at the southern end of Chile, deep in South America's famed Patagonia region, this majestic national park surely ranks among the most beautiful places any nature lover can visit. I've been fortunate enough to experience a number of nature's grandest temples: the Grand Canyon, Soussesvlei, Phang Nga Bay, Sequoia, Kalalau…. And I have to say that Torres del Paine instantly ranks in my Top 10 list. Perhaps even in the Top 5.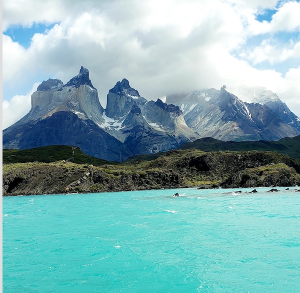 The formations at Torres del Paine are as dramatic as it gets. The jagged peaks of the towers dominate over a landscape dotted with lakes tinted an unnatural blue by azure glacier runoff. The colors are so intense, they they feel fake, almost artificial. But the color is natural, formed by tiny rock sediment suspended in water. As the light scatters through the water, it creates a dazzling blue effect. Weather cooperating, you can hike along these lakes to see the most dramatic peaks and glaciers Patagonia has to offer.
Getting to Torres del Paine takes a bit of work due to its remote location in southern Chile. But once you get to the gateway city of Puerto Natales, it becomes progressively easier. Torres del Paine powers the local economy – from the abundance of hotels and hostels, to travel companies selling tours, to the many restaurants and shops offering services to myriads of international visitors.
Patagonia has a reputation for high-end (i.e. extremely costly) tourism. And if that's your thing, there are certainly many expensive options for you to choose from. But if you're not willing to part with $5000 for a 4-day visit, rest assured that you can go on your own for just a fraction of the cost.
There are essentially two options for the park – day trips from Puerto Natales, or overnights in lodges/camps. The lodges fill up fast in high season (Dec/Jan) so book early. In fact, booking early is the key to everything here in high season. You can choose from day hikes, multi-day hikes, camping, or getting rooms at designated lodges.
Every morning, a veritable army of backpackers and international travelers stream into the bus station Rodoviaro Puerto Natales. Five bus companies serve the park, leaving Rodoviaro at 7 am sharp for Pudeto, the main station into the park. Buses go 365 days a year, rain or shine.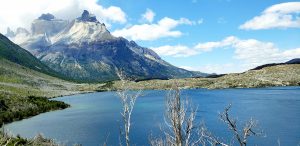 While all the services are readily available, travelers first have to go through a cumbersome check-in process at the gate of the national park. In fact, the entire process of getting to Torres del Paine is extremely inefficient. That is my one complaint about the visit, you spend as much time waiting for transportation as you do actually visiting the park. But at the end of the day, they do get you there and back again. Just be prepared to go on South America time, which means lots of idle time and a return to Puerto Natales pretty late at night.
Also, don't be fooled into thinking that this is a free experience. Chile definitely understands the value of Torres del Paine and visiting the national park is costly. At the time of this writing, it is 15000 CLP for the bus into the park, 21000 CLP for the national park entrance, and 30000 CLP for the boat that takes you to the base of Torres. (To put the bus cost into perspective, at other places in Chile, you pay less than half that price for a ride that is over five times longer.) All told, it adds up to about US$100 – quite a considerable amount of money in Chile. Or you can pay for a tour agency to take you, which will be somewhat more efficient but come at a greater cost (US$150+).
The price might sound steep, but trust me, it's worth it. It is one of those special places where the soul meets the universe. Come to think of it, Torres del Paine is definitely in my Top 5 list….
For more information on activities and where to stay, check out www.verticepatagonia.cl