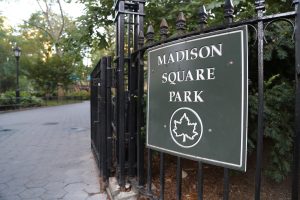 In a city as celebrated as New York, first-time visitors are usually overwhelmed with the sheer amount of things they simply must do. From buggy rides in Central Park to trips up the Empire State – not to mention the stores, museums and restaurants you'll need to fit in too – where do you begin?
But who's to say you need to replicate the New York experiences seen on your cinema screen or in tourist guides? Sure, there are those activities that are a must for first timers, but the general consensus seems to be that once you have done them – (we're thinking along the lines of Rockefeller and Times Square here) – you're unlikely to ever feel the need to do them again.
With this in mind, we thought we'd take a look at the ultimate New York experiences, the ones that are so good that you'll be desperate to repeat them on your next visit. And you'll probably want to start looking for low cost holidays now, because trust us; you'll definitely want to return!
1. Walk the Brooklyn Bridge
Many tourists fail to leave the bright lights of Manhattan behind, but if there's one reason to journey away from the island, it is to experience the sights from the famous Brooklyn Bridge. Although its status as the longest suspension bridge in the world is no more, the sheer magnificence of the construction (and Manhattan's iconic skyline) will always be evident. Whether you walk to or from the borough – before or after a subway ride to help ease the strain on your legs – use a slice of Brooklyn's finest at Di Fara Pizza as the perfect incentive.
2. Go Bar Hopping in Soho
When it comes to going out in New York, the amount of bars and restaurants means that – if you're a fan of planning ahead – you'll need to be one hell of a decisive person. But if like most of us it takes you an hour to decide what to wear, chances are you'll spend the whole night pondering where to go… So why not leave it up to chance? Starting downtown in Spring Street, make your way round the bars of Soho and you'll probably find yourself in some of the top, most happening hotspots in the city.
3. Get Lost in a Neighbourhood
Although Times Square undoubtedly serves a purpose, you'll never fully appreciate the brilliant diversity of the city if you stay in the areas in and around Midtown. Instead, go for a walk in any one of Manhattan's smaller neighbourhoods. From Spanish Harlem to Chinatown, Little Italy to Greenwich Village, as you enter each part you'll probably feel like you've arrived in an entirely different country. As well as residential areas, these streets also house some of the most delicious food anywhere in New York– our tip is to head to Hop Shing Restaurant in Chinatown for some of the best Chinese food you'll ever eat.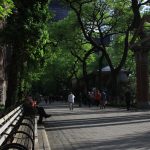 4. Go for a Picnic in Central Park
It might sounds like a tourist activity, but the thousands of New Yorkers who pass through Central Park every day demonstrate that it is as integral to the city as the subway itself. For a fun and alternative way of making the most of this famous oasis, visit another New York institution for everything you'll need for a bit of al fresco dining: Zabars. In the city's most trusted and adored delicatessen, you'll find everything you'll need for the most delicious picnic, from cheese and bagels to smoked fish and coffee, you won't be disappointed with the food or the scenery.
5. Shop in Bergdorf Goodman
You might be drawn towards Macy's, Bloomingdales or even Saks, but for the ultimate New York shopping experience, Bergdorf's is difficult to beat. Despite a reputation for being snobby and pretentious, it actually offers some of the best customer service of all. Granted, it's not the place to go for a bargain, but to simply take in the beautiful fashion, decoration and even the building's impressive architecture, it's the place to go.
If you're thinking of visiting the Big Apple in the near future, any one of the aforementioned experiences will guarantee you'll be desperate to book another flight in no time. If you're struggling to save up, search for up to £300 off summer holidays to help you afford a second slice of New York City.
This is a guest post from Travelling Blogger