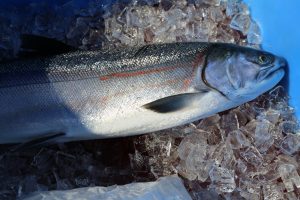 Whether you like one kind of fishing or the next, the fact is that the United States of America is jam-packed with wonderful places where you can throw your line and battle some seriously hardcore fish.
To make sure that you don't miss out on some of the most amazing angling locations, we've put together a short list of the three breathtaking fishing spots. They're loved by fishermen across the country, so perhaps you should check them out if you have some spare time and would enjoy a bit of traveling.
Lake Shelbyville, Illinois
This particular reservoir is the home of plenty of exciting fish species ranging from walleye to crappie and even bigmouth buffalo. Besides, it's worth adding that the lake also has quite a bit of carp, so there's nothing stopping you from practicing your bow fishing skills. With such a wonderful diversity, it goes without saying that a trip to the area is mandatory.
Since it's overflowing with campgrounds and resorts, you won't even have to break the bank in order to spend some time near the lake. If you have a motorhome, all you have to do is grab your fishing gear and some of your family or friends and get on the road.
California Delta, California

As with any other Californian location, this delta can be used for fishing all throughout the year. The climate is mild, so there's no need for you to bring your ice fishing equipment. All of the piers and river banks that the delta is packed with are a sight for sore eyes, but they'll also help you reel in some serious fish like black and striped bass, salmon, catfish, as well as sturgeon.
Keep in mind that the California climate might be too much to bear if you live in a particularly cold climate and aren't accustomed to sitting for the fish to bite while you're under the sun all day long. We recommend bringing plenty of water and some sunscreen along, so as to make sure you stay out of trouble.
Cape Cod, Massachusetts
If you're into targeting anything from black sea bass to bluefin tuna and even some wolffish, we recommend heading out to Cape Cod. While this location is amazing for angling, it also presents a myriad of other opportunities. If your friends and family aren't all that keen on fishing, they'll have other things to occupy their time with. Of course, the fact that Cape Cod is overflowing with restaurants is an advantage in itself. Check out this page on TripAdvisor to find out more about the top 10 great fishing charters and tours in the area.