The destination is the large La Perouse Bank off Ucluelet on the west coast of Vancouver Island, where halibut, salmon, ling cod and rock fish dine on the smorgasbord of herring, sardines and other bait fish that make the banks their home.
"Ucluelet is in a unique spot geographically being very close to offshore banks," says Matt Olcen, of Westcoast Fishing Expeditions in Ucluelet. "You are not going to find a more consistent place for fishing in terms of salmon and halibut."
Olcen's company has been taking out small sport fishing groups in his 26 foot offshore boats for over 18 years from Ucluelet. Most of his clients are repeat customers because they know they are going to be going home with a good catch. People come from all over BC, Alberta, Washington State, Texas and beyond to fish here.
Just for the "hal-i-but"
Five types of salmon swim in the Pacific Ocean – Chinook, Coho, Sockeye, Chum and Pink – and all are available in the waters around Ucluelet. They migrate to and from the Fraser River, to rivers along the west coast south to California and north to the waters off Alaska.
Salmon is the king of fish but perhaps the area is even more popular for its halibut fishing.
"Halibut is really our bread and butter," says Olcen. "People love coming out and catching halibut, and the banks out there are loaded with halibut. A lot of people know they're going to get their halibut and that's why they keep coming back."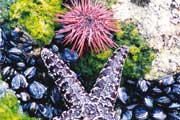 "Most of our customers really like halibut and ling cod," agrees Keith Nakagawa of Canadian Princess Resort. He takes larger fishing parties of 14 to 22 people out, many of them repeat customers as well, because "it's really good fishing here."
Whether you go out on a charter or bring your own boat, Ucluelet has what you need to make your fishing vacation perfect. Ucluelet's harbour offers moorage facilities close to town with shower facilities located in the West Coast Motel. Marine repair shops, chandlers and marine fueling are available in town as well.
There are more than 10 fishing charter companies in Uculelet who can take out sport fishing enthusiasts – from individuals to small intimate groups to large parties. As well as the open ocean fishing, they can take you down the Alberni Canal. Or for those interested in freshwater fishing, they can take you to nearby lakes and rivers for trout or steelhead fishing.
The Wild, Wild Wet
People may come to Ucluelet for the great fishing but they get a lot more for their journey to the wild West Coast. The endless sandy beaches of Pacific Rim Park, the pounding surf, and Ucluelet's own Wild Pacific Trail with its incredible views of Barkley Sound, the Broken Group Islands and the open Pacific Ocean – you can't help but be in awe of Mother Nature here.
And nowhere is her handiwork more impressive than in the large trees of the rainforest. Western hemlock, Sitka spruce and the Western Red cedar dominate the landscape with the largest red cedar in the world (circumference 20 m/61 feet) on nearby Meares Island.
We're not alone out there
"When we're out on our excursions, the wildlife is pretty spectacular," says Olcen, with awe in his voice despite his years of fishing these waters. "There are lots of grey whales and humpback whales and occasionally orcas; sea lions, eagles and all sorts of offshore birds – lots of Albatross. Pretty awesome wildlife viewing while you're out there."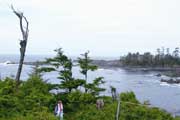 The region is known for its whale watching with the springtime migration of 20,000 gray whales from Baja California. But when you've put your feet back on dry land again, there is still a lot to see. The nearby forest is home to many birds and other wildlife. It is not uncommon to see deer, black bears, and otters.
Ukee Hospitality
Very friendly and proud of their once-rough logging and fishing town turned tourism – and sport fishing – destination, the locals call their town Ukee, like an old friend. The town offers everything from great B&Bs and luxury cabins to discount motels. Dining facilities in town range from coffee shops to restaurants with gourmet menus.
There are also plenty of activities for non-fishing friends to enjoy. Hiking, kayaking, surfing opportunities abound. Or they can find refuge in the tranquility of spa treatments at the Spa at Tauca Lea Resort.
Ucluelet has all the angles' or anglers covered for a great fishing adventure.
Margo Malcolm is a professional freelance writer and communications consultant living in Victoria, BC who has written on diverse subjects such as Egyptian Hieroglyphics and British Columbian Insects to the island of Curacao, and Maya Ruins in Honduras.
If you Go!
Tourism British Columbia
Phone: 1-800-HELLO BC (435-5622)
http://www.hellobc.com
Canadian Princess Resort
Phone: 1-800-663-7090
http://www.obmg.com
Westcoast Fish Expeditions
Phone: 1-250-726-8221
http://www.westcoastfish.com