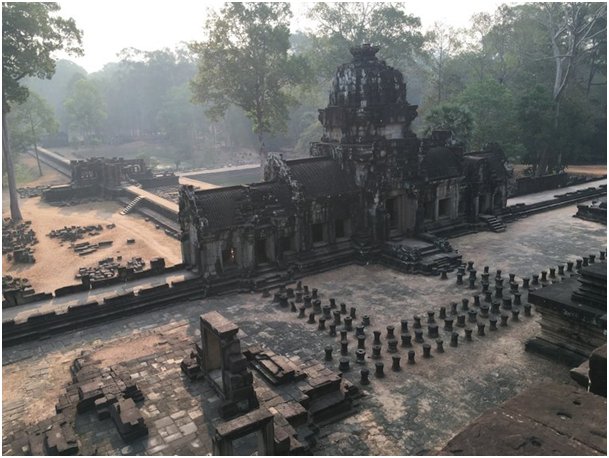 In Southeast Asia, spirituality rimes with history. For culture-savvy travellers, this land of long-lost temples in the jungle and crumbling historic cities is, therefore, a must-visit. And from the super touristy to the lesser-known sites, there are plenty of archaeological wonders to fill in your bucket list. So, here come five scenic ancient ruins to discover on your next trip to Southeast Asia.

Bagan, Myanmar
Bagan is one of the most visited landmarks in Myanmar for good reason. Picture a plain packed with temples as far as the eye can see, and you will get an idea of the sheer magnificence of this vast archaeological site.
Bagan dates back to the 11th to the 13th-century. At its peak, this holy site comprised over 10,000 monasteries and pagodas. Indeed, King Anawrahta had them built to establish Buddhism as the kingdom's dominant religion.
Nowadays, only 2,000 monuments have stood the test of time. Most of them are look-alike, so you don't need to see them all. Still, climbing to the top of the temples rewards you with an awe-inspiring view. For an even more romantic experience, you can even enjoy the scenery at sunrise from a hot-air balloon.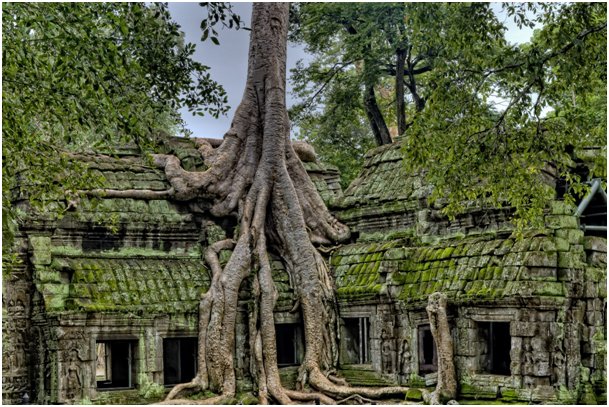 Angkor, Cambodia
The temples of Angkor need no introduction. The ancient capital of the Khmer empire lay in ruins for centuries before European archaeologists rediscovered the site and restored it in the early 20th- century. Near modern-day Siem Reap, Angkor now stands as one of the world's greatest architectural wonders.
The city is so gigantic visitors can easily spend multiple days on-site. Thus, the easiest way to explore Angkor is by using a tuk-tuk or renting a bicycle.
Of course, Angkor Wat steals the show. At sunrise, the largest religious building on the globe is an unforgettable sight. Buried deep in a lush jungle, Ta Prohm will make you feel like an adventurer of old. The stone-carved Buddha heads of the Bayon are another gorgeous visit at dawn, with no other company than hordes of monkeys. And the entire site is full of many surprises, as each temple varies in looks and atmosphere.
Vat Phou, Laos
In southern Laos, the Khmer ruins complex of Vat Phou looks like a smaller version of Angkor. Better yet, the number of tourists doesn't even come close to the millions of visitors flocking to Cambodia's iconic site.
Although crumbling in ruins, this UNESCO heritage site stands out for its authentic feel. Vat Phou also boasts a scenic location at the foot of Mount Phu Kao. On top of the hills, the views are astonishing. You can even get a glimpse of the Mekong River on a sunny day.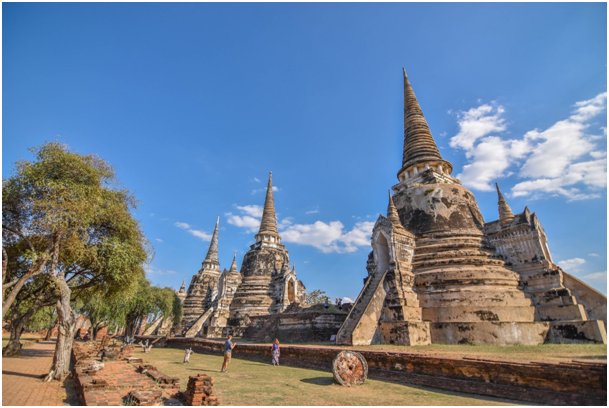 Ayutthaya, Thailand
The ancient city of Ayutthaya ranks among the most impressive landmarks in Thailand. And the former capital of the Siam kingdom is an easy day trip from Bangkok.
Founded in 1351, Ayutthaya soon grew to become one of the largest cities of its time. This historic city was even nicknamed the Venice of the East. Known for its refinement, the second Siamese capital boasted gold-covered palaces and Buddhist libraries. Fun fact, Ayutthaya even accommodated the first large-scale gambling houses in the country.
Since then, brick-and-mortar casinos have all but disappeared in Thailand. Still, players can try their luck with online gambling sites. Websites like asiabet.org offer comprehensive reviews of the best platforms, from profitable promotions to safe banking methods. Besides, experts got you covered with fully licensed websites that comply with local regulations. This means you can enjoy a quick bet on Muay Thai without risking a shady deal with underground bookmakers. On a round-trip to Ayutthaya, an exciting casino game is also the perfect way to pass time.

Borobudur, Indonesia
Close to Yogyakarta, Borobudur is the largest Buddhist temple on the planet. And this massive archaeological wonder is one of Asia's most intricate monuments.
Adorned with over 2,000 reliefs and 504 Buddhist statues, Borobudur is a place of great spiritual significance for Buddhist pilgrims. From above, the structure even resembles a Buddhist mandala.
Visitors can climb through its six-square levels to embrace a commanding view over the rural scenery of central Java. Better to come early, though, as Borobudur is Indonesia's most visited monument. A morning visit also allows you to discover the 10th-century Hindu temples of Prambanan on the same day.