Whether you are looking for a week of white water rafting or a peaceful day on the lake, our country has some incredible locations to drop your paddle, shed your stress, and see the world from an entirely new perspective. From the cold, clean waters of Alaska, to the unique natural habitats of Florida, here are seven of our country's best Kayaking vacations.
Prince William Sound, Alaska
Located in the heart of the Chugach National Forest in Alaska, Prince William Sound features spectacular scenery, a wide variety of wildlife, and a level of serenity unmatched by almost anyplace else on earth. Don't be surprised to spot a black bear, an eagle, a sea lion, porpoise, or a humpback whale. Stunning views, amazing wildlife, and crystal clear, azure blue water earned Prince William Sound the title of "Kayaker's Paradise" from its regular visitors. Accommodations on Prince William Sound consist of many camping sites and rustic mountain cabins.
Great Smoky Mountains National Park
Much closer to civilization than Prince William Sound, but just as peaceful, picturesque and chock-full of wildlife, Great Smoky Mountains National Park offers excellent kayaking without the need for a seaplane excursion. Both the Pigeon River and the Little Pigeon River (two separate and unconnected rivers) have sections suitable for all levels of kayakers from beginner to white-water rafting experts. After a long day on the river, head into Gatlinburg and catch a show, grab a bite, or just stroll about the bustling small town. Continue the fun with a cabin stay. Couples enjoy the exceptional level of privacy that area cabins offer. At the same time, families love the ample space to stretch out and enjoy the quality time together. Soak your tired body in the hot tub, or cuddle up by the fireplace, Gatlinburg cabins come with everything you need to top off a day of kayaking. Plus, you'll always be just a stone's throw from everything the area has to offer.
The Mulberry River, Arkansas
Located deep in the Ozarks, the Mulberry River's strong currents and sharp bends make it one of our country's most exciting river rides. The river extends almost 62-miles, with a 45-mile stretch boasting at least 20 significant Class I-III rapids. Experienced kayakers find the Mulberry River especially thrilling in the spring. If you are a beginner or kayaking with a young child, visit the Mulberry in the summer or autumn months when the river calms down and becomes more navigable. No matter when you visit however, gorgeous scenery, plentiful wildlife and pristine water make the Mulberry River a worthy destination.
Lake Tahoe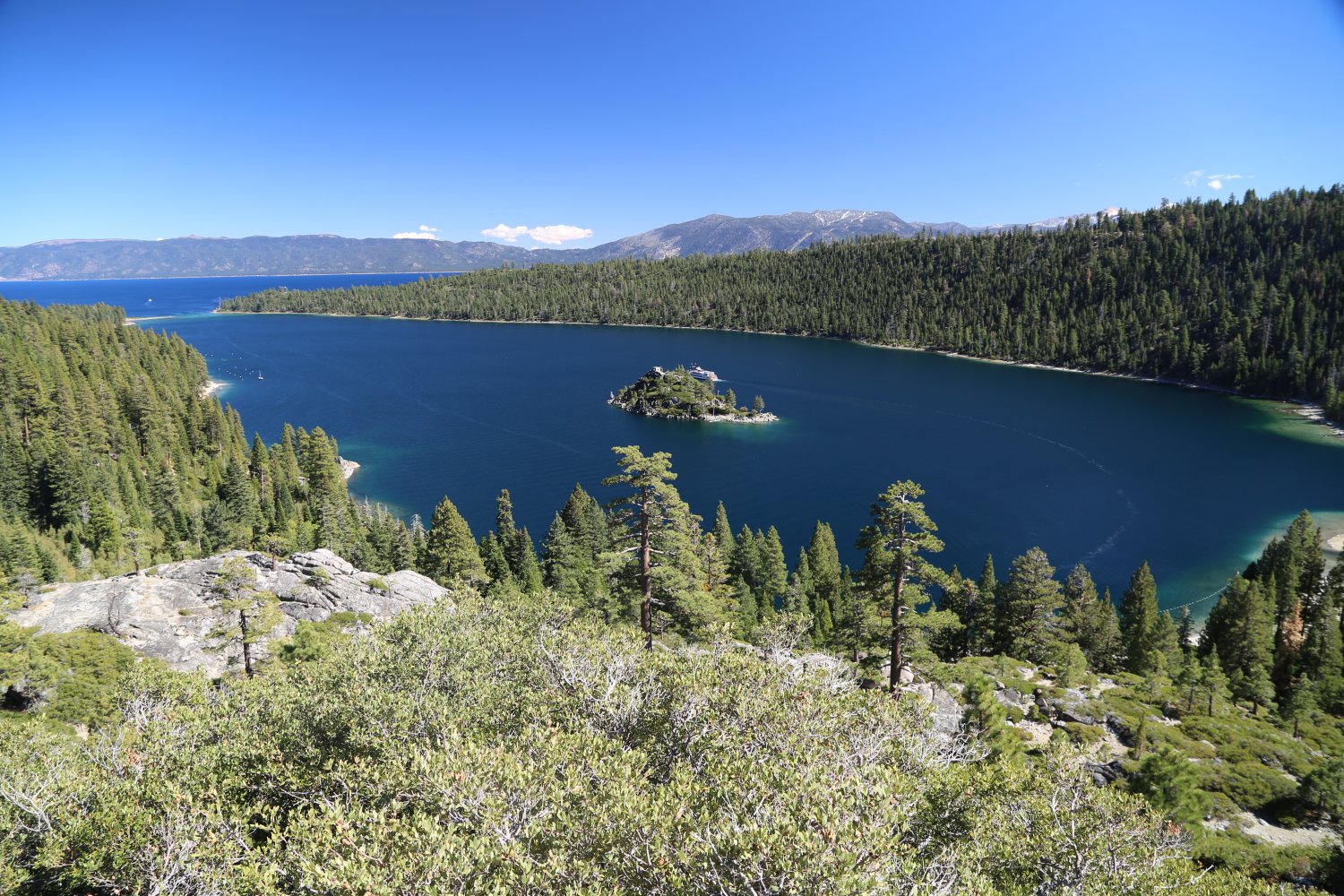 Beautiful landscapes, a variety of attractions, and a wide range of accommodations make Lake Tahoe a popular destination with kayakers. Straddling the shores of California and Nevada, Lake Tahoe offers typical lake fun such as kayaking, as well as world-class skiing and casino gambling. Be sure to check out Emerald Bay, one of Lake Tahoe's most photographed and popular kayaking locations. Calm waters, pristine beaches, and delightful little coves make Sand Harbor popular with kayakers, as well. When your arms need a rest, hop on Heavenly Gondola – the 2.4-mile ride up the Heavenly Mountain features stunning views of Lake Tahoe and the surrounding area. For nightlife, Lake Tahoe casinos rival those of Las Vegas for food, drink, gambling, and top-name entertainment. Lake Tahoe accommodations range from camping to high-end casino hotels, with everything in between.
The Colorado River
The Colorado River features calm waters and fast currents alike, sharp bends, and breathtaking views of the Grand Canyon. At 1,450-miles long, the Colorado River has hundreds of locations to launch a kayak. Start at Lee's Ferry located in Marble Canyon, AZ, for a trip around spectacular Horseshoe Bend. The Black Canyon Water Trail below Hoover Dam has lots of caves and hot springs along the route. At the southern end of the river, down near Yuma, AZ, you'll find easy-to-handle river trails and plenty of places to camp. Up north in Colorado, most of the river is suitable only for skilled kayakers. However, near Grand Junction and also between South Canyon and Cameo, the river has several beginner-friendly stretches.
Boundary Waters Canoe Area Wilderness
Located in Superior National Forest, Minnesota, Boundary Waters Canoe Area Wilderness covers over one million acres in all. With nearly 1,200 miles of canoe trails throughout the area, this wilderness haven attracts kayakers seeking calm waters and peaceful solitude. Designated as a protected area, the Boundary Waters Canoe Area Wilderness has been kept in pristine condition for several decades now. There are plenty of campsites throughout the area, so bring your gear because you may not want to leave.
Key West, Florida
Paddle your way through shallow waters and mangrove creeks for an up-close look at one of our county's most unique coastal environments and natural habitats. Several companies offer paid guided tours, but you can also go it alone if you choose. The waters are generally quite calm and suitable for kayakers of every skill level – so you can bring the kids along for an adventure they won't soon forget. Expect to spot lots of tropical fish, sea stars, crabs, jellyfish, and various aquatic birds along the way. Beyond kayaking, Key West has an excellent nightlife scene, several museums (including Earnest Hemingway's former residence) and more than enough activities to fill out an entire vacation.