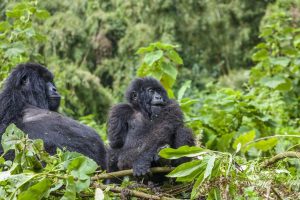 Tourists planning a safari to Africa should not miss the sensational opportunity to visit Volcanoes National Park for an unforgettable gorilla trekking experience. This activity is the most prominent and the vital reason as to why tourists visit this Park. Mountain gorillas are extraordinary and exquisite Giant Apes found in only three countries in the whole world. (Uganda, Rwanda and Democratic Republic of Congo).
Volcanoes National Park Rwanda is profusely known as the haven of these rare primates. This captivating Park is situated in the Northwestern edge of Rwanda. It covers an area of 160 square kilometers across the borders of Uganda and Democratic Republic of Congo.
With more than 350 mountain gorillas believed to be in this forested and mountainous habitat, there are 10 habituated gorilla groups available for tourism. Therefore 80 gorilla permits are sold per day for Volcanoes National Park. Tourists who visit Volcanoes National Park for gorilla watching are assigned to one of the groups which include Sabyinyo, Susa group (Susa A), Karisimbi (Susa B), Agashya (group 13), Amahoro, Kwitonda, Ugenda, Hirwa, Umubano and Bwengye groups. Each group is unique in its composition, leadership, behavior and a unique history and story behind its formation. Once you visit one of the groups you will be immensely impressed.
For any tourist to be allowed to track these outstanding Giant Apes, it is a prerequisite to first acquire a valid gorilla permit which will act as a ticket for you to be allowed to track them. A gorilla permit costs $750 per person per day. This price includes the park entry fees, tracking fees, you will also be served a cup of aromatic tea or coffee and free entertainment in the morning prior to tracking. A face to face encounter with these amazing Giant Apes leaves memories to a life time.
Before tracking gorillas, you need to make sure you are 15 years and above and be prepared by carrying the right equipments and dressing appropriately. You will go through a jungle which is arduous, therefore you should he physically fit. Wear a long sleeved shirt, long trousers, rain proof hiking boots, carry a backpack for your documents, camera and binoculars, have a rain jacket/poncho because the Park is within a tropical rain forest and in a high altitude where it rains anytime whether in rainy or dry season. Don't forget a walking stick because you will need it to support yourself during hiking.
When you sight the mountain gorillas, it is advisable to maintain a distance of 7 meters, do not touch them, avoid unnecessary movements and noise because you might scare them, turn aside when coughing or sneezing to avoid infecting them and avoid using flash cameras.
For accommodation, a wide range of options exist varying from low budget to Luxury facilities. Some of the accommodation facilities to choose from include Sabyinyo Silverback Lodge (luxury), Mountain gorilla View Lodge (Mid-range) and Kinigi Guest House/Hotel Muhabura (Low Budget) among others.
Volcanoes National Park is about 105kms west of Kigali and it is just a 2 hours drive to access the Park. You can therefore track gorillas and still go back home the same day.
In conclusion, gorilla trekking is an extraordinary and highly demanded activity unique to only three countries in the whole world. It is impossible not to be astonished after meeting the rare and critically endangered mountain gorillas. Being among the few to trek these rare primates is a golden and once in a lifetime opportunity that leaves an indelible experience.