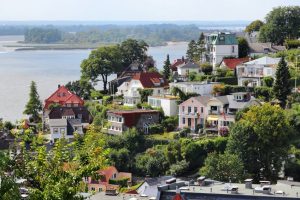 Move over Berlin, Hamburg is taking over as the ultimate nightlife destination in Europe. Whether you are after a wild night at one of Hamburg's discotheques or some relaxed sophistication, there is something here for everyone. Sip cocktails, have a seafood feast, sink shots and let your hair down. Explore the different districts and find your fix. Whether you want a crazy night out or some low-key fun, Hamburg has the best nightlife in Europe.
St Pauli: The ultimate night out
St Pauli is the undisputed heart of the Hamburg party scene. On this side of town, you'll find the world-renowned Reeperbahn. If you stroll around Reeperbahn (sometimes called Kiez) during the day, you'd be forgiven for thinking this was just a quiet neighbourhood. But once the sun sets on this part of town, it begins to beat with the unmistakable pulse of a good time. This street and the surrounding area is home to sex shops, erotic bars, old-school pubs, and clubs, so whatever you're craving, you're sure to get your fix here.
Explore the alternative wonderland that is Sternschanze
Sternschanze is just a stone's throw away from Reeperbahn, but the atmosphere is entirely different. While Reeperbahn is known for its wild nights, Sternschanze holds a different allure. This district is an alternative hub home to musicians, actors, and hoards of other creative folks. The most famous destination here is The Rote Flora, a former theatre that has been squatted since 1989. It now hosts exhibitions from all over the world. Kulturehaus 73 is another iconic must-visit spot, it's a cafe during the day, but once the sun disappears, this is one of the best nightlife venues in all of Hamburg. Learn more on www.hamburg.com.
St Georg for an inexpensive night out
Located east of Hamburg's Central Station St Georg is the city's main traffic hub. But there's more to this part of town than just trains and buses. There is a university close by, as well as a sizeable eastern community, which all adds to the delightful diversity of this area. It's known for hosting a great night out, that won't cost the world. Head to one of the many Middle Eastern restaurants for a large vegetarian or meat plate. You'll spend next to nothing, and it's a great start to an evening. Head to M&V Bar, is a trendy gay bar, which welcomes all kinds of people. Cube is always bustling with locals, and it's no wonder why. They have a happy offer that lasts long into the night.
Casino safari – An adventure for the thrill seeker
Looking to add some extra spice on your Hamburg visit, why not take a seat at the roulette table at the casino. A suggestion is to swing by the Casino Esplanade. A quite small casino, but still offers more than enough action for one night. You'll find around 200 slot machines, all the classic table games such as blackjack, roulette and poker. They also offer different events and theme each week, so make sure to swing by their website and see if it something appealing – perhaps Salsa Night or Glamour and Gold sounds interesting?
If you're too tired after a long day wandering the streets of Hamburg, so you can't leave the hotel, but still want to feel the thrill? Visit Dreamz.com and experience a premium online casino, easy and comfortable from your hotel bed.
Check out Hamburg's nightlife for yourself. Discover why so many people consider it the best night out in all of Europe. Follow these insider tips or wander around yourself, you'll be sure to find some hidden gems. Don't be afraid to get lost, true adventure awaits!