Planning a Tanzania honeymoon is a time consuming and confusing task; you are aiming for the trip to be something more than just a beach holiday but you don't want to be doing too much adventure travelling otherwise you may as well be back packing! Tanzania is the perfect destination for a trip of a life time honeymoon, home to some of the wildest safari parks in Africa and blessed with the beautiful Indian Ocean Coast giving you the perfect honeymoon- 'safari and beach!'
There are many safari parks in Tanzania but for a honeymoon we would recommend the South for the best Tanzania Safari. Here the camps and lodges are small, intimate, owner run operations in remote areas of the Selous Game Reserve and the Ruaha National Park where you are able to enjoy a truly wild safari in open sided vehicles, on foot, from a boat as well as 'fly-camping'. Both parks have huge amounts of game, especially elephant, buffalo and lion as well as being one of the last strong-holds for the African Wild Dog.
Sitting out having a private dinner under the stars in the middle of a game reserve the size of Switzerland is what makes a honeymoon in Tanzania so special and unlike any other holiday.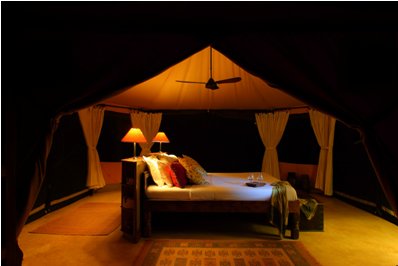 After 3 to 6 days of getting up at the crack of dawn to track lions and leopards it's time to change gear and head to the beach and chill out, all that safari makes you tired and what more could you ask for than the Indian Ocean on your doorstep!
Again, there are so many choices to look at with Zanzibar, Pemba, Mafia and the main land coast. Luckily we have been all over the coast and the islands of Tanzania so we can tell you what's what! If you are looking for a true Robinson Crusoe desert island experience then there is one place in particular that we are very excited about this year! It's called Fanjove island, just a short flight from Dar es Salaam to Songo Songo island where you are then taken by boat to private island. The owners of the island are keeping everything very simple and just playing on the strength of the sheer natural beauty of this pristine tropical island.
As a guide we would recommend at least 3 nights in the Selous on safari followed by a week on Fanjove Private Island – this is a great balance of safari and beach. If you can stretch to a few more days then a brilliant way of having some time to unwind before your safari is to do a 'beach-safari-beach'. The first few nights just a 10 minute charter flight from Dar es Salaam to Ras Kutani to catch up on sleep after the wedding celebrations and the travels, get your bearings and refresh, then head on safari for the action and adventure and finish off with your week at Fanjove where you can relax but also go diving, snorkelling and experience private island life!