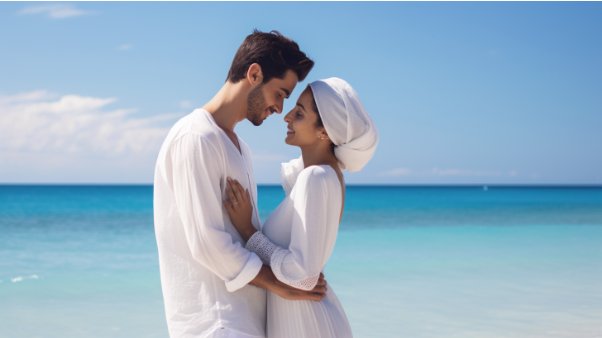 In a world where love is often constrained by societal expectations and cultural boundaries, interracial couples continue to defy stereotypes and showcase the power of love that transcends race and ethnicity. We've gathered a collection of inspiring stories, and others, from real-life Arab interracial couples who have shattered barriers and proven that love knows no damn color. These heartwarming tales will open your eyes to the beauty of diverse relationships and challenge preconceived notions about cultural differences.
Love Stories That Defy Cultural Boundaries
1.Islam and Karolina – Embracing Humanity
Islam, an Egyptian, and Karolina, a Russian, are a perfect example of a couple who embraced the essence of humanity in their relationship. Their love story goes beyond the concept of an interracial couple; it is a testament to their shared belief in the value of every individual, regardless of their background. When Islam married Karolina, it wasn't solely about race; it was about embracing her as a fellow human being. They acknowledge the differences in their lifestyle habits, but they also highlight the fact that such differences exist even among people of the same cultural background.
These heartwarming tales of Arab interracial couples challenge preconceived notions about cultural differences. They remind us that love is a force that can bridge gaps, break down barriers, and unite people from different walks of life. If you'd like to explore more stories of love defying cultural boundaries, you can find additional inspiration and insights at https://goldenbride.net/
2. Omar and Kristina – Love Across Cultures
Omar, an Egyptian, and Kristina, a Slovakian, celebrate their love without racial barriers. While they admit to some cultural differences, their connection remains strong. Omar and Kristina look forward to the unique beauty their future children will possess, but it is Omar's inner qualities that truly captivate Kristina's heart.
3. Antalon and Tamara – A Blended Family
Antalon, an American, and Tamara, a Jordanian, recognize the importance of preserving their cultural backgrounds for their future children. They embrace both worlds, teaching their kids about the best aspects of each culture. Despite the challenges of cultural misunderstandings, their families love and support have strengthened their bond.
4. Zeyad and Naira – Overcoming Challenges
Zeyad, an Egyptian, and Naira, a Colombian, understand that building a relationship across cultures can be challenging. However, they embrace the excitement and growth that come with such experiences. Their love proves that understanding and appreciating each other's backgrounds is worth the effort.
5. Ed and Dina – Challenging Stereotypes
Ed, an American, and Dina, an Egyptian, defy stereotypes as they celebrate their upcoming marriage. Dina initially feared her family wouldn't accept Ed due to his race and nationality. However, her preconceived notions were shattered when her family embraced and loved Ed wholeheartedly.
6. Samer and Jackie – Differences Unnoticed
Samer, an Egyptian, and Jackie, an American, highlight how race has never been a significant factor in their relationship. While they discuss differences in countries and religions, skin color rarely comes up. They demonstrate that true love focuses on shared values and compatibility.
7.Alfons and Seandra – Love Beyond Skin Tone
Alfons, an Egyptian, and Seandra, a South African, emphasize that skin tones were never a part of their attraction to each other. They see beyond physical appearances and focus on each other's qualities. Despite cultural clashes and language barriers, their willingness to compromise strengthens their marriage.
8.Munir and Jean – A Multicultural Upbringing
Munir, Palestinian, and Jean, Korean, share the unique experience of growing up with diverse cultural backgrounds. Munir's parents taught him that love transcends limits and boundaries. Munir appreciates the best of both Arab and Korean cultures, cherishing the vibrant nature of Arabs and the warmth of Koreans.
9. Mohamed and Katy – Condemning Superiority Complexes
Mohamed, an Egyptian, and Katy, Welsh, condemn the notion that being white is superior to other races. They firmly believe that love knows no color and that such biases are sickening. Their relationship stands as a testament to the equality and beauty of all races.
Conclusion
The inspiring stories of Arab interracial couples showcased here serve as a powerful reminder that love transcends racial boundaries. These couples have embraced the uniqueness of their relationships, challenging societal norms and stereotypes. Their love stories remind us that the human heart knows no limits or boundaries when it comes to love. By sharing their experiences, they encourage us to celebrate diversity and appreciate the beauty of love, regardless of race or ethnicity.