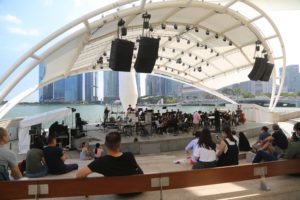 My first visit to Singapore was about 10 years ago – it was just a weekend stop therefore despite being such a small country, I did not have time to fully explore the country. Although I did get out out of the city and visit the world renowned Singapore Zoo. This time (in early 2019) I stayed in the city.
Singapore is known for its wide range of 5 star hotels. One of the most iconic and visually attractive due to its unique architecture and location is the Marina Bay Sands. This property features three buildings supporting a ship like structure on the top which boasts the world's largest infinity pool. And another highlight includes what is arguably the most historic and well-known hotel in Singapore, The Raffles. This property is the original home of the Singapore Sling drink – which of course I had to partake in with loads of other tourists in the bar/restaurant located on the second floor of the building.
Prices were so incredibly low that I splurged for a 5 star hotel!
My stay was at the One Farrer Hotel, located within a very short walk of the Farrer Park metro stop. This property is memorable because of its opulence and several exemplary features; one is their giant pool with views of the Singapore skyline and the other is their world-class spa. I took full advantage of the evenings – choosing to spend my time at the property rather then out partying.
The pool is a romantic part of the resort – especially in the evenings. Beautiful people roam the edges taking advantage of the nearby bar and food options. And lovers embrace in the pool in the semi darkness overlooking the twinkling lights of one of Asia's most iconic cities.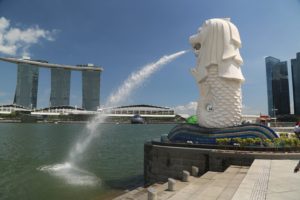 Because Singapore is a major Asian destination there are numerous international flights scheduled daily from around the world including from Dusseldorf Germany (where one can use the services of Escorts Dusseldorf.
My visit this time was to meet up with some friends and spend time relaxing. I accomplished both during my time here. While Singapore gets quite hot and humid, combined with the use of the excellent metro and plenty one can easily see the main part of the city in a few days. The city is compact so one can easily walk between attractions.
I spent part of my time window shopping because Singapore is an exciting shopping destination. Huge malls, the latest fashions and name brand merchandise are readily available. While Singapore is definitely not as cheap as other South East Asian countries, the selection of items are very good.
One of my highlights this trip was a stop across from the famous Merlion at the Esplanande on the Bay to hear a live performance by the Singapore Symphony.
With a diversity of urban attractions, top hotels and restaurants Singapore will certainly appeal to the well-heeled traveler and should be on their urban bucket list.