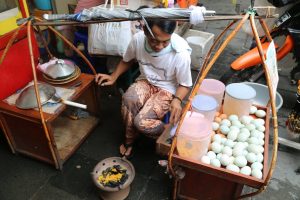 Jakarta, the capital city of Indonesia is a fantastic destination and is becoming ever more popular, in fact it was host to 15.8 million overseas tourists last year alone according to The Jakarta Post which was a 12.5 % increase on the previous year, with the tourist board targeting 20 million in the current year. So why is it so popular? Well, it's a great place with loads going on so we have put together this quick guide to give you a head start on what to do and where to go.
What Time Of Year To Go
When to go is always a question that has a few sub-questions, such as what is your availability? Are you looking for a budget deal? How are you with heat? So in terms of weather, there is generally a dry season and a rainy season with the dry season being May to September and the rainy one running from October to April. The temperature is not too variable, being a few degrees cooler in the wet season but runs between 23 degrees Celsius and 31 which is comfortable for most of us.
Where To Stay
Indonesia and Jakarta are reasonably cheap to find tourist accommodation and this means that it's good news, budget accommodation comes in at about 400,000Rp per night (about $28) with a luxury hotel room coming in at only 1,200,000 Rp per night (about $84) according to Lonely Planet. This leaves a very healthy budget left for your other activities etc.
Best Places To Eat
Jakarta is a great place to get something to eat, there are so many good Jakata restaurants that you can go and visit. The area has a great history of local dishes, Indonesian stews and curries and there is a street food festival held every November in the city which is a fascinating event with top-shelf food from all over the country and beyond involved.
Historical Places Of Interest
There is so much to see here from Istiqlal Mosque, the biggest mosque in South East Asia to the Kota Tua museum, interestingly situated in the old Dutch Colonial headquarters, there is the old harbor and the 115m high national monument. There are lots of areas of natural interest as well, like going to see the elephants as we've seen before. So there is more to do than I can even list here so try these and look around for much more.
Getting Around
Getting around is key in any modern city and Jakarta is no different, the public transport options are mixed in terms of quality. Buses are generally advisable to avoid being overcrowded, hot and noisy. Although the local train system is very highly regarded, it even has women-only carriages with security which for women traveling alone could give a great sense of security. Taxis are not too expensive and readily available, so always a good call, so long as you check that they are licensed. If you are keen on complete freedom you can always hire your own car.