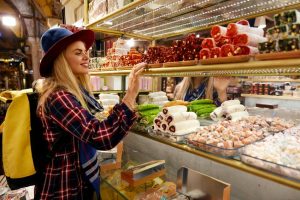 Turkey is increasingly becoming popular with holiday makers for its miles of beautiful golden beaches, its unbroken hours of blazing sun, the natural beauty of its breathtaking scenery and its rich and proud history but an added bonus for people booking Turkey holidays is the incredible range and diversity of its Turkey's mouth watering cuisine.
Turkey is situated across two continents and is bordered by three seas, factors which have made it a real melting pot of cultures and flavours. Turkish cuisine has drawn on the best influences from European, Mediterranean, Middle Eastern and Central Asian food and cooking to create an exciting and tantalising fusion of tastes and flavours which is very much its own. This also means there is something for everyone, from simple grilled meat dishes and artisan breads, to exotically spiced one-pot stews and delectable sweet pastries.
As with all countries of Turkey's vast size, the fare on offer is governed by geography, farming and climate so you will find that each region offers its own specialties and twists on traditional dishes so travelling around is recommended for the adventurous gastronome to experience the real taste of Turkey.
The Aegean region on the western side of the country proudly showcases more Mediterranean and European influences in its food with luscious olive groves creating some of the worlds finest olives and oils and a favourable climate for growing means leafy green vegetarian dishes and fresh seasonal vegetables are plentiful. Typically Aegean dishes also include lots of fish and seafood dishes. In Aegean parts of Turkey the food is usually only lightly seasoned allowing natural tastes and flavours to shine.
As you move south eastwards and into Inner and Southern Anatolia the Middle Eastern and Asian influences on cooking begin to show with foods becoming more exotic and spicier. The Kebab is perhaps the best known of all Turkish foods and here you will find some of the most delectable kebabs in the world. Lamb, beef and chicken are marinated in various blends of oils and spices then skewered and grilled to create incredible dishes accompanied by beautiful freshly made flat-breads and salads. You will also find roasted meat dishes and Arabian influenced clay pot stews bursting with exotic spices and flavours.
The fertile grasslands and cooler climate of the north of Turkey along the Black Sea coast mean leafy green vegetables and rice. Ideal grazing conditions produce wonderful yoghurts, cheeses and butters. Local 'Sarma' dishes showcase these flavours; ground lamb wrapped in Swiss chard and greens is a favourite. Again seafood is abundant in the north with sardines being a feature of many menus.
This proud emphasis on tradition and fresh regional produce means you will always find the best the land has to offer. Travelling around and sampling the sheer variety of food is the best way to experience all that Turkey has to offer but those who are content with relaxation not too far from a beach in one of Turkey's coastal resorts will find the local restaurants and food producers will ensure that you get to experience the true mouth watering taste of Turkey.