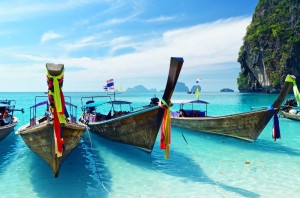 South East Asia is the honeymoon capital of the world, it has so much to offer newly wed couples with its quintessentially idyllic combination of stunning and endless white sandy beaches coupled with some of the most luxurious hotels in the world, perfect for you to embark on your new life together.
So why is South East Asia such a good honeymoon destination, well being such a vast and varied area there is no real bad time to go on your honeymoon, so whatever time of year you are planning, there will always be a part of South East Asia that is perfect for your Asia honeymoon.
So whether you want to be relaxing on a tranquil white sandy beach with warm turquoise waters lapping around your ankles or trekking through the snowy Himalayas or even sipping a cocktail onboard the Eastern and Oriental Express whilst the beautiful scenery flows past, watching the sunrise over the mighty 12th Century temple complex of Angkor Wat or hopping between tropical islands offering world class diving and of course the statutory beach time. Your choices are endless.
A Vietnam honeymoon offers everything you could ever want for a luxurious honeymoon adventure, with the stunning natural beauty of Sapa in the far mountainous north to the myriad of islands in Halong Bay to the beautiful colonial architecture of Hoi An, the friendly people, amazing cuisine and the golden swathes of beach that line the long coastline. Vietnam is an incredible honeymoon destination that has something for everyone.
Bali fits everyone's idea of the perfect honeymoon, this magical isle has been enchanting honeymooners for decades and still to this day is one of the most visited islands in south East Asia with its classic mix of unique culture, great weather and amazing and stylish beach resorts; Bali is the honeymoon island of choice in Asia.
For those looking for a little more action and adventure, then island off Borneo hits the spot, with its exceptional wildlife, incredible and wild national parks, stunning diving off pristine coral reefs to dive and of course those heavenly white sandy beaches to relax on, whether they are on small isolated islands or at large resorts, Borneo has it all for you.