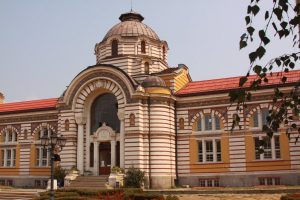 Backpacking is one of the best ways to explore Europe. Not only is it cheaper than booking into expensive hotels weeks on end, you learn to appreciate more (and also become a pro packer)! You'll make some lifelong friends along the way. No matter what country you visit, you'll find backpackers that have travelled across the world to be where you are. If you're travelling around Europe soon, make sure you visit www.ehic.co.uk to ensure you're eligible to receive medical treatment if you need it. We've revealed the top 5 backpacking destinations for you to visit in Europe below.
1. The Greek Isles
Greece: the place for the ultimate summer fun. Not only are there an array of beautiful beaches to choose from, you can party until the sunrises on a number of islands amongst the Greek Islands. Backpacking on a budget? No problem. You could score a dorm bed at the beachside in Mykonos for as little as £16.00 per night. If you want to leave the nightlife behind, there are private rooms available for just £30/per night at the Vincenzo Family Hotel. Take time to explore a number of tiny towns situated in the smallest nooks of each island. Why not embark on a hike to discover the intertwining lanes of Chora or trek up Mount Zas – the largest of the Cyclades island group!
2. Istanbul, Turkey
Istanbul is home to over 2,500 years of history, culture and tradition. If you decide to visit the old town and stay in the Sultanahmet distract, you won't need a mode of transport. But, if you plan on visiting Taksim or the Bosphorus, you'll need to take the tram or track down a taxi. St. Sophia is a must if you visit this historic country. Once a church, Hagia Sophia was converted into a mosque after the Constantinople. Similarly, The Blue Mosque is just as an attraction. As one of the biggest and most beautiful Mosques, you won't be disappointed by its vibrant blue tiles and impressive grounds.
3. Berlin, Germany
Decided to take a visit to Germany? Great choice! Not only is it one of the world's most historical places, its practical too. No matter what your budget might be, Germany has plenty to offer you. It has some of the most amazing rivers, lakes, forests and mountains to be found. Better yet, its home to some of the friendliest people.
Germany is bigger than you may think, but with an array of transport options, getting yourself from A to B isn't a problem.
One of the most highly recognised events is Oktoberfest in Munich. The event will last between 16 to 18 days each year from the end of September to early October. Since 2010, it has attracted more than 6.4 million people and an impressive 7 million litres of beer has been consumed in over 30 tents. We strongly suggest not to miss out on this one!
4. Sofia, Bulgaria
Sofia is the largest city in Bulgaria and in home to more than 1.4 million people. Despite now being a dynamic city in Eastern Europe, it's not difficult to find historical building remains. The city is also home to a number of lively bars, clubs and restaurants perfect for those who want to dance until their feet hurt or eat in style. If you're a lover of sushi, you can enjoy an array of dishes made directly in front of you at SUSHI HAPPY or in immerse yourself in traditional Bulgarian meals at the Happy Bar & Grill. Whatever takes your fancy, there's something for everyone to enjoy.
5. Madrid, Spain
Madrid is still one of the top backpacking destinations in Europe. As Spain's capital, Madrid is home to outstanding culture, architecture and art (as well as excellent nightlife)! As one of Spain's largest cities, you'll expect prices to be high, but in fact prices have maintained their moderate name. So although it's not incredibly cheap, it's not incredibly overpriced either. Take a free walking tour to explore and learn more about Madrid. Get a rough idea of where you'd like to revisit later on in your trip and identify where you can explore yourself.
So now you know where to go, it's time to book your flight and pack your bag. Backpacking doesn't have to be outside of Europe, in fact Europe has it all. No matter what experience you're looking for, you can be sure to find it closer to home than you think.