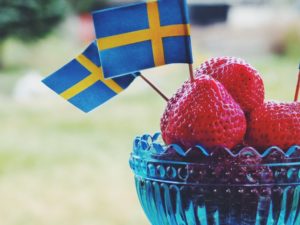 Sweden is the biggest country in Northern Europe. Its capital and largest city is Stockholm. The official language is Swedish and the official currency is the Swedish krona (SEK). Visitors can easily get around the country using Sweden's efficient network of buses and trains. Tourists visit the country because of breathtaking sights such as the Northern Lights, festivals such as the National Day, and other attractions. Sweden is also one of the popular destinations for shopping. Stockholm, Gothenburg, and Malmø are the top shopping locations in the country. Swedes also consider themselves as one of the friendliest and the most tolerant people.
Swedish Way of Life
Swedes love to "fika." Fika means "coffee break" and is part of the country's dining culture. People typically gather in fika cafes to drink coffee and eat pastries with their friends or family members. Swedes also love pickled herrings. The item is always served during festive gatherings. Herring is available in a variety of flavors and is typically served alongside sour cream, bread or potatoes, and chives. Swedes are also fond of using Snus or nicotine pouches instead of cigarettes. These pouches are smokeless products that are usually inserted behind the upper lip. The pouch slowly releases nicotine during use.
Top Things to Experience in Sweden
A visit to Sweden isn't complete without taking part in their most important annual event — the Midsummer festival. The festival takes place in June when Swedes gather to celebrate the longest day of the year after the long nights of winter. During this event, Swedes get to dance around the Midsummer pole while folk musicians play in the background. Another don't miss experience is sleeping in the Icehotel in Jukkasjärvi. Each April, part of the hotel melts away. The part that remains intact is open all year. The part that has melted is then rebuilt in the winter. Artists embellish the interior, transforming the hotel into an art gallery.