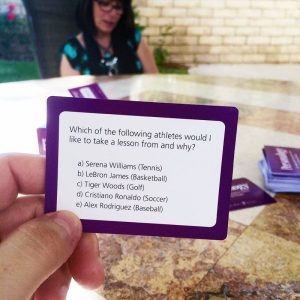 This compact interactive card game recently came across our desk – the directions as listed on the outside of the box seemed simple enough "Predict your opponent's answer and the reason why". It comes with a cool tagline to: "An Absurdly Provocative Game For Thinking People".
And always looking for a much needed social activity in a world dominated by screens these days I was immediately intrigued.
Three versions of this game can be chosen from based on group dynamics or perhaps even individual personalities of those playing the game. In the Friendly version no score is kept. Points are scored when playing the Less Friendly Version and there is a 10 Second Lightning Round version.
Lets get personal! The questions are random, intriguing and diverse – and every question ends with "and why". Putting this to the test with family seemed like a good idea as who better does one know then the people closest to you. And we went with the friendly version to kick off our inaugural Personalogy game.
First question posed to me "If I could stay one age forever, which of the following would it be and why"?
This was an appropriate question because all had heard my answer to this multiple times before. My line is "age 29 and every birthday I celebrate after this auspicious year is considered an anniversary of this age". But with no 29 option I chose the closest one listed – age 28.
The next question was also an appropriate one knowing how strongly anti TV I am. It read "I am selected for one of the reality competition shows this season, which would it be and why?" I had not heard of several of them but the Amazing Race was listed – having never seen this show but having heard of its travel bent – I chose that one.
And so on… this game is fun for people of many ages and great for on the go trips including in the car. Or as an icebreaker when visiting with friends or friends of friends. Or perhaps in winery tasting rooms!
And one final question which will get all travelers salivating: "Which world wonder would I like to visit most and why?"