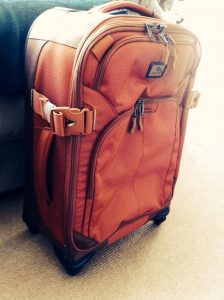 Eagle Creek recently reached out with some products to review – and also donated several prizes for our annual travel writing contest. I've been familiar with a number of their products for many years – one of my go to Eagle Creek products that I always take with me on International travels is my trusted money belt. I've had this for years and have worn it on all my International travels.
I'm always on the lookout for durable luggage – something that can hold up to the rigors of International travel – especially the wheels which are always subject to additional hardships (think cracked sidewalks and dusty roads somewhere in South East Asia on the way to a guesthouse). I don't like flimsy wheels – along with zippers, they are always the first thing to go on luggage that isn't built to last. The wheels on this are fairly heavy duty and multi-directional – no stuck wheels here.
I recently had a chance to test drive this in the Canadian Rockies. The wheels held up great as we hauled it down plenty of rocky steps during our trip. It is the little features that add up. I always appreciate luggage that can be expandable. The main compartment expands for additional packing space. Grips allow for carrying either on top or on the side. Two padded compression wings are inside the main compartment which can help isolate clothing from other packables. Also the built in flexi pull -out luggage tag attached by an elastic band is a nice feature.
The zippers have holes for locks – and clickable straps are available to help cinch the bag down tighter if needed.
And I like this orange color – it stands out a bit from the ubiquitous black that you commonly see on luggage belts at airports and in hotels!
Weight: 7lbs 13oz or 3.54kg. Plenty of size but small enough to carry on a plane.
Their "No Matter What" warranty is for the lifetime of the product.