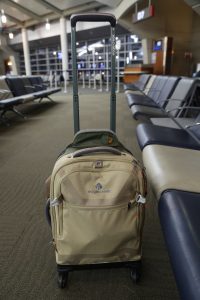 After trying a number of roll-aboards and or carry on pieces of luggage over the years – I always gravitate back to the Eagle Creek carry on products. The several non Eagle Creek carry on's I've tried previously – either have an issue with the center of gravity, are only two wheels or fall apart after relatively light use.
I've had good luck with the Eagle Creek carry ons for several reasons: 1. Durability, 2. Lightweight and 3. four wheels (I've learned the hard way that a roll aboard should never have just two wheels). The Gear Warrior AWD features oversized treaded wheels (great for dragging this around on side walks and other uneven surfaces). It is fairly light; when I weighed it empty – it came in at just over 6 lbs.
I recently took this carry-on with me on a last minute trip to New Orleans. This 'road test' involved four airports in 4 days. But the real test was the streets and sidewalks of the French Quarter. With it's rugged wheels, it handled with ease the curbs and ruts I took it over.
A nice feature is the flexible Equipment Keeper with metal key on the end that ties into the front of the bag. This can be used to stretch over and hold an additional piece of small luggage to the top of the roll-aboard. And a side benefit is the key can be used to open bottle tops. Has a handle on one side and features water resistant fabric and compression straps inside.
A number of add ons can be purchased to help with packing including folders, cubes, sacs, toiletry kits and sets. However we used this luggage without any of these items as our packing system is fairly systematic on what we need and where things go!