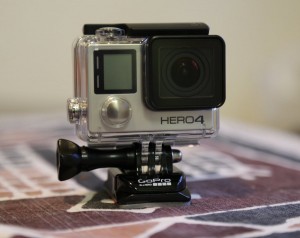 The GoPro Hero4 Black is the latest premium camera in the GoPro series of cameras. We tested this camera in a number of environments including mounted to a bicycle, in and under water and in low light conditions.
Features
Low light performance
12mp Photos
A number of video frame rates
Built in WiFi & Bluetooth
Ability to control camera remotely
Night & Time Lapse settings
Pros
And as with other GoPro cameras there are a fleet of ad ons to choose from
Compact and lightweight
Shoots good video in low light conditions
Comes with waterproof housing
Cons
Plastic housing covering the port plugins comes completely off and can be easily lost
No video or photo preview screen on the camera (for $500 this would seem like a no brainer)
Menu is challenging to initially learn
Short battery life (a little over an hour depending on use)
No in camera image stabilization
Go Pro Studio software kept locking up
Our final recommendation: this product sucks. Its to expensive for very limited options and is not easy to use. The GoPro Hero 7 is a dramatically improved product, albeit, still with some lack of ease of use options.
Basic Video Demo