Where do you go with half a day to kill in San Francisco? We decided to eschew some of the more touristy hotspots and headed to Potrero Hills, the Mission District and SoMa to see the real San Francisco.
We drove into the city on a Sunday morning when parking is free, arriving at around 10am. At that time in the morning, we were still lucky enough to find parking, although it was filling up fast.
Our first stop: 18th Street, Potrero Hills. 18th Street came highly recommended. A cute, tree-lined, sunlit-dappled street replete with outside seating area; we could pretend to be local San Franciscans.
We headed to Plow, self-styled as 'where Midwest country boy meets San Francisco China girl'. Stylish décor and a clean white background gave Plow a wonderful ambience. At least that is what I could glean from standing in their doorway. They do not accept reservations and only serve breakfast and lunch. So needless to say, we didn't get in. I overheard a customer in the queue say that they had been waiting for more than an hour and decided to skip out. (http://www.eatatplow.com/)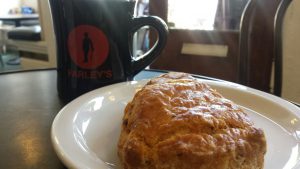 With a hungry child in tow, we thought it best to find another local favorite and headed up the hill. Luckily for us, we did. We stumbled upon Farley's, a little local joint serving breakfast empanadas and an assortment of loafs, pastries, cakes and scones. Not to mention the very tasty coffees and teas they are famous for. We were not disappointed with the food and it made a great alternative to Plow. Its casual décor gave it a homely feel. We petted the numerous doggies allowed in as their owners brunched at a leisurely pace. We could tell that many were regulars, greeting staff and each other by name. Seating was also limited but much easier to achieve than Plow. We definitely felt at home there! (http://www.farleyscoffee.com/)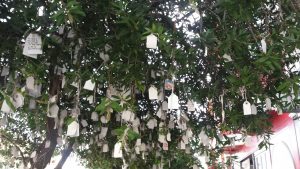 After brunch, we strolled up the hill and found more of Potrero Hill's institutions. Hazel's Kitchen next door to Farley's, looked lovely and almost tempted us to have a second breakfast. Their takeaway breakfast burritos looked fabulous and a wide variety of take-away foods for breakfast and lunch made us want to hang out there even more. We were tempted to perch on one of their cute benches outside and wait for our hunger to return. We also loved their tree of gratitude where you can hang your penned musings and read other gratitude platitudes. (http://www.hazelskitchen.com/)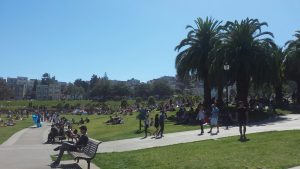 Further on, we chanced upon Christopher's Books. I for one cannot resist a bookshop, so we checked it out, a sweet, locally owned neighborhood bookstore, with a wide selection of books. They don't make bookshops like these anymore! (Apparently  in San Francisco they still do.) (http://christophersbooks.com/)
Next: With a full belly, we drove out to the Mission Dolores Park in the Mission District, not too far away from Potrero Hill. Again, we parked easily and headed down to the park for some much needed sun and a play in the extensive adventurous playground for kids. The park is divided into an 'off leash' and 'on-leash' section for dogs and it was fabulous to see dogs running carefree without a leash in sight! There is even a water fountain for dogs where I pushed the button for one very impatient dog who was waiting desperately for some H2O. (He'd obviously been there before!) (http://sfrecpark.org/destination/mission-dolores-park/)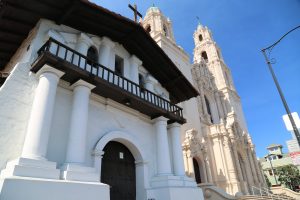 We soon hopped over to Mission Dolores itself, which was only a stone's throw away from the park. Commonly known as Mission Dolores, the Mision San Francisco de Asis is the only oldest intact building in the City of San Francisco. But with a child in tow, we knew better than to go in, and stood admiring the architecture from the outside instead. (www.missiondolores.org)
Finally: It was close to lunch time! And so, we decided to walk on through the Mission District on to the SoMa Streat Food Park on the borders of the Mission District and SoMa. The SoMa Streat Food Park is open seven days a week and has a rotating line-up of food trucks that serve a diverse selection of foods to tickle anyone's tastebuds. They also serve beer, wine, have carnival games and TV screens and open late into the night. We arrived just in time for the Arizona Diamondbacks vs San Francisco Giants game and although not a big baseball fan, we loved the atmosphere there! The food was equally good, with Vietnamese, Japanese, Korean, American, Italian, Argentinian, Hispanic and fusion on offer. (http://www.somastreatfoodpark.com/)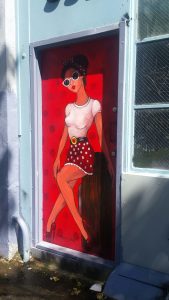 Time to go. We decided to head back to the car but along the way, stopped by the murals at Mural Alley and Clarion Alley, and The Women's Building on 18th Street in the Mission which has an enormous provocative mural of a woman covering the entire building. (http://womensbuilding.org/). We took it all in, enjoying the amazing street art and a chance to soak up the local vibe. Along the way, we also browsed the independent shops selling vintage clothing, and new and second hand books.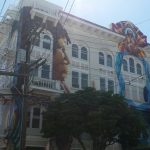 We finally got back to the car, tired and hot but so pleased to find a little local part of San Francisco. The Mission district is a place of contradictions, filled with streets of poverty next to gentrified ones, filled with culture and atmosphere. Potrero Hill made us feel like millennial locals. We could have stayed there all day drinking coffee, reading books (or surfing the net!), and petting dogs that came by.
We couldn't help but notice the wonderful houses that San Francisco had to offer as well. No wonder. They stood out bright and colorful against the brilliant sunshine. We will definitely be back again. And again. And again.