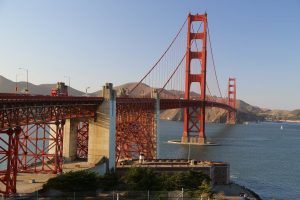 It had been a few years since I had spent any time in San Francisco; during my prior visits it always seemed like the city was blanked in fog – not so this trip. Apparently some of the best months to visit San Francisco are in September and October, when the fog often stays at bay and and visitor's are greeted by beautiful sunshine.
This was a handcrafted trip arranged by Stearns & Foster to experience some memorable moments in San Francisco tying in to promoting a sweepstakes they are offering (see below for more information).
From the 14th floor of the Fairmont Hotel I was treated to a beautiful sunset and then a sunrise the following morning with Coit Tower, Alcatraz and Angel Island all glowing in the distance. Following a large buffet dinner on site at the Laurel Court Restaurant & Bar (where I was surrounded by plenty of people in era clothing for the weekly Sunday Night Cabaret show) I headed downstairs to the Tonga Room and Hurricane Bar. This iconic bar seems so out of place in San Francisco but in the 70 years it has been here, it has certainly become one of the favorite watering holes in the city for visitors and locals alike. Their Mai Tai is popular but instead I opted for a Caipirinha. I soon faded into bliss watching the live band perform on a small "boat" moving back and forth on the lagoon as every so often "lightning and thunder" sounded out from the speakers overhead!
And after the visit to the Tonga Room it was up to the room for a very relaxing sleep on a Stearns & Foster® mattress. Their mattresses are designed with the finest materials (cotton, wool, silk and cashmere) and craftsmanship so that one can get a good nights sleep.
Then the next day it was off to visit with several Napa Valley wineries that maintain tasting rooms in the area. Napa is about an hour and twenty minute drive from San Francisco and for visitors who don't have that type of time and or want a wine tasting in an urban setting there are several options close by.
First up was Madrigal Vineyards tasting room in Sausalito. Located mere minutes from the Ferry Terminal (a 25 minute ride over from the Ferry Building in San Francisco). Part of getting here is the experience – visitor's often ride their bicycles across the world-famous Golden Gate Bridge, pop in for some wine tasting and then load their bicycle on the ferry for the short trip back to the city. The Madrigal Family first settled in the north part of the Napa Valley in 1938 and have been making wines under their own label since 1995. With 40 acres at their estate in Calistoga and some additional 800 acres they farm in Napa – they have access to high quality grapes. As a result they produce a diversity of wines – some of which are available only in very limited production.
Across to the other side of San Francisco I stopped by the JAX Vineyard tasting room in the South of Market Neighborhood (SOMA), merely a few blocks from AT&T Park (home of the San Francisco Giants baseball team). This tasting room is owned by the Jackson Family, residents of this neighborhood since 1950. They also own vineyards in the north part of the Napa Valley and are producing some very high quality to price ratio wines – some of the better value wines coming out of the Napa Valley. A visit here is relaxing – and is fairly hidden away from the rest of this urban neighborhood. A flight of wines are always paired with a charcuterie plate.
A hand crafted experience like I enjoyed in San Francisco ties in well to the Handcrafted Getaway to Venice, Italy being offered by Stearns & Foster® + Jetsetter. They are giving away this trip plus a Stearns & Foster® bed to one very fortunate winning entry. You can enter by sharing one photo which captures either a memorable moment or an item that means something to you. Examples could be a culinary experience, awesome views or your favorite car.

Websites of Locations spotlighted:
Fairmont Hotel San Francisco
Tonga Room and Hurricane Bar
Madrigal Family Tasting Room
JAX Vineyards & Tasting Room

Disclosure: This is a compensated partnership with Stearns & Foster & Jetsetter. All opinions are 100% my own.