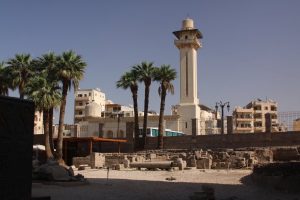 Luxor lies along the banks of the great Nile (the longest river in the world). If it wasn't for the Nile there would be no population here (a ribbon across the great Sahara Desert. The green of the agricultural fields extends both sides of the river maybe 8-10km where it abruptly ends at the sands of the Sahara Desert.
The town is spread out along the east and west banks with most of the population centered on the east side. There is no bridge spanning the river in Luxor and you have to drive about 14km one way to find the closest bridge and then back the other side. Or if you don't have a car just take the passenger ferry from side to side.
Its warm here – about 40-41 C which isn't too bad compared to the summertime temps which top out in the low 50's. We've camped in Death Valley in mid July when it was 53 C as the high – those temperatures are brutal!
Karnak Temple is definitely one of the highlights of a visit to Luxor. It is about 2km down from the Luxor Temple and excavation work is currently being conducted to try and connect the two sites. As a result this has totally screwed up the main road and its chaos trying to navigate part of this area. All buildings have been torn down leaving piles of rubble – except two Orthodox churches.
Karnak is the largest religious complex of its kind in the world. It can be insanely busy during the late afternoons supported by the hundreds of tour buses that surround the temple. It seems like most tourists visit this part of Egypt with tours; we have met very very few independent travelers. The towering columns supporting what is left of the roof dwarf the people below. Huge statues guard the entrance and thousands of impressive hieroglyphics are inscribed in the walls, columns and two obelisks.
We love the heat but less so the crowds so we try to visit the main attractions during the hottest part of the day. Will post photos as soon as I get a chance 🙂