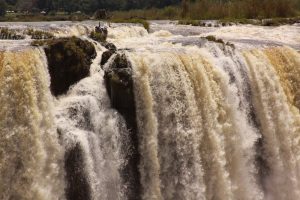 Dear Friends,
"I can't leave this place. Africa is in my heart'I love the unpredictability here; today we have food, tomorrow we might not". These were the musings of Ivor, a white Zimbabwean grocery store owner we met in Bulawayo, Zimbabwe. Ivor was one of the few white Zimbabwe citizens left after the country's strong-man president Robert Mugabe changed the constitution to allow himself unlimited terms and, in 2000, instituted a series of disastrous land reforms aimed against native white farmers who had plowed the fields for generations and created a breadbasket for much of southern Africa. Some of the farmers were killed in the ensuing resistance, but most fled the country and left large commercial farms behind, which were then distributed among the black villagers who lived nearby. Untrained in commercial farming methods, these nascent land owners reverted to subsistence farming and grew just enough food to feed their own families. Gone were the days of Zimbabwe's grain, tobacco, and beef exports. Despite the failures of one party socialism and Marxist land reforms elsewhere in Africa, President Mugabe followed this disastrous course and virtually crippled this once prosperous nation's economy. The extensive tourism industry has collapsed in the past few years. A well developed and extensive infrastructure lays in complete decay now, as resources are not available anymore.
Such was the chaotic background to our relatively short visit to Zimbabwe. With a country as beautiful such as this and people as friendly as you can imagine, given the dire circumstances, I could sort of understand Ivor's fondness for his land and his refusal to leave even when threatened. My brother Abdul and I unfortunately had precious few moments when we could lose ourselves in these incredible surroundings, because we kept running into this utterly inept and corrupt government of Zimbabwe.
Starting at the border post known as Plumtree, we left the Botswana customs unscathed and with minimal wait times. We got back on the rickety old school bus, which we shared with droves of Zimbabweans and rumbled over the no man's land toward the Zimbabwe customs building. Little did we know that we would spend the next five hours in this crumbling, but once impressive, brick building. After an hour or so wait in the first line we were informed by the reasonably official looking man behind the counter that we would have to pay a fee of about $30 in US dollar bills to get an entry visa. Initially we protested and pointed out to him that nowhere is it written that US citizens would have to pay, but then we realized what a futile argument it was. They could charge us whatever they wanted, so we just coughed up the cash and moved on to the next line. That money disappeared in his pocket. The next four lines were a confused and snarled mess of resigned looking people that led to more bureaucrats looking to take their loot. Personal property could be declared illegal on a whim and taken from the hapless owner, if the "customs official" decided so. We witnessed such a seizure after we boarded our bus and attempted to leave the border area. After several agonizingly long false starts, we moved a whopping quarter mile down the road, as some soldiers stopped our overcrowded vehicle and entered with their guns. No one dared to look at them but held up their passports for them to grab, if they wanted to. Outside, a refreshing thunderstorm was moving in, but it didn't diminish the oppressive atmosphere inside the bus. Eventually, a woman was picked from the crowd and literally pushed and shoved out of the bus, over vocal protests from other women. Her belongings consisted of sacks of maize and cooking oil, which she had bought over the border in Botswana. We assume they were taken away from her. An old man squeezed in next to me explained in a thickly accented English that she got accused of smuggling without any evidence and her property confiscated. That maize will feed the soldiers, not the poor woman's children. Unfortunately, there was nothing anybody could do except to hope that they left after this pillaging. Finally, the bus did continue on at a snail's pace over pot holed roads with its throngs of weary people. Abdul and I counted our blessings. We were by far the most foreign looking guys and our belongings consisted not of maize and cooking oil, but of western backpacks and travel gear. We could have easily lost it all to the soldiers and unable to do anything about it.
This great travesty of Zimbabwe continued, as we could not find many of the hostels or even hotels whose addresses we had gleaned from our guide book. Our 'Lonely Planet', a reliable and well known travel guide, was published in September 2003 but had become completely outdated with regard to Zimbabwe. In this collapsing country, hostels, hotels and other tourism oriented ventures were disappearing at an alarming rate.
Currency exchange was another great joke that we had to constantly contend with. The official rate at Banks, when one got inside after a long line, was pegged at US$1 to ZIM$800. Now consider that a post card sells for ZIM$3000'that's almost US$4! The unofficial black market rate of US$1 to ZIM$4000-7000 more accurately represented the actual value of the Zim dollar. How much we could get for our US dollar depended on how hard we could bargain with the shopkeepers and young men on the streets who exchanged money illegally. We stuck with shopkeepers, even though they gave us more unfavorable rates, because the guys on the street were more likely to sell us fake bills or be undercover police. So, our initial exchange of a couple hundred US dollars netted us a shopping bag full of Zim dollars. At least the post cards seemed more reasonably priced at the black market rate. However, upon closer inspection, we noticed that our bills were blank on the backside. Furious and convinced that we got scammed, we walked into another store to get a second opinion. The owner assured us that it was genuine money, even if it was printed only on one side. We convinced ourselves by checking out other people's money and even found that some bills have expiration dates. Nevertheless, the paranoia of exchanging money and getting scammed never left us.
On a much brighter side, the average Zimbabwean, like most Africans, is somehow able to remain remarkably stoic and even upbeat, despite the constant upheavals brought upon them by forces way beyond their control. In long lines or inside buses that just got raided by soldiers, we could hear laughter ring out and lively conversations take place. The daily afternoon thunderstorms were usually waited out under whatever canopy people could gather and provided the perfect opportunity to chat, meet others, or just relax and watch the massive raindrops splatter on the ground. Abdul and I also made for an occasional lightning rod for people, who gathered around curiously and inquired about our origins, our travels, our shoes and clothing. Some just wanted to chat, others tried to sell us something or trade various items, while others yet gave us their addresses in hopes of becoming pen pals. In a refreshingly straightforward manner the pen pal hopefuls told us that their aim was for us to eventually send them an airplane ticket to the great country of America, a distant land of unimaginable riches that they have seen in the movies and would love to visit or move to. During conversations like these, I realized just how rich I must seem to the average African. Just the fact that I could afford to come to their country and travel on to wherever I pleased, proved to them my limitless wealth. It seemed of no use to try to explain that I saved for months and months to embark on this trip, or that I had to work and put the money in the bank first, before I could insert a plastic card and seemingly pull out cash on a whim. Many people, when asked for directions, for example, could only tell us reliably as far as they could walk in a day. Trips beyond a day's walk or bus ride were simply not undertaken. At the subsistence level, most time and effort was devoted to raising crops, herding animals, maintaining house and family, and holding down a job, of one was lucky enough to have one.
One of the more interesting ways to travel in Zimbabwe was on a vintage night train dating from the 1920's to Victoria Falls. One of the idiosyncrasies of train travel was that we really had to watch our backpacks, much more so than in the buses. We were warned by the conductor and others about a high theft rate on the train and, as a precaution, reserved a first class sleeper compartment replete with hand carved wood and leather seating. The price seemed dirt cheap to us, but was out of reach to most other passengers, who squeezed themselves onto the wooden bench seats of the third class. For some reason, our train had no locomotive and while everybody waited for one to arrive a few hours after the scheduled departure time, we noticed a lot of curious eyes peering into our compartment from the outside. Some of the more maverick young men tried to open our door. But both of us remained alert enough that nothing ended up lost while the train idled in the station.
Eventually an old steam locomotive showed up and slowly pulled the train at the typical speed of Africa through lots of pristine woodland up to the Zambian border and the spectacular Victoria Falls. The Zambezi River, on its way from the Congo basin to the Indian Ocean, takes a truly amazing plunge between the countries of Zimbabwe and Zambia and is considered as one of the great natural wonders of the world. Known locally as Mosi oa Tunya, which loosely translates as 'The Smoke that Thunders', the actual falls are 1700m (1.1 miles) wide and 110m (330 feet) high. In comparison, Niagara Falls is about 900m wide and 58m high. During the rain season, it is the most voluminous falls in the world; so much water plunges over the cataract that a huge water spray cloud rises over the Falls. Hence the native name. Nestled in a dense forest full of monkeys, we found it impossible to find a spot to take in the entire view of the falls, but had to contend ourselves with walking along water drenched paths to see the massive display of violent current churned to white foam. The collective roar of the falls not only pounded my ear drums, but also made itself felt all along the solar plexus, so powerful were the sound waves. From the Zambian side the view was more distant but gave us an opportunity to see the roaring rapids of the Zambezi hundreds of feet down into the black gorge.
More than satisfied with the splendor of Victoria Falls and more than fed up with corruption and excessive bureaucracy, we turned our attention back to the big game of the continent and made our way out of Zambia and Zimbabwe. By this time we still hadn't see the 'Big Five' animals up close, on their turf, and on their terms. We would have to travel to the poacher free game reserves of various other countries to meet up with all the beasts that we dreamed about at night. Even in game reserves, we realized that nothing would be guaranteed because it wasn't a zoo but open range only protected from ranching, farming and other human encroachments. But more about that quest later.
Solomon