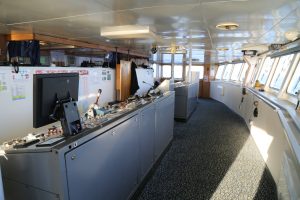 Upon boarding the Basecamp Ortelius in anticipation of our Antarctica cruise (the ice breaker ship we will be on for the next 13 days) I immediately noticed a few of the staff wearing shorts. Remarking to one of them that it is awfully cold for that kind of apparel, they quickly replied with, "if you think it is cold now, just wait until we get to Antarctica!"
Nonetheless, the wind was bone chilling as we pulled out of lovely Ushuaia – the buildings in town were shaded by the mountains with the sun just peaking through the clouds. We cruised through the picturesque Beagle Channel past jagged mountains covered with a frosting of snow from the previous night and a breaching whale provided some nice visuals on the port side.
My room sleeps four, but there are only two of us, myself and Ralf, a German documentary film maker who returned from Antarctica this morning and is returning again to continue his coverage of this particular trip. He showed me footage he took of an American couple getting married in Antarctica – a large seal was in the audience as were several penguins. Panning around, his video soon showed a number of passengers all dressed in appropriate Antarctica attire, head to foot in heavy clothing. The ceremony lasted about 20 minutes all the while the lady was visibly shivering in a summer dress. The man wore a tuxedo. They even called their pastor back home via a satellite connection to give them their vows!
Heading up to dinner this evening a blast of cold air shot through from one of the deck doors into the interior. I thought to myself, "this is certainly no Caribbean cruise".
One of the crew described Antarctica as a 'feeling' and one he always has a hard time conveying a description of to people who have never been before. We hope to capture this 'feeling' upon arrival or perhaps sometime after the trip with additional time to reflect on the experiences.
In the meantime, a historian is on board to provide us with information about famed Antarctica explorers including Amundsen, Shackleton and Scott.
The days at sea are packed with education – briefings on some of the activities we will enjoy while on shore including diving (how cool would that be to dive in the waters off of Antarctica), mountain climbing, kayaking, photography sessions and more.
The topic of note among passengers at this early stage in the cruise is sea sickness. Drake's Passage is notorious for being hit or miss on the weather and when you 'hit' sometimes the swells can be extremely high. A friendly Doctor is on board and we are taking the Scopamine Patch as a precaution.
Secretly in the far recesses of my mind I was hoping we would experience the worst that the Drake's Passage could throw at us. But I quickly disposed of that stupid thought; we all have been thankful for the extremely mild crossing so far.
Part of an adventure cruise such as this is to socially interact with the passengers – there is a diversity of people from all over the world and many of them are very well traveled with some interesting stories to share.
For now, the seas are still relatively calm and we continue our journey south.
Looking to do this cruise, or a similar cruise from Oceanwide Expeditions? visit their Antarctica Cruises page here.