Q. You moved from Vancouver to Hong Kong in 2012 to join the corporate world. Vancouver is also known as "city of neighborhoods" with a sizable portion of Hong Kong immigrants. What do you see the similarities and differences between both cities in terms of culture, people and of course, local food? 
In terms of culture – I think Hong Kong tends to lean towards workaholic culture. Time is money, and everything runs at a faster pace here. If you urgently need something done, with enough incentive (money), you can almost get anything done in no time. It also means that there is always something to do, new places to explore, but not enough time in the world to experience everything. It surely is a city that never sleeps. 
As for people,  in Vancouver, everyone speaks English but with a North American accent. English is prevalent in Hong Kong too, but people speak English with a plethora of accents and it's all so interesting to listen to the different syntax and words used.     
Hong Kong is a city with people from all walks of life. Friendship is transient in this society. People constantly come and go. This means your circle of friends keeps changing over a short span of time! In comparison, my group of friends in Vancouver have pretty much remained the same since my university days!
Lastly, in terms of food, both places offer great food. I have to say that the price disparity in Hong Kong is huge. Eating local street food can be wallet friendly but the foods are often laden with a high carb count or poor in nutrition. I think Vancouver has way better quality of food at a more reasonable price range (Sushi in Vancouver is so fresh and cheap compared to Hong Kong), but if you're talking about fine dining, then Hong Kong is hands down the winner!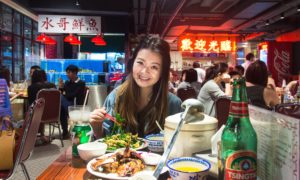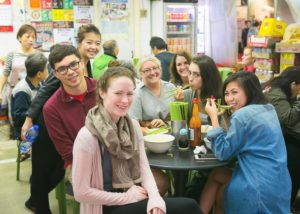 Q. Your idea of starting a food tour happened on a humid evening while eating curry fish balls in downtown Hong Kong. Tell us how did that idea come to you and how did you bring that idea into reality?
The idea did not come to me with that much clarity. A makeshift dinner of a couple skewers of fish balls near my house got me thinking about my future.  Feeling terribly burned out at work, I was tiptoeing around an idea of starting my own business. I did not further dive into the idea and in the end, it was forgotten in the whirl of busy life. I stuck it out at the job and then landed another corporate opportunity that was too irresistible to pass up. It wasn't until 8 months into the new role that I realized that climbing a corporate ladder was not my true calling. I quit the job and started tutoring kids on the weekends as I needed the money to pay rent and bills. 
During a trip to Eastern Europe, I was drawn to free walking tours that were ubiquitous in Europe – you show up to a tour, and if you enjoy the tour, you leave a tip of any amount, like 5 – 10 Euros as a token of your appreciation. I decided to start a similar tour in Hong Kong – my motherland. The tour, however, did not attract as many participants as I had hoped, partly because the model was still novel here and there were fewer English-speaking tourists.  So, I decided to niche down, and being a foodie, it was just natural that I started to gravitate towards food as it is also the focal point of our culture – all major events and holidays revolve around food! And that's how my food tours were born!
Q. Of all your food tours – Best of Hong Kong Foods Tour, Seafood on Sampan Tour, Guided Dim Sum Lunch, Craft Brewery Tour, Off-the-eaten-path tour etc. Tell us one of your favorite aspects of each tour and share with us 2-3 most memorable moments of the tours? 
I try to get people to eat through Hong Kong's culture, heritage and traditions and I make sure that all the tours deliver exactly that.  For example, I decided to put on a food tour in Sham Shui Po, an area where my dad spent most of his life growing up. It just happens that Sham Shui Po is the poorest part of Hong Kong. It's not at all shabby and run-down. In my eyes, Sham Shui Po has its own quaint charm. It is my pleasure to show people the lesser-known side of Sham Shui Po – a food haven with a wealth of local gems, and most importantly, to show people how safe and fun it is to walk around the area. 
I've moved 7 times in 7 years in Hong Kong but had lived in Whampoa the longest and loved it there. I thought it would be easy for me to start a food tour there since I know the area like the back of my hand.  Whampoa tour has six food stops. It is a deconstruction of the 5 Cantonese flavors.- bitter, salty, spicy, sour and sweet. For instance, at the "bitter" stop, we drink Chinese herbal tea flavored with distinctive bitterness and learn about its cooling effect that it has on the body.
The sampan fishing boat tour is not a walking tour but a sit-down meal filled with history that makes a super unique experience. We will make our way to the last sampan restaurant in Hong Kong and sit down to a sumptuous dinner. Over the dinner, we delve into the early history of Hong Kong, for example, the earliest clans of Hong Kong, the fishing Village culture and why fish is such a staple in the Hong Kong diet etc. 
Kowloon city has a sentimental value to me as it is where my grandmother lived for many of her formative years. People join the Kowloon city food tour to learn about the different ethnic communities through the stories of the vendors and their unique signature foods. For example, a fishball vendor would talk about the ups and downs of his fish ball factory during the darkest days in the history of Kowloon Walled City; The fact that Kowloon city is also known as "Little Thailand"; The presence of Chiu Chow people (a city in China) in the area and why many of them are married to Thai women; How Hong Kong egg tart took its influence from the British etc. 
Due to the pandemic, group food tours have been put on pause. For now, we only offer private tours – just the tour guide (me) and a small group of people on one of the existing tours or a customized tour built around your preferences.
One of the things that I would recommend for a private tour is to end the tour at a "Dai Pai Tong", which is like an Alfresco outdoor dining and from there, we will take a deep dive into the revolution of street food in Hong Kong. 
One of my memorable tour moments was guiding a Michelin recommended chef who owns a soba noodles shop in Japan. I was honored to show him the process of our noodle-making using a bamboo rod. It was an eye-opening experience for him, and for me, to be able to share and learn something new from each other's cultures. 
Another memorable incident happened during my first year in business. It was Chinese New Year and all our tours were fully booked on two specific dates. I didn't realize it was CNY and that almost half of all vendors were closed for the festival. I had to break the news to those who had signed up for the tour, asking if they would like to go for another alternative or get a refund. Surprisingly, everyone chose not to take a refund. This meant that I had to think outside of the box and creatively to get the tour going. Inspired by the festivity, I made the tours CNY themed, and I brought a traditional candy box filled with all kinds of festive treats and cooked turnip cake for everyone to mark the auspicious occasion. I was thrilled to pull that off with so much creativity! As It turned out, everyone loved the arrangement so much!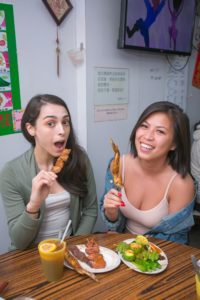 Q. Hong Kong is a food paradise – Cheung Fun, stinky tofu, egg waffles, and of course, curry fish balls. My favorite is walnut dessert soup, something I definitely won't miss while in Hong Kong.  What defines a great and unique local food for you and what are your criteria in picking a vendor to collaborate with for your tours?
They must have good stories to share and of course, great food to offer. I love hitting mom and pop shops. I am generally not a fan of franchises. Because I grew up in Canada, it has given me a better perspective of what westerners or tourists like and dislike when it comes to food. A good understanding of the people's food taste preferences has always been an advantage for me in guiding a food tour. 
Before I started my Whampoa tour, I had no idea what theme I wanted for my tour. I did extensive internet research and brought a friend with me. We hit up all the shops that I think would be worthy, regardless if it's well known or not on the internet – it's a very rigorous eating and vetting process.
I also owe it to a good friend who lived in Whampoa for pointing out to me some secret hidden places that are mostly frequented by locals. Eventually the tour started to take shape in my head based on what shops I liked and underlying themes that I identified.
So yeah, like I said, a vendor should have good food and always have a unique story to tell, you just have to ask the right questions, coupled with all other elements tied together that make a unique gastronomic experience. After the tour is created, it then further gets reshaped based on customer's feedback and this can take anywhere from a few months to a year. For example, our Whampoa tour route was not finalized until 13 months later, when I felt I was truly happy with it.
Q. With technology becoming an integral part of our lives, almost anything and everything can be searched through the internet including information on local food.  In your opinion, why joining a food tour is still the best way to discover local food, and tell us how are your food tours different from the conventional food tours?
We don't go to tourist traps or places that have garnered intense international media coverage catering to tourists or English-speaking guests. What I do is something similar with what the Michelin guide does. Michelin recommends the restaurants that no one has ever heard of,  showcasing unknown restaurants that offer great food. I also choose restaurants that would be very difficult for non-Cantonese speakers to frequent (non-English speaking staff, or no English menus, etc) as this is where we can bring value in connecting guests to places and people they can't communicate with.
For my walking tours – I niche down to a certain area or residential neighborhood where my parents have told me vivid stories, mostly because they have grown up or lived in those areas. All the tours created and the locations chosen are very close to my heart
Over the years, I have established (or finally worn them down) a close camaraderie with all my vendors. Whenever I bring my tour group to visit them, they welcome me with open arms and do their best to provide us with the best experience possible. The hospitality and friendliness of the locals adds to the tour's overall experience. 
I love finding hidden local gems and think of our tours as a bridge between the guests (west) to the locals (east), connecting everyone who shares the passion for food and culture. The tour participants also get to experience the authentic local way of life. For example, on one tour, we would take the iconic and very local red minibus. You need to know where you are getting off and give a shout out to the driver, and the bus will dramatically screech to a halt at your stop.
The tour guests also learn about the story behind each shop – What's their story? How many generations have been involved in the business? How significant the dish is to Hong Kong etc. For example, cart noodle was once a common sight all over the streets in Hong Kong. It gets the name because the noodle was literally sold out of a cart roaming alongside the streets. This iconic street scene, however, has become a thing of the past ever since the crackdown on food carts on the street by the authorities. 
Q, In one of your interviews, you said that your parents inspired you to discover Hong Kong through the old tales of Hong Kong. Can you share with us 2-3 interesting old tales that outsiders might not know about Hong Kong? 
My grandmother lived in a residential building in Kowloon City. Her building had a light upstairs because it was part of the flight path leading to the nearby Kai Tak airport. She hated it so much especially before and after a typhoon when the frequency of flight taking off and landing increased. The constant roaring of the planes over the buildings was not something she spoke fondly of. 
My grandmother and her family lived out in a balcony converted room at a 300 square-foot unit shared with 13 other tenants. It was really crowded with all of them fighting for the only bathroom. In summertime when the temperatures shot through the roof, she and her siblings would go hang out at the airport because that was the only place with air-conditioners for them to cool off.  I always showed the old grainy photos of Kowloon city to my tour guests – the nostalgic days when the planes made a terrifying low landing over the crowded neighborhood.
My grandmother finally saved enough money from her dowry etc and used it to rent a flat unit in Sham Shui Po. She then subdivided the unit into multiple tiny spaces and rented them out.  My grandfather named her "The First Generation of Landlord" –  a description for a character who is notoriously loud and quick witted especially when it comes to dealing with money. She put up bunk beds in wherever space available around the flat – living room, kitchen or even the hallway. Because the bathroom had a high ceiling, in a creative spin, she put up another board right above the bathroom! My grandfather said that he felt sorry for whoever poor soul ended up sleeping up above the throne!
Q. In addition to food tours, you also offer a Mahjong course, a popular Chinese game played with sets of tiles.  Will you consider creating other courses in future to promote local arts and culture, for example: Cantonese opera or Cantonese language courses?
The reason I offered the Mahjong course was actually out of necessity. My food tour business came to a standstill since the violent protest broke out in 2019. It was around the time that one of my corporate clients contacted me to give her a Mahjong lesson, because she saw me playing it all the time in my Instagram stories and wanted to support my business during the difficult times.
I went on to teach her and her 3 other friends. She loved the lesson so much and began to spread words about my Mahjong lesson. The next thing I knew, I received more than 20 enquiries about the lesson! This is how my Mahjong lesson started. I am so grateful for the outpouring support I've received from all my past guests, and my mahjong classes requests are mostly all through word of mouth. It means the world to me and helped me stay afloat in this critical time. And it's been the most fabulous pivot because I LOVE MAHJONG! 
I prefer doing something that I have an expertise in. I have little knowledge in Cantonese opera, and I don't think I have the needed credibility to teach Cantonese language, so I would leave it to experts to do these.
Q. What would be your ideal 24 hours in Hong Kong?
It really depends on where one wants to see and where to go. If I were a tourist visiting Hong Kong, I would visit the peak to soak in the magnificent aerial view of Hong Kong skyline, take a ride down memory lane on the Star Ferry and I will make sure to cover both Hong Kong Island and Kowloon peninsula. It is also worth taking some time exploring some sublime local Chinese temples here, for example, a beautiful Goddess of Mercy temple in the New Territories.
As for food, eating the best dim sum is a must for breakfast/lunch. Then I will go for the savory egg tarts and milk tea in the afternoon and end my day with a dinner at "Dai Pai Tong", an Alfresco outdoor dining. Oh, I will make sure I explore the local food scene in Sham Shui Po too.
To me it is all about seeing different aspects of Hong Kong and experiencing all the quintessential elements of Hong Kong as you go.
Q.. What are the core values for your business and how do you work with your team to have fun running the food tours together? 
The pandemic has pretty much halted the entire tourism industry in Hong Kong. My business has kept its roots and objective that guests are still learning about Hong Kong's traditions, heritage and culture but now our product range and medium are different.
During the most severe period of the pandemic last year, I started egg-tart making classes and then the Mahjong lessons. I also ventured into making YouTube videos so now you no longer need to be in Hong Kong to learn more about the culture here. Recently, I have started creating my own products – "Chinese New Year's Advent calendar" – the very first in Hong Kong and  possibly the entire world. The calendar is a planning tool guiding you to kick off the 18 days countdown to Chinese New Year. It is filled with interesting traditional facts and the dos and don'ts for one to avoid bad luck and embrace auspiciousness in the days leading to Chinese New Year. It is fun and "yummy" too – it comes with tantalizing artisanal chocolates to delight your taste buds. 
All my past hires have found jobs elsewhere and given the current circumstances, I no longer have enough financial resources to hire people to support my business. I have been wearing a lot of different hats. Everything I do, be it experiences or products, centers around 3 core values that I hold dear – First, it should be fun! Second, we are passionate about our work and we hope our enthusiasm is contagious and lastly, there is always a learning aspect as it should be educational and informative whilst being fun!
Q. You have appeared in Netflix's Restaurants on the Edge and your tours have been recognized as one of the top food tours in Hong Kong by TripAdvisor. What does this recognition mean to you and what motivates you to raise the bar and set higher standards for your business? 
I am proud to be on Netflix's "Restaurants on the Edge". When the show initially contacted me, they needed someone fluent in conversing Cantonese and English as they needed that person to speak with prospective restaurants they wanted to feature in the show.  I was then invited to speak to the writer to tell him my thoughts about Hong Kong culture and a brief overview of Hong Kong. I told them that food is ingrained in our culture and offered myself as a guide/talent and as the local food fixer in the show. They said yes and the result is what you see in the episode of Restaurants on the Edge. 
I want to be an ambassador for Hong Kong. I love to discover and share hidden gems of Hong Kong, my motherland with as many people as I can. And I want to be able to find a sustainable way to do that for as long as I can, be it on YouTube, or creating fun and educational products. I would like to think that the world is my oyster, or in this case, my fishball. 
Visit her website: https://humidwithachanceoffishballs.com
Visit her YouTube channel: www.youtube.com/channel/UCgESrA4c8EkBJ85KMd_M1kg
Biography:
Virginia Chan is a Canadian born Hong Konger, moved to Hong Kong 8 years ago to pursue a career in HR. After 4 years of working as an HR Business Partner in the finance industry, she is now the lead fishball eater at Humid with a Chance of Fishballs, a local Hong Kong cultural experiences company. Virginia conducts cultural experiences such as teaching Mahjong, giving food tours, and creating YouTube videos. To date, she has taught over 450 students and 115 mahjong courses in Hong Kong and has started venturing into cultural products such as creating Hong Kong's first Chinese New Year Countdown Calendar with cultural activity and information accompanying each day.
She has been featured on Netflix's Restaurants on the Edge's as the food tour guide, served as a cultural consultant for companies such as Yau Beer (Carlsberg brand) and has worked with the Hong Kong Tourism Board as a Hong Kong ambassador.
Photograph credit: Virginia Chan