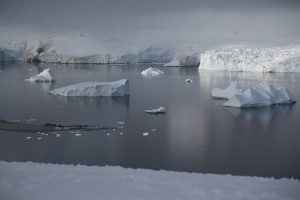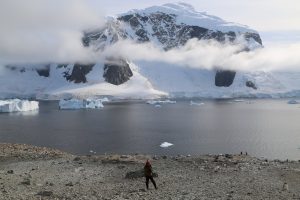 The cruise director on the Basecamp Ortelius on our Antarctica cruise with Oceanwide Expeditions said something that perked my interest, "Antarctica is a feeling" and I immediately wondered what type of feeling it would induce in me once I arrived. It turns out it is not just one feeling but rather many. What you see in front of you evokes numerous feelings and reactions including awe, the grandeur and magnitude of your surroundings gives you perspective on just how small you are and at times you simply want to be silent, trying to absorb as much as you can.
When you climb high above the sea level you have dramatic views of the surroundings – the weather can change so quickly that your views will constantly be evolving. The lighting can be incredible – with the darkness of fog, the orange and pink and salmon color of the water, to sculpted icebergs often starkly white but sometimes blue – green in color.
And then there is the wildlife. Penguins perched on rocky outcrops are a common sight. Cruising around some of the chilly waters near glaciers one can also spot seals and whales. Highlights include a number of other bird species.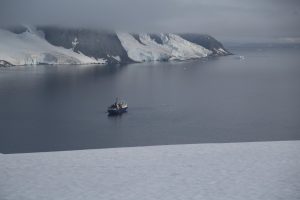 And the underwater. For those SCUBA certified and willing to put in the time commitment needed prior to each dive – the underwater world delivers sights very few get to see. There are starfish with 30+ arms, giant sponges – and ice from the icebergs plunging to great depths (depending on the size of the 'berg') and or rock walls extending deep into the water. And perhaps you can dive among seals.
Then there are the sounds of Antarctica. The distant and sometimes not so distance crash of calving glaciers is enough to get your adrenaline going. It sounds like thunder. Penguins can be chatty at time – with their guttural chirps. Or simply enjoy the calm lapping of the waves on some of the rocky shoreline.
Antarctica seems ethereal at times. This place will most definitely 'move' you. You can try to absorb the expansiveness and remoteness of Antarctica in the moment but this is really difficult to do. Moments of solitude certainly help.

But perhaps Antarctica will have the most impact on you when after you return and have had time to reflect on just how unique and special this part of the world is. A glimpse into this world can be tantalizingly short, perhaps only leaving you wanting more of it. A visit here is truly the trip of a lifetime
Looking to do this cruise, or a similar cruise from Oceanwide Expeditions? visit their Antarctica Cruises page here.