We are always going into Bangkok for something. This time for yellow fever vaccinations – I had mine last year for Cote d'Ivoire (good for 5 years) – this time around for Syy for our January trip to Botswana, Lesotho, Swaziland and Mozambique. Its not easy getting Yellow Fever vaccs in Bangkok – only available on the weekdays – hospitals don't offer it so we ended up going to the Red Cross Clinic at the Snake Farm.
This time of year Bangkok is just plain crowded – traffic stretched as far as the eye could see on the main roads in the late afternoon. Had to wait 2x to get on the skytrain due to crowds at Siam. The day pass is def the way to go even if you don't use all 120 baht for the ticket – you don't have to deal with coins and paying every time you want a ride.
Always love how food is everywhere in Bangkok – one restaurant next to Victory monument specializing in soup has figured out their business plan. Very small bowls for 20 baht combined with volume. Each bowl only about 2-3 spoon fulls!
Despite the crowds you can get things done fast if you know where your going. Stopped at Rama Jewelry off of Silom (first visited them in 1996) and got a nice wedding ring sorted out for family. Haircut, massage, shopping for clothes and computer parts. All done in 5 hours. Long day considering the normal 90-120 minute van ride from the village took 3 hours each way. 6 hours of travel. Whew!
A glimpse of the delicious street food in Bangkok!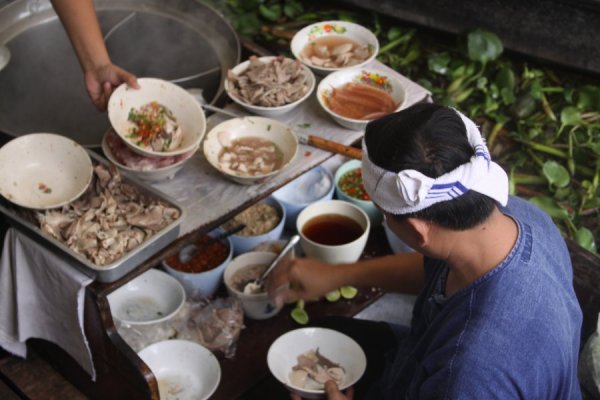 <