Bangkok is thousands of people all wearing the same color shirt on the same day for respect to their King, it is backpackers, it is Khao San Road, it is massage parlors, it is crowds, it is traffic, it is orange robed monks, it is hot, it is humid, it gleams with golden temples, it is medical tourism, it is cheap guest houses, it is some of the best hotels in the world, it is an ever present ebb and flow of life – all day and all night long, it is service with a smile – there is really no other city like it in the world.
Bangkok is so full of life…everywhere. One cannot help but be caught up in the hustle and bustle, the crowds, congestion and food – all day and all night. This is not to be ignored but is to be experientially jumped into full throttle.
The full name of Bangkok in Thai is the world's longest place name at 168 characters. It is: Krungthepmahanakhon Amonrattanakosin Mahintharayutthaya Mahadilokphop Noppharatratchathaniburirom Udomratchaniwetmahasathan Amonphimanawatansathit Sakkathattiyawitsanukamprasit.
The city has a population of around 10,500,000 and the greater Bangkok metropolitan area contains a population of around 16,000,000. From parts of the city, especially from select rooftop locations, one can look 360 degrees in any direction and only see buildings until the horizon.
At first glance nothing appears to be static here – 3 wheeled automobiles called Tuk-Tuks weave in and out of traffic, the sidewalks are filled with throngs of moving people and there always seems to be another hotel, skyscraper, apartment, or shopping mall under construction. However, there are numerous sights that retain a similar feel year after year – serene places like the estate of Jim Thompson, the famous Wats of Po and Arun and often bustling places including Khao San Road and the Grand Palace.
Where Sidewalks End (WSE Travel) Fellow travel writer, Ian Ord runs this boutique travel company (based in Bangkok) focusing on creating experiences that have a positive impact on the destinations they visit. The tour that put them on the map was helping people transcend cultural barriers to help their guests get blessed with ancient Buddhist bamboo tattoos known as Sak Yant. Rather than simply getting a travel souvenir, their guests are joined by experienced travel gurus (guides) who take them deep into the ancient sub-culture. In addition to showing respect to the sacred practice, a portion of all proceeds go to helping local social and environmental projects with every guest who travels with them. Visit: www.wheresidewalksend.com
Travelers to Bangkok often describe time in this city with the following two words: hot, humid. That's it. Although, Bangkok in December or January often features a few weeks where the nights can actually cool down to 15 C or even around 13C. This doesn't happen every year, but we have been in the city when its actually pleasant during the day and even a bit chilly at night.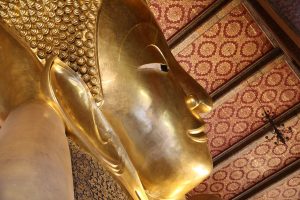 "Exploring without Looking at a Map" is a favorite activity of mine when I am in Bangkok. I visit new streets that I haven't been to before, see new shops, and find new attractions. Every time I do this I become hopelessly and utterly lost! This is fun – I never worry too much – I can always check the map on my phone and reference the location of my hotel when I am ready to return.
When I randomly disappear into crowds somewhere on the streets of this huge city it may appear that I am in the middle of nowhere. Often I am the only visible foreigner in the crowd, no one is speaking English and everything looks, smells and feels "exotic" compared to "western" countries. This is exciting and uniquely refreshing.
In general, the Thai people are among some of the nicest and friendliest people that I have met in all of my travels. They have a "way of being" with themselves and with other people that is gentle – not appearing to be angry or mad at the world. This is the 'land of smiles'.

Come to Thailand, come to Bangkok – you will have an incredible time that you will never forget!
Read on for all there is to see and do in Bangkok…also visit our Tsunami Memorial December 26, 2004 page
We are also just as home in the other City of Angels, Los Angeles. More here