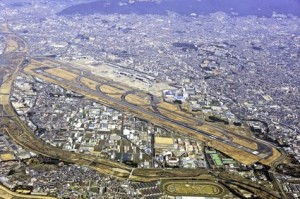 I've flown into NRT many times over the years but this was the first time I've flown into the Osaka International Airport. A friend indicated it was a very modern airport but he neglected to mention just how cool this airport really is. Up until now, Changi Airport in Singapore has been my benchmark for International airports but KIX is certainly close to Changi's caliber.
A public lounge offers showers for a small fee – no small showers here. These are very large with an adjoining private bathroom. All the stress you can soak away for 30 minutes. Then for an additional reasonable fee you can use one of the private "pods" – bed, number of dimming lights, music, TV etc – you rent these by the hour – draw the shade and its almost total blackness. A great place to black out during long layovers. And the lounge is very nice – in this case its not private like most airport lounges are and when you pay for any of the other services you can enjoy the free drinks, ambiance and massage chairs.
Usually the richer the country the more you have to pay for their airport's WiFi. Not so here – the entire airport is blanketed with a speedy free WiFi. The airport is certainly modern and at times, parts of it look and feel like Supharnampumi Airport in Bangkok (similar designs) – however this airport is much larger. We spent nearly 20 minutes taxing around past rows of huge planes that had arrived from around the world.
Sorry I didn't take any photos of the airport this time – I was to "in the moment" enjoying all the amenities!