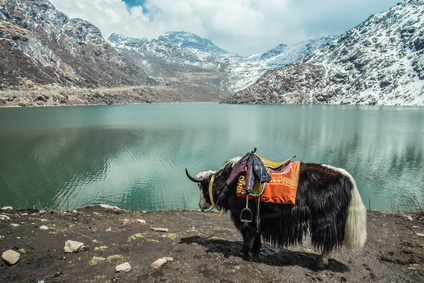 I've been to India several times already; earlier this year I secured a 10 year multiple entry visa, for more exploring within this amazing country. We visited Chennai in July for my sister's wedding – as expected, the weather was hot and humid – frequent dips in the pool made the weather more bearable. It was nice to visit Southern India for the first time – although we were missing the mountains.
A few years ago we got to experience the chaos of New Delhi – we flew in to the fog covered city at the end of January. Leaving the airport was such a challenge – you could only literally see a few feet in front of you due to the dense fog and traffic was backed up severely getting into the city. Needing to leave the chaos and challenges of navigating Delhi in a big way, we flew up to the culturally rich town of Varanasi.
From Varanasi we headed north to the Himalayas which brings me to the point of this post. We fell in love with McLeod Ganj, Dharamsala and the beautiful trekking in the mountains in this region. Our time in the Himalayas were one of the highlights of that trip. Recently my sister and her husband began planning what looks like an awesome trek to the Sikkim province nestled between Nepal, Bhutan and Tibet in far Eastern India. I've seen the pictures of the region – they cause immediate salivation – jagged ice covered peaks, the tallest mountains on earth tower to dizzying heights. This trek approaches Kanchenjunga (28,169′), the 3rd highest mountain in the world. Just do an image search on Google for "Sikkim trekking"!
Their planned trek (in March) is fairly accelerated reaching a maximum elevation of above 16,000 feet. I have a history of suffering from severe altitude sickness – carried down by a lady on her back all day in Nepal's Himalayas, ending up in a HAP pressure bag near the top of Kilimanjaro, numerous times in the Andes so weak I couldn't walk etc etc – the list goes on, not a pretty picture. So needless to say I have some reservations about this trek – however I may try to arrive early and spend 10 days acclimatizing in nearby Nepal. This weakness for altitude is not fun, and certainly not cheap either. The only way around it is to spend significant time ahead of a climb/high trek – going up to higher elevations slowly during the day and coming back down to sleep at the lower elevations.
We would fly into New Delhi. From there the domestic flights look fairly reasonably priced and we would catch a flight east to the closest commercial airport in India to Sikkim which is Bagdogra.
Here is a panorama photo my sister's husband whittled together from his last trip to this region – about 20 years ago.