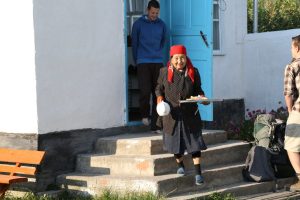 I always enjoy the "real" aspect of living as the locals live – having done home stay in various countries around the world. Before setting out on a 5 day trek into the Tian Shan Mountains of northern Kyrgyzstan, I stopped by the Shepherd's Life tourism office to make trekking arrangements. They also recommended a nearby family who rents out rooms.
This elderly couple speak no English – we communicated via a few words in German, Russian and French – oh and Google Translate! I am sleeping on the floor surrounded by colorful carpets and blankets, using pads for a pillow. There is no running water in the home – rather a metal pail sits up high and when you want the spigot to ooze out a small amount of water, you press a metal petal on the floor.
The shower room look like a sauna room but unfortunately without heat. Wooden slats line part of the room and a large tub of bone chilling water is available with small plastic buckets used to pour it over your body. I was dancing around in agony during the cleaning – this water seemingly comes straight from the glacial melt of the towering nearby mountains.
The toilet is a hole in the ground located nearby in a small wooden frame building – it is clean with a small metal pitcher of water on the floor that is to be used for cleaning.
Trees are dripping with fruit this time of year – plums, tiny apricots the size of marbles – that have a unique plum like quality (smallest I've ever seen) and loads of apples. Villagers collect these for sale in the local market – customers then turn some of the fruits into a variety of jams and jellies.